THURSDAY 27 December 2007.
Some music and photos for you. Miranda Dali made this Christmas song some time ago and, though late, it is still worth a listen - its message is eternal.
Happy Christmas

These are of my walk on Christmas in the fog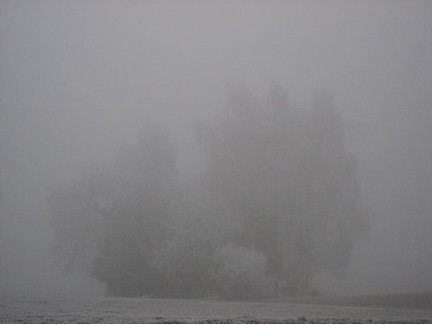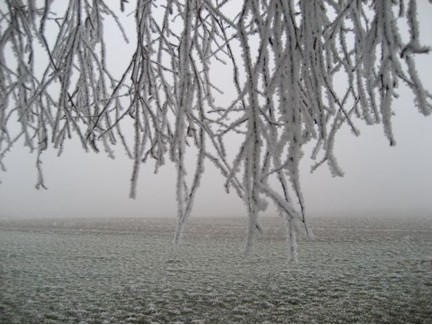 And this from yesterday when the fog lifted but with cloud cover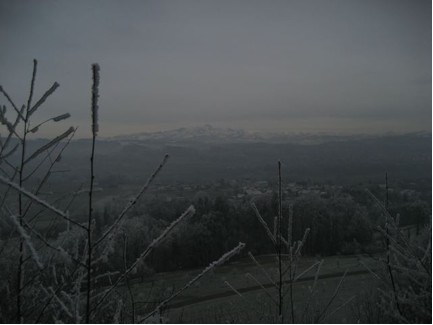 A tree I like outside the clinic before the frozen cover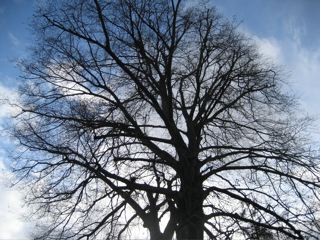 and after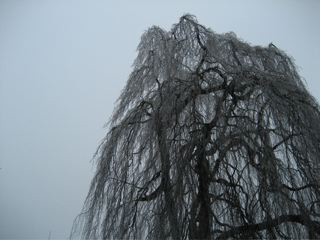 Strange day of missed cues and confusions. Ended well at the post office. Evening now. Look forward to watching a British detective series Daziel and Pascoe for part two of a story with Joanna Ter Steege playing. Last saw Johanna in Paris this summer. Looks and plays beautifully!
Now I write to some art spaces in Zurich that could be interested in turtle. I will have a few chances to visit the city over the next couple of weeks. Too tired to continue. MHS
THURSDAY 20 December 2007 (to Christmas Day and Boxing too).
Day of smell! Isabelle and Ren descend on the clinic to share some scents and secrets of the perfume trade. Cederic, a 22-year old man who cannot smell will meet them. Can they produce something he cannot not smell? How will their smells affect the patients willing (and allowed) to experience?
Those of you who saw SOUVENIR will remember the SMELL MAPS program which Orlando receives and uses to trigger memories of her family.
From Paris, Christmas cancelled:
http://www.youtube.com/watch?v=HMyjywN-8Ac
From Athens, Kiwi here:
http://www.youtube.com/watch?v=sdUUx5FdySs
Well, it is Saturday now. First, Thursday was a breakthrough day for me. It is hard to put in to words but the feeling is good and clear. I am making progress here. I can tell you that it makes me happy and hopeful.
Isabelle and Ren came and spent a short time with Cederic. He could not smell unless he placed the tester (the long paper that perfume is sprayed on to sample) in to his mouth where it entered his nose through the throat. It is more like tasting, which he can do. Ren and he got along and will keep in touch. Margarethe Venedey, my occupational therapist, met with them as well as a couple more patients. Their visit was an introduction and perhaps a properly scheduled return will happen in January.
Isabelle brought some boxes of macarons from Ladure in Paris (a box of black ones for me!) so I could share these wonders with those who have helped me so here. The black ones are licorice inside very subtle within in the traditional almond pastry.
It is Sunday now. The days are coming quickly. I have therapies throughout the weekend until tomorrow, then two days "off". Off is my time to write and swim and walk; a time of reflection. I think back to my first Christmas in New York, 1975. I was editing an art video for Ron Clark. He took me for a Christmas meal at Feathers on lower Fifth Avenue. I remember thinking how happy I was to be working on Christmas. In 2004 I flew to Beirut on Christmas day, shooting video in and from the airplane. 2005 in London in recovery, visiting the hospital to greet nurses and patients. 2006 with my sister's family in Baltimore. Here I am quite alone. It feels good to be working on preparing to reenter the world.
I met Brigitte who is leaving today. I spoke of Sebald and she introduced THE FORGER by Cioma Schonhaus, a book I've never heard of but learned that Granta is publishing it. Schanhuas lives in Gemany and Brigettte tells me that his children play Klezmer music.
Here is Paul Eluard's song-like poem "L'amoureuse" in Samuel Beckett's translation from the French:
LADY LOVE
She is standing on my lids
And her hair is in my hair
She has the colour of my eye
She has the body of my hand
In my shade she is engulfed
As a stone against the sky
She will never close her eyes
And she does not let me sleep
And her dreams in the bright day
Make the suns evaporate
And me laugh cry and laugh
Speak when I have nothing to say.
Now it is Monday, Christmas eve. Yesterday was the 8th anniversary of my mother's death. I am silent. My sister has her family with her in Baltimore, but for me. My spirit is there. Here the fog keeps a cool glow. It is a slow wake listening to Elliot Smith. Keeps it slow, real slow. Unshaven unshowered slow. Many friends are writing - they keep me warm. A poem from Fanny Howe with a line "All films begin in chaos". Finishing MARS by Franz Zorn (Zorn means anger), what he calls a report on his condition of cancer he blames on his upbringing on Zurich's gold coast. Quite a tale most well told.
We enter into Christmas eve. There are few patients and staff here. Soon I will eat and read some more. The next two days will be quiet ones. I hope to complete an application for a residency in Berlin and begin Rachel Corrie's journals. Ah, but first I have a short story by Anne Enright that is in Saturday's Guardian. Also in the Guardian was an historic interview with Mae West with an introduction by Tildo Swinton!
sBack to Enright. Am so happy she won the Booker. Have not read the prize winner but am a fan since her first collection THE PORTABLE VIRGIN. I had a brief email correspondence with her about film, and learned that her husband, Martin Murphy, is an actor who played a lot of Beckett. I hope to get back in touch with her to turtle, perhaps through editor Tony Lawson (THE PERFECT KISS) who has been working with Neil Jordan. Murphy has played in a recent film or his.
Am I lonely? Not much more tonight than at other times. I like the quiet. It is an important time for reflection. To deeply consider where I can go from here. How my limitations will both restrict and open up my life. I somehow keep from feeling sorry for myself. Less people means less talk. With my mouth shut I can forget I am ill for short periods. Until I speak, the fatigue descends or when I try to work hard for a period of time.


Christmas Day 25 December.
Slept well and woke slowly. Dressed and took a walk up the hill to see the buildings and trees soft in the fog. The white on the ground is frost, like snow, and defines the bare branches of trees. It is an invigorating cold and only the sounds of water here and there from a stream, or a few crows, I presume. Black figures which are like shadows, like the fir trees and distant buildings. I took some photos and wandered in the fields.
I returned to the clinic to shake on the Zeptor to tone my muscles, then I walked and ran on the treadmill. Drank more coffee and wrote about my work for a residency application, then continued reading until lunchtime. But just before I turned on the television where I was and came upon CNN with Larry King Live, with Paul McCartnery, Ringo Starr, Yoko Ono and George Harrison's widow. That was heartwarming. Especially to see Yoko and Paul cheerful and friendly together. I cried when they ran old footage of the Beatles, and recalled being part of the public outside the Dakota apartment the night Lennon was killed. Then, Miranda and I turned away when we realized the people began singing Beatles' songs Paul wrote. He was hardly our favorite.
I've come to listen to McCartney's latest music after trying to resist it. But a friend persuaded me and I am happy she did. It does not sting as Lennon's work does, but there is a beautiful simplicity and honesty there, with little more than himself and a song. A few songs I like a lot. I could never have dreamed I would say this. Illness, and age, has dissolved some angry walls.
As I napped after lunch, Hercules called. He, too, was alone in London, but about to head out to a meal with mutual friends. Herc is a true and dear friend, and being here, just HERE, has a lot to do with him being there, in hospital, from the beginning. He continues to help in a myriad of ways, with great spirit.
I can't seem to write much these days. It is now Boxing Day, 26 December. The fog lifted so I went for a walk up the hill and into a row of trees. I found a wonderful view and felt alive having gone up hill. Like when I discovered the exhilaration after climbing Montmartre in Paris after which I began to swim.
On my mind now is the tiger in San Francisco. Hearing the news of its escape and attack and killing of a person I knew they would say they killed the tiger. Why? Why do they always kill a wild animal that has been kept captive and acting naturally? It's not the tiger's fault he or she is there. A person must of made a mistake, or something "man made" faulted. How can we be so cruel? I feel a part of the tiger's murder, don't you? Of course I am sorry for the victims (another one or two were injured) but isn't it obvious? The animal should have been shot with tranquilizers and either returned to lock up, or be set free in its natural habitat. It makes the look of a jail become a jail. Zoo as death row.
That's my day. What's yours? MHS
SATURDAY 15 December 2007.
A bright morning at last, but quite cold. I woke to find a note from Stephen Watts. He did not mention but I knew he was thinking of me on the anniversary of Sebald's death yesterday. I had thought about this all week but for yesterday. Perhaps this was the source of sadness at the week's end. For me.
I pulled out a text Stephen wrote last spring for some event around Sebald in Norfolk where he lived. He writes about Austerlitz and I came across the source of a quote I kept on my wall in Paris, "we who are still alive are unreal in the eyes of the dead". Stephen had made reference to this of Sebald on his way to speaking about his poem for "Max" after he died. It should be in the WORKS section of this site soon.
I went on to read again about the village that Sebald came from in Bavaria, Wertach im Allgau, near Switzerland, and the Italian village of Precasaglio where Stephen's maternal grandfather came from, also near Switzerland. He goes on to tell of their plan to walk between these places together. Then I realized that I must be near to at least one of these places and located Wertach im Allgau not far by crow. By car I will have to enquire, but clearly would take some time driving the small curved roads. I also located a web cam on the internet by chance: www.sionvalais.com/review.php?id=125940 Not much to see but a bit jarring to find. I wrote to Stephen that this could now record his arrival or departure. Is this an eye of the dead?
It has been a pink day. The sky has held pink patches in the scattered clouds. It feels like the sun is permanently rising and setting.
Ok, here are some links sent to me lately
Juan Carlos sent this
http://youtube.com/watch?v=YxSH64k0KfA
Danielle Edwards this
http://myspacetv.com/index.cfm?fuseaction=vids.individual&videoid=23712250
And Melody Owen, something she just made

http://www.thistlepress.net/video/kirakira_mowen.mov
It is now Monday. Did not sleep well, but the sun is out and life goes on. In Paris a friend turned on the radio to New Order's BLUE MONDAY. Yes, the sky is blue.
Have not yet seen this but Ben Ayres of Rough Trade Records sent this, so it must be worth something!
http://www.superfurry.com/gift/
Perhaps I will have more to say later. Good afternoon! MHS
WEDNESDAY 12 December 2007.
Monday I woke up bright after a good sleep. My mood was good and Ben was arriving that evening. It was my first 4-hour morning with Margarethe, by occupational therapist. It began with a test of pressing buttons and using my feet in reaction to colored lights and 2 tones. This was repeated at the end of the morning. In between I spoke excitedly to Margarethe explaining what I did over the weekend and to discuss how to do our turtle here, and so on. I crashed before the second test. That means I lost control of speaking. A great fatigue makes it difficult to control my tongue and I strain physically in making words.
I canceled my afternoon appointments, rested and swam. Ben Hopkins arrived around six and I showed him my Beirut film. Then Margarethe took him to his apartment and on to a restaurant in the next town. It was hard for me to talk but I was happy to see him and to hear about his filming in Turkey (he was on his way to his lab in Berne to check his print). We also spoke about Sebald and I reminded him that Friday is the anniversary of his death. (I remember hearing the news from Odile at her Village Voice bookstore in Paris as she received it over the wire back in 2001 - a shock, a great sadness).
Ben did say that I was clearer in my speech, which made me happy. I have since realized he never asked me to repeat anything. In Paris this better diction began and is being improved upon greatly here. We did not stay out late and enjoyed a strange but OK raclette. I tried a couple of sips of red wine but it was not only difficult to drink, but tasted bad. Like when I first tasted it out of hospital. The vinegar properties are unpleasant. Sad this. White wine is probably still easier, and more to my present palate. Drinking is not part of my life now. I don't think it will be again but for a little wine with food, and that will be nice.
It is now Thursday morning and I am just waking. I was happy to hear that Maire Losier was happy with Larry Wineland's work, and Larry was happy to work with Marie. I had put them together since seeing Marie in Paris and she expressed a need for help in preparing the sound for her film on Tony Conrad. Larry was a student of mine at Bennington College whom I introduced to C-5 for a job. They hired him and it was the beginning of his career in sound on feature films. So I can still produce at great distance!
It was also a thrill to learn Francisco Bello, a student from Cooper Union, has a short SALIM BABA in competition at the upcoming Sundance Film festival. Francisco and fellow student Rona Chang www.ronachang.com both keep in touch and have become turtles. Francisco was also involved in this stilly funny ode to Bill Murray http://youtube.com/watch?v=Me_as_Yp46.
Time to go. MHS
SUNDAY 9 December 2007.
Sonntag. Susan Sontag. I just read her name yesterday in relation to Virginia Woolf's ON BEING ILL. I have yet to read ILLNESS AS METAPHOR. How often have I thought to and lost the thought. Books come often when they are most needed. Susan will always be there. It is good to dive back in to AGAINST INTERPRETATION and STYLES OF RADICAL WILL.
Slow waking this morning. Still dreaming a lot, between New York and here at the clinic. My body has not had such attention for years, exercise a stranger. Must welcome and not let it leave.
The ZEPTOR is quite a shake up. Two plates beneath the feet move in separate patterns and rhythm, somewhat simulating downhill skiing. It can help the throat muscles for swallowing and, hopefully, compliment the work with the soft palate. It needs stimulation. Of course the entire body is affected. I do it in 50-second sections with 30-second pauses, 5 times a day. I swim when I can on top of two physical training periods in the pool, and have begun on the cross trainer and, yes, I run. You can't really call it that yet.
The work with one of the speech therapists is most interesting. Simply making sounds of 'a', 'o' and 'ng' to learn to create different architectures in the mouth with the tongue, keeping aware of the soft palate contact and the air flow through the nose. It is frustrating for me yet fascinating. All the things one takes for granite with the body, the complexity of the seemingly most simple acts. Each day I review small moments of triumph in my recovery, including the first time I could smell to being able to shower alone. Food - the first solid food was a small cup of yoghurt which took at least 45-minutes to consume. The tongue, so important in eating. There are still foods I must avoid and others I blend to drink, as I do cereal. But at each stumble there is so much to be thankful for. Especially here in the rehabilitation atmosphere where things are put in to great perspective.
While I will enjoy bringing turtle here I hope that it can continue in some way. Not just here, but I am thinking of how to incorporate turtle in to the hospital and recovery environment. I have to write to the Slade Art School in London about an artist-in-residence position and am thinking to engage the students in taking turtle to the neighboring National Hospital, the place I fell in to and put me back on my feet. I am sorry that I cannot return to visit the patients and staff this holiday season. But I keep in touch with some of my nurses, therapists and doctors.
It is evening now. I am very tired, but so happy since I reached an 'e'!!! While swimming this afternoon I was alone and took the opportunity to practice my vowels. And I did it! I can say ME!! I can sing with Gina Birch on her song "SOME ONE LOVES ME". That is a big step for me. That said, pronouncing an extended vowel is a lot easier than speaking. Words require quick movement. But this may be a step closer. I am retraining my brain how to make these sounds.
The process since hitting rehab in London has been relearning. How to walk, brush teeth, use the toilet, breathe, eat. the body is a wonder. I am lucky to have healed so much. Perhaps if I did not have such fatigue I would have accepted my recovery and not be working so hard on my speech and overall strength. Fatigue keeps me from working, which is life. I can be a silent filmmaker without fatigue. I still have a ways to go, but I am hopeful. And I am working hard.
I hope this is not too boring for you to read. I know I bounce all over the place and I write on the fly, but I need this. I need you. Good night, MHS
SATURDAY 1 December 2007.
First weekend at the clinic. This morning I wrote the traces that took me up to my journey here.
It is Saturday afternoon and I have just finished lunch. I am reading last Saturday's Guardian Review section. It is one of two paper's I bought in Paris each week, along with Friday's Independent. It often takes me the week to read and is good to pick up haphazardly and discover. Today I find myself reading Seamus Heany's "The pathos of things" which I could easily misread as the "paths", or chemins, of things.
It is within this article that I have stumbled upon Ezra Pound's "In a Station of the Metro" which reads,
The apparition of these faces in the
crowd:
Petals on a wet, black bough
I used this poem in SOUVENIR in a voice-over during a pan across place Gambetta. I wrote about that place a while ago after seeing Animal Collective. I showed you the phone booth where Orlando makes a call and leaves. It is the next shot which crosses the fountain and thunder begins to sound.
The music is by Johem Paap, aka Speedy J, of Rotterdam. The power of poetry and the wonder of happenstance. I feel lucky to have come across this most beautiful poem today, to reflect back on the city I just spent six months in, where I shot SOUVENIR, a city which continues to resonate in my life. Here I am learning more about this poem. True poetry is always rediscovering and continuing to see anew.
Driving back from a consult with Professor Bassetti on Thursday, a very impressive doctor (of sleep), his humanity, his kindness, I wrote,
In knowledge is poetry.
Through poetry is knowledge.
Since then I have been trying to find a place for kindness, something like a fertilizer or force that envelops or saturates this idea, our lives.
Kindness, the foundation of turtle.. Thanks again to Jan Morris who offered this for turtle from her book, "Trieste and the Meaning of Nowhere". Everything leads somewhere, which is a nowhere. Let's recognize this.
I often say "get lost" to people as they go off to travel, even those returning home. Getting lost is leaving yourself to rediscover the familiar, open to the new. Rebecca Solnit wrote, "A Field Guide to Getting Lost", a wonderful book of essays. I remember her reflecting on Yves Klein, which leads me to Derek Jarman's film BLUE... I am lost.
I learned this year that Derek hated Paris. He did not show for the opening of CARRAVAGIO. All this reminds me to find a way to bring Derek in to this turtle. Dear Derek, lost his body, left his soul. The last thing I pulled off my wall in Paris was an anonymous IN MEMORIUM from a British newspaper of several years ago which I left up to hang over Gina Birch's bed. I cannot recall what it said, but I wrote of it early this year here, and John Gianvito quickly wrote me to learn its source. It touched him. I hope it touched others.
I believe I forgot to mention how good Silversun Pickups were. To be able to shoot them on stage gave me life. It always does. I only learned later, when bass player Nikki Monninger wrote, that they played their longest show and dedicated a cover of SHADOWPLAY (Joy Division) to me.
Congratulations again to Anton for the recent awards in London for CONTROL, his portrait of Ian Curtis. It hurt, too, as ENIGMATIC could have joined in the awards as the documentary on Joy Division. Had I only taken care of myself.
It is Thursday morning 6 December and the sky is brightening outside my winder. The dark blue shapes of clouds behind and above the trees. Yesterday it was so clear you could taste the distant mountains. Such flavor enters the eyes.
The Sundance film festival will premiere Isaac Julien's film about Derek Jarman. Colin MacCabe produced. Am looking forward to seeing it.
I thought a lot of Derek last Sunday when I went to the Fotomuseum in Wintherthur. Zoe Leonard was there to speak of her work and walk through her show. I do not know Zoe but her work has meant a lot to me since seeing her first show at Paula Cooper Gallery in the early 1990's. Her talk was inspiring, both for the way she regards her work, as she regards life, and her referencing New York in the early 1980's. Although we never met, we shared the same city, the same "scene". And the reminder of the many friends we lost to AIDS. Again, a circle back in my life, and a place from which turtle emerged.
Some random notes on filming and editing:
I remember in London filming Electrelane not long after I was out of hospital. I had filmed them in Nantes before I fell ill. In Paris it was so special to film Young Marble Giants (YMG). I can film, but I can't edit. That hurts. It is easy for me to consider the material, to make notes and have ideas, but to edit is to have control over your editing tools. SHE'S LOST CONTROL.
I have been so lucky over the years to have worked with editing artists, especially Laura Israel. Oona Bijasson, a filmmaker in Paris, filmed YMG with me and will edit that concert. I began Maitre Lihseb Please (p.s. Beirut) and the edit is what I want it to be. I never tire of watching it. I had planned to continue this past summer, but that is where I ran in to a wall. The wall built by the illness. How do I regard that wall?
At least I can still look, build (turtle), and share in this way with you. MHS
MONDAY 26 November 2007.
I am here at the clinic just waking in my room. It is the beginning of something unplanned, an addition to my schedule of 6 months in Paris. I have not been able to write as the packing and preparing took all my time. And more. A lot of me remains in Paris. Paris is not over for me, or for turtle. I would have finally have been going home to New York at this time but now it is delayed for one month for the opportunity to focus on my health here at a neurological clinic in Switzerland. It seems a fairy tale which came our of Cité Internationale des Arts. I was drawn to the flute playing of Andrea Loetscher, made friends with her just before she completed one year at Cité, and even a video of her performing VOICE for solo flute by Takemitsu. I mentioned a dream of a Swiss clinic to help me and, a few weeks later I visited her in Basel, her home, and she brought me here to this clinic. The director is her godfather!
So while I feel that I have been unable to do much of what I had hoped in Paris this may be its best reward. We'll see - I'll keep you posted! My occupational therapy here will help to train me how to return to working in a way which will help and compliment my recovery, which I have to expect will continue to be a slow one. This therapy will include writing my traces, returning to being able to edit my Beirut film, and turtle! Yes, I will make turtle here for the patients - a program of film, poetry and music (Andrea will come to perform).
My first contribution to this, which will be part of a turtle archive I will build and leave here, is Inger Christensen's BUTTERFLY VALLEY, A REQUIEM, in German. She is well published here and it is a beautiful edition I first discovered in Düsseldorf at the Müller & Böhm bookshop in the Heinrich Heine House. The bookstore owner, Rudolph, gave Anna of nüans a copy, when we met to discuss doing a turtle there. When Katje Stucke was coming from Germany last week I had her buy a copy from Rudolph for the clnic (along with the German original of W.G. Sebald's THE EMMIGRANTS). With these two works I begin turtle here.
I am encouraged by the doctors and therapists in Paris and here who, unlike in London, are more hopeful of further recovery. They speak of the plasticity of the brain. Plastic fantastic turtle!
Now I have a lot to recall. Let's go back to the turtle weekend:
Monday 19 November
Wonderful weekend. I woke to this: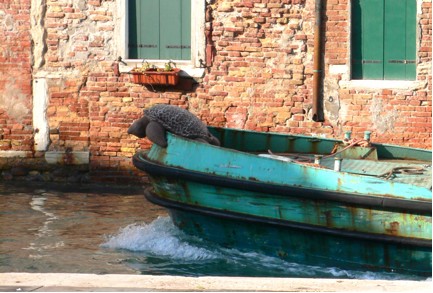 Wonder what is going on here in Venice? A rescue, I hope! Or a joy ride. Martina Klein sent this along for best wishes for a turtle weekend.
Here is Kirsty Gunn on Sunday at the Red Wheelbarrow Bookstore reading from her novel, "The Boy and the Sea".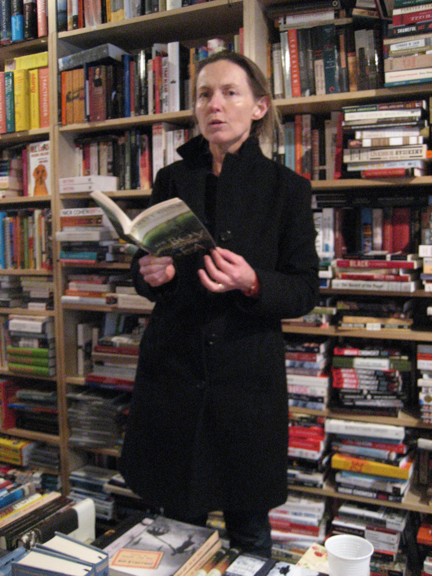 This is the "new" Gina Birch before her show on Saturday night at Nouveau Casino. She is wearing a shirt she made in 1977!!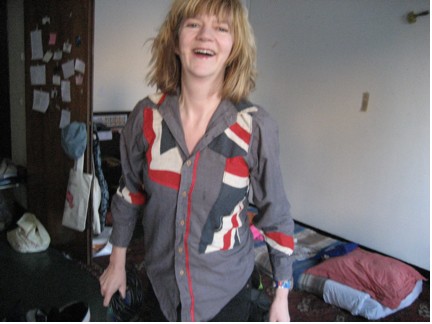 The strike was on so we had to walk to the venue and home again after. All went swimmingly. There was a problem for the video projector to get the images right, but, who cared! The performance was wonderful and the spirit overwhelming. I convinced Gaelle Obiegly to help me speak to the audience. after playing the short THE TEMPTATION OF VICTORIA.
"Hello I am Michael Shamberg
This film came out of seeing The Concretes here almost 3 years ago. Coming back is part of my return to life. That is Turtle. This is Turtle. The music, the spirit, the poetry."
"Bonjour, je suis Michael Shamberg
Ce film m'est venu après avoir vu The Concretes, il y a presque 3 ans, ici. Y revenir fait partie de mon retour la vie. C'est Turtle. Ceci est Turtle. La musique, l'esprit, la poésie."
(read the text of its making at www.kinoteca.net).
Galle's voice captured the audience as in a song, where the words are less important. Thankfully so, since I scribbled them quickly. Apt for the music venue.
The rest of the week seems a blur. Packing, saying goodbye, meeting the head of Cité to thank her and about a return. I am sad that I was unable to make the turtle there that I had hoped, and could not edit my film. But that is why I am now here.
I pause here to reflect on the view. This, my favorite time of day, the sky filling with light, coloring the scattered clouds through the bare trees, the small mountains in the distance.
Back to Paris. I stopped by Red Wheelbarrow to say goodbye to Penelope and to pick up MOOMINVALLEY IN NOVEMBER, Tove Jansson's last book for children. The two films on Tove and her partner, Tuulikki, just arrived. They are compiled from super-8 films Tulikki shot with Tove on their summer island and their travels in Europe (www.lumistore.net).
Melody helped me complete p.s. Beirut (from the red chemin) and made the data disc she needed. Sonja was completing her plaster forms for her upcoming show at Cité. Here they are installed.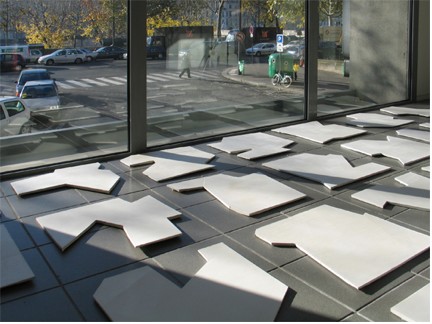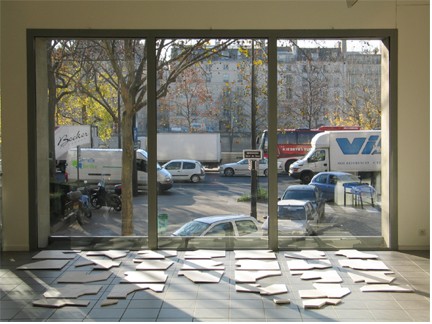 This is the view from the gallery looking out to the rue L'Hotel de Ville. The Seine runs behind the trucks and the buildings are on the Isle de la Cité. Sonja's work always transforms the space that she is given, a wonderful dialog between architecture and art.
It was a most difficult week. I collapsed for a couple of days. On Friday, Jean Charles passed by to pick up what I had of turtle to store. I could not have lived so well nor been able to leave so easily if it were not for Jean Charles Blanc and Isabelle Doyen. Jean Charles is an old friend and Isabelle I met through Jean Charles' wife, Jacqueline. Which reminds me that Robert Breer and his wife Kate picked me up one afternoon to go to the Blanc's for tea. It was so good to see Robert even though he can hardly hear and my speech problems made any conversation difficult. It was enough to smile and to look in to each other's eyes.
Saturday came and I had too much planned. But somehow it all worked. It was a glorious day as well - bright and crisp. Anne Bertrand stopped by to pick up the things she loaned to me. She walked me to the bus and I went on to meet Etel Adan at the Café de la Mairie. Etel looked so well and was so cheerful, it warmed my heart. She and Simone will travel to Sausalito through New York at the end of January se we will meet again there. It feels like the path (chemin) back to life and work. Galle came to take me for a belated birthday lunch and I remembered a health food place near to Hotel La Louisianne. It was early and we had a perfect and quiet meal.
I went home to rest and Antoine picked me up on his motorcycle, a small Honda 100cc. It was my first bike ride in Paris as we made our way to La Villette to say hello to Electrelane at their sound check (I knew I could never make the show). It was so good to see them all looking so well. I met Verity's husband and Mia's fiancé! Antoine had met Verity a few years back and I was happy he could meet them all and return later for the show with Ruth and Xavier from Winter Family.
Then Antoine dropped me to visit Chris Marker. I was in Paris for six months and this was our first visit. Typical. When I come for a few days we always meet. Of course we were always in touch and it was enough to be in the same city. Still, it was good to spend a little time together and to exchange gifts (dvd's, cd's and his book STARING BACK).
Sunday came and Isabelle took me to the train. She had arranged for me to have assistance, especially for the transfer in Basel. The ride was easy but the transfer was a joke, not so funny at the time.
The train was late in to Basel and the transfer time tight. I was told they would try to delay the next train for me. A man met me with a baggage cart and a wheelchair. He took the baggage and left me behind to wheel the chair myself. It was easier to walk and follow him on quite a long journey through the station. He left me on the track, the train obviously gone, and said he would be right back. I never saw him again. I had to scramble with all my luggage - several heavy bags packed with my computer and camera and ready to return directly to the states - and found a sympathetic worker who showed me the way to the next Zurich train. When I arrived in Zurich Thomas was there to great me and I have been in his good hands ever since. Thomas is the clinc's driver and took me to Zurich from the clinic twice this week for my sleep therapy. I will have to write about that later.
It is now Saturday 1 December after a long, hard week of therapy and introduction at the clinic. There is a lot to share.
I am now in a most wonderful place, so lucky to be here, and hopeful for good results. Thomas will be here soon to take me to buy blank DVD's and mini-DV tapes. The sun is out and my life feels a future.
MHS
FRIDAY 16 November 2007.
There are turtles everywhere. Last night I read the TLS (Times Literary Review), the only weekly I buy along with Friday's Independent, which I must go out and buy now. This issue is filled with turtles. There's a wonderful review of Ali Smiths GIRL MEETS BOY, yeah! A poem BACKPACKER by Claire Crowther, a good review of Anton Corbijn's CONTROL, and a review of TALES FROM THE THEBAIDE (Thébaïde - I spell it out with accents to show a name that is new to me, and I like a lot), subtitles "Reflections of a turtleman"!!!. I don't know the author, Peter C.H. Pritchard, but I must! He has a turtle collection of more than 12,000 in Florida! They are dead, but he never kills to collect (he says, "I personally regard the killing of a tortoise in hand as the moral equivalent of fatally beating someone in a wheelchair"). His operation is not a traditional museum. People who study can come and shack up, or borrow without a lot of paperwork. His story is quite special, and he knows Lonesome George of the Galapagos. George was part of the Woburn turtle. I am trying to reach Fiona Shaw who has visited the Galapagos recently. Like the turtles in Lebanon, I hope to visit George one day. Now I must track down this turtleman (I've been called that!). This is when doing turtle is most fun. And magic. Claire's work, and the turtleman!
I probably forgot to tell you that turtle under St. Sulpice is delayed. The priest got the dates mixed. I've got to believe him! I am sad, but it is also a relief. Less pressure before I go. And the church will be there and we are welcome. So when turtle returns it will be one of the venues. Perhaps with Inger Christensen, the butterfly herself!
Wynn Dan sent me this review of Lawrence's show from the New York Times (www.nytimes.com/2007/11/16/arts/design/16wein.html) This excerpt says it loud and clear:


"Driven by the joy of language and quite a bit of humor, Mr. Weiner's ebullient work asks tough questions about who makes or owns art, where it can occur and how long it lasts. It reminds us that while art and money may have been inextricably entwined throughout most of history, art's real value is not measured in strings of zeros, high-priced materials or bravura skill, but in communication, experience, economy of means (the true beauty) and, yes, the inspired disturbance of all status quos.
it also affirms that art ultimately triggers some kind of transcendence that can only be completed by the viewer. Mr. Weiner has elevated Robert Rauschenberg's famous dictum - to the effect that "this is art if I say so" - to the more inclusive "this is art if you think so." His polymorphous efforts create situations in which such thoughts feel not only natural, they feel like our own."


It has been a turtle day as Melody called and we went off to the zoo. A cold bright day and we had to walk with the strike, and it was a nice walk. I spoke as I could to my friends. I could not film them, it did not feel right, but I think they felt my presence. The baby's were dancing with joy in the water. The old folk hardly moved. Like life, in extreme.
MHS
THURSDAY 15 November 2007.
I am thinking of Lawrence Weiner who has a retrospective opening at the Whitney Museum in New York this week (www.whitney.org/www/exhibition). I am so happy for him. I am alos so sad not to be there. It hurts to know even if I were in NY I could not share the dinners and hardly the opening. We had many good such times since we met in 1975 and have worked together since. He has been the foundation of turtle and of my life in many ways. It is hard to write more. At least I will see the show soon!
We did meet in London. When I was in hospital Gina Birch picked me up and took me to his opening there, and we met a couple of more times. I ALWAYS WANTED TO WEAR WHITE is the title to the video we have been planning for more than ten years. I hope we can make it. I still wear white!
I read Ali Smith's GIRL MEETS BOY and urge you to read it when you can. Sublime. Poetry. Bliss! Right to the heart.
Katje arrived with some turtle. Just in time to be picked up by Bob Breer on the way to tea where turtle will be stored. Good to see Bob. We make a special couple - he's almost totally deaf and my difficult speech. Sadly amusing. Bob has given me so much joy and art and more. I will see him again soon in NY.
Taken to Ladurée yesterday and picked up some black macaroons for tea. Then saw Mathilde. I was quite tired. Speaking some lines of text I broke down. Sometimes it is just too hard not to be able to do what is so clear in my mind. I feel trapped in another body. It is an ongoing struggle to make new friends with myself. With others it is easier though I often wonder how they can put up with me.
Tea with new friend Claire de Gastold, a person whom I passed many time promising that I would be in touch. Finally, we had a little time. Claire is an illustrator. I did not expect the beauty of her work, the magic of childhood in Paris. Claire said she is not so exotic as others here coming from Paris, but I find that most exotic! Well, I did expect to find beauty in her work - I could see it in her eyes. Now I could see through her eyes the city I so love. I had to share THE TEMPTATION OF VICTORIA with her. Yes, she knew a street corner near where she used to live, and of course recognized Palais Royale. But she did not know Bimbo Tower - turtle always shows something new in one's own home town. Never thought of the film as a turtle, but now I do!
Claire knew Ladurée better than I, of course. She explained why the licorice filling was so subtle - macaroons are made with almonds which is the main flavor in all! It was a lovely tea, and Claire a new special friend, and turtle of course! De Gastold, a wonderful name... I call her Z. The Z that loves Anouilh!
TUESDAY 13 November 2007.
Yesterday was another speech session with Mathilde. I am trying to relax and she helps to both guide and keep me aware. It is hard to slow down my mind when I have something to say, but I must do some editing inside. Do as people I respect most do: say less but only what is important. On the metro home a young American girl was speaking to her friend SO FAST. Yes, I was jealous, but then it was so unattractive I felt I had an advantage. I must remember how one could almost whisper yet command such attention.
Saturday's turtle seems to be falling to in place. We are in touch with the technical people and Nikki (from the band) is writing. Gina will bring her own projector and I will probably play THE TEMPTATION OF VICTORIA video as it is the venue that I saw The Concretes and met Victoria Bergsman (you can read the story at kinoteca.net, texts, temptation). I am excited to see what Gina and Kirsty have come up with. It reminds me of commissioning the CEREMONY video from Beijing - remote control.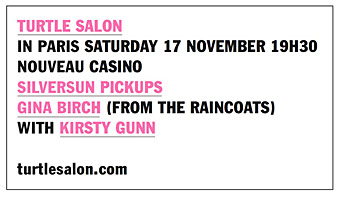 http://www.nouveaucasino.net/index.php/2007/11/17/435-silversun-pickups
One thing we have to work out is how many turtles can we fit on to the guest list. The turtle events up until now have been free or low priced. This will be a bit dear for many but I am hopeful we will find a way. Silversun Pickups were so kind and enthused to be turtles and it is exciting to do things in new places with new challenges. Turtle will also reach a new audience. Main thing is it will be fun with wonderful music and language! I have to pace myself this week as I pack and clear a place for Gina on my floor.
Isabel came by in the afternoon to make a cast of my other ear, then took me to Jean Charles' home to check out his basement for storing turtle - the items I have collected here and the bulk coming in from Düsseldorf. It is perfect. And Jean Charles has a video projector for next Friday! We spoke with Kate Breer as she and Robert are here for a show he is part of, opening on Thursday. I had hoped to see Bob this afternoon but he is still getting over his travel.
There will be a transit strike tomorrow and people fear it may last several days. Katje Stuke is driving in from Düsseldorf for Photo Week Paris that begins tomorrow night. She is kindly bringing a small part of turtle, some PROP magazines, and German editions of Inger Christensen and W.G Sebald's work for the clinic. It will be good to see her and she will come on Saturday.
I stare out in to the space I have lived in for almost 6 months. I remember first visiting the room and leaving with great fear that I could never live here. It was too cold, the walk down the hall too long... I could go on listing the negative things that came to mind. I was fatigued after travel from London and was staying at a friends, so I was lucky to be able to move in slowly. It did not take long to settle, and now I quite like the place. It is the people who run it, work here, and especially the artists and good friends I have made. Just look at the ever growing list of turtles in Paris. I am so lucky. It took me a while to meet people. Those who know me would say that is quite unlike me, and it isn't. It did not last that long.
Just in from Athens
Poetic Manifest for Aegina (1994)
There are often no needs, when it comes to take in the sight of a breathless landscape, mountains running down like children to the sea. There is the valley of the many churches, as many as days in a year. Time. Explosions. Building exploitations. Lifelihood. Dilemmas. Some theatre group plays. A man cries out. Someone falls in love with the actor and no justice is done. People are shown as searchers to understand. In the bus or metro only some take off their boots when others want to sit on the bench vis-a-vis. That is not confrontation, nor manipulation, but survival. Passive resistance. Poets never liked resignation.
Hatto Fischer Fifth Seminar, "Culture, Building Stone for Europe 2002" Athens 3 - 5 June 1994
Elisabeth Karolyi has put Hatto in touch (I believe I have recently spoken of him). His son, Jad, has an art opening here at Cité tomorrow.
And Zeina Abirached just wrote that she is a turtle! She was a sheep ( http://aii.ensad.fr/PRIV/projet.php?id=165 ) and may be a turtle in sheep's clothing. More on Zeina soon.
Getting tired now. Spirit gets dragged down. So before it gets too low I must eat. MHS
SUNDAY 11 November 2007.
Thank you, Laura, it worked! I fell back to sleep until a friend phoned me at 10.30! It's been years since I woke that late. If only I could sleep that late after 7 or 8 hours of sleep. I hope the clinic can help me with this.
So yesterday was a bit off. I could not be where I wanted at 10, so I just took it slow. Had tea with Sonja and Melody. Sonja is going to Switzerland this morning to set up a new art piece, and Melody left yesterday for Berlin. I got some more organizing and packing done here, but with a lot of fatigue. I felt like I was paying for a good day on Friday.
Wynn came by and we took a walk to the 5th for an early Lebanese dinner. Delicious. Always good to see Wynn. He is kindly making a notice for the turtle on 17th which I am now beginning to get excited about. It would be hard for you to see it, but I feel that I can get all packed by the time Gina arrives on Saturday. It would be so nice to have the last week be less stressful and to enter in to the turtle on the 23rd with a good calm.
Antoine is back and will confirm with the priest, whom we may meet with again this week. Many friends are available to help and many to participate. It could be a special day of quiet turtle anarchy.
Mimi Khalvati, poet (www.mimikhalvati.co.uk) cannot come over from London but will be here in spirit. She suggested E.A. Markham who has written that he is likely to be in Paris and, if so, will read. I do not know his work but you can google as I did and there is a lot on him.
Passed by Red Wheelbarrow to return Junot Diaz's novel and learned that Markham has read there, which did not surprise me. I finished Diaz's book yesterday morning while waking the second time. The ending coincided with Andrea's playing of the flute concerto of Carl Nielsen, which always touches me. Together brought a deep wonderful sadness. I recommend this book (www.junotdiaz.com). His writing is like no other. You can hear an interview with Diaz here www.arts.cornell.edu/reading/diaz210207.mp3.
Penelope passed me the MOOMIN book - the complete comic strip! Drawn & Quarterly made a beautiful book www.drawnandquarterly.com/newsList.php?item=a43cd3af3e53ad. It is making me warm and I am laughing aloud. Life tonic. I've begun Ali Smith's GIRL MEETS BOY which she sent me last week after my praise of the excerpt I read (books.guardian.co.uk/review/story/0,,2199817,00.html). Her writing is so wonderful, and so is she. Thank you, Ali. You are right, anything is possible.
You can also read Kirsty Gunn's review of the book at observer.guardian.co.uk/review/story/0,,2200419,00.html>. Kirsty will be here on Saturday with Gina and they will do something together at the turtle gig with Gina and Silversun Pickups. Stay tuned.
I feel like noting the most recent other special reads: Catherine O'Flynn's WHAT WAS LOST www.tindalstreet.co.uk/catalogue/item_detail.php?id=236/a> and Amy Bloom's AWAY www.amybloom.com/index.php. This on top of always dipping in to poetry and short stories by the likes of Robert Walser and John Berger, and of course the recently noted Jove Jansson, and always poetry.
Now is the time to decide to try to sleep more, or just get over to visit Monica for our Sunday coffee and pick up yesterday's papers. Good morning and good luck!
TUESDAY 13 November 2007.
WHOOPS... just found these traces never posted. Out of order, like me!
Monday 5 November.
Just saw a work via e-flux news that I find so beautiful.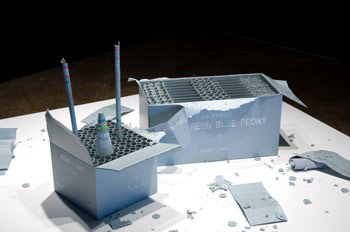 RedGreenBlue Peony by Katrina Moorhead, winner of a prize at arthousetexas.org
I hope to sleep soon as I have not been able to nap. I only lasted the first act of Tosca tonight. I thought the staging beautifully minimal and cold, mise en scène by Werner Schroeter (why I accepted the invitation to go). The music did not move me but for an organ sound at the end of the act. It sounded wonderfully out of place.
Speech therapy began this morning, Mathilde patiently teaching me to breathe. Am happy to find her relaxing techniques relate to those I know to prepare for Tai Chi. But I was most happy to learn turtle in sign language. I may video Mathilde's turtle and add as a clip to the site - everyone should know! I must ask how to say butterfly! If I learn to breathe, maybe she will teach me more silent communication.
Today I received Ali Smith's Girl Meets Boy, her telling of Ovid's Metamorphosis, and Waterlog, the catalog from the exhibition around and about W.G. Sebald. I sadly missed it, especially Tacita Dean's film. Coincidently, my Sebald conspirator Ben Hopkins wrote that he will be in Zurich when I am nearby in the clinic.


Fuck. Just opened Ali's book to find a quote from Kathy Acker:
I am thinking about the difference between history and myth. Or between expression and vision. The need for narrative and the simultaneous need to escape the prison-house of the story - to misquote.
Kathy's self-made "The adult life of Henri Toulouse Lautrec" by the Black Tarantula has been part of turtle from the start, and I want to build her missing presence. Yes, another turtle no longer with us.
I just got back in touch with Constance de Jong, a writer friend of Kathy's. Philip Wiegard, who just returned to Berlin, happened to have Constance as a teacher a few years ago and her email. "Blood and guts in high school" is available, I believe, and a recent compilation of her work.
Elizabeth is putting me in touch with Hatto Fischer who works with children who make drawings of war (www.poieinkaiprattein.org ). I have been following the news that such drawings in Darfur can be used in court to prove war. The drawings I filmed in Beirut remain with me as scars.
Before I forget, Antoine Viviani has an event coming up www.marienbad-records.net/22nov and he is helping do turtle at St. Sulpice on 23 November. Antoine is turtle's Paris angel. He is about to release a vinyl with cd of Winter Family to start his label.
FRIDAY 9 November 2007.
I am sleeping so little, in the most irregular patterns. Please excuse my not writing. Where was I last?
Yes, finally met with Cécile Colleen on Sunday. It was wild. So many people in the streets we dove in to a boulangerie so I could have a sandwich, or at least begin one. She had a nice tart, then we walked towards my studio. We stumbled on to a small quiet café I must have passed several times and Cécile bouth thé a la menthe and madeleines for us both, and she told of her tour in the U.S. with Beirut. She was happy to be back, and will play a couple of pieces for turtle on the 23rd. I can't imagine the 23rd from this day of the 9th. Am still struggling with the 17th when Gina Birch opens for Silversun Pickups. Kirsty Gunn is making something with Gina and coming to take part, but I am trying to get her name on the venue web site, and was assured all would be clearly on a flyer as a turtle event with the turtle logo. But no one writes back, and I have so little time and strength to follow up. I have to deal with a kind of large booking agent so can only hope things are done. I hope to establish the club has a video projector so Gina does not have to carry hers over. It will work out, in some turtle fashion.
The 23rd will rely upon Antoine who is so so busy with Matthieu and R.E.M., working part time for Pierre Huyghe, preparing his release of Winter Family and a gig on the 22nd (www.marienbad-records.net) but so so excited to do turtle. Several friends will help, but the day seems so far away as I pack my things. Am hoping Elmar can come for Gina and we can find some way to pay for his journey to bring turtle from Düsseldorf to store here in Paris. And he can place PROP magazines around to some galleries. Katje Stuke can drive in tandem as she will be here for the Paris Photo week. It will be wonderful to see Katje and Elmar.
Began speech therapy with Mathilde on Monday. She is very kind and patiently working on my breathing and relaxing. I saw her again yesterday and we will continue twice a week until I leave. I feel I will get a lot out of this, though it will be slow. I am slow. It comes at a challenging time with little sleep and a lot of stress, but that's not just my life, that's LIFE.
Tuesday afternoon went to Sylvia Bächli's opening at Pompidou with Anne Bertand, Sonja Kretz and Melody Owen. Sylvia's from the small town in Switzerland that Sonja comes from. I discovered Sylvia's work last year in a Cinema installation at Pompidou. I wrote her about turtle, but she was too busy to meet. I have since discovered how busy: she had a big show at the Sarralves Museum (www.serralves.pt) in Porto, where I first met Vicente Todoli (now at Tate Modern) and now this. Am so happy for her, but after seeing the Porto show I was disappointed that this one is so small. I hope to return when it is quiet and I can spend more time.
Having a moment of bliss this morning, Thursday (went back to sleep since I wrote the above). It is rare but a future is there! Now it is Saturday morning that I continue, so I must go back to Wednesday.
This day began with reflexology, and not much more. It takes an hour each way to see Catherine, and then I never can plan anything for the day. I tried to eat well and sleep, and continued to sort things out for leaving. I've noted that for the first time since news of the clinic on Friday I actually slept during my nap.
I did pick up a copy of Jacques Roubaud's "Les Animaux de Tout Le Monde", poems for ages 8 - 88. I have written to Roubaud to invite him and the work of his late wife Alix to be part of turtle. I know of Roubaud's work through Oulipo group (www.oulipo.net) which includes George Perec and Italo Calvino. But I had only realized that Alix was his wife. I know of her work through the Jean Eustache short film LES PHOTOS D'ALIX, and her journals which Anne Bertrand gave me a few years ago. Somehow her journals popped up recently, and I got a hold of a copy of the Eustache to see again, and I wondered what has happened to her photographs? No on seems to know. Jacques is the person I must ask.
Thursday Melody and I had planned to visit the zoo at the Jardin des Plantes. I had speech therapy in the morning, came back, ate and napped, geared up as if for a hunting expedition (but shooting with cameras), went to Melody's and we ended up having tea and talking. The weather was not right, and I was actually a little ill. But I did shoot a bit of an animal in her place - a talking animal with its own language. Or maybe I imagined it. Tea with Melody can be a moment of magic, a suspension in time, for we speak of time and time passes (or was that an angel?). Zoo next week after Mel returns from Berlin.
Yesterday, Friday, was a most special day. Something was in the air. I went to Cité Universitaire for the first time. It is an academic oasis (how can those two words go together?), a series of buildings representing many countries, each of a particular design (Le Courbousier built the Swiss house). The wind blew and the leaves were dancing. I found the Danish house where I met Karl Poulsen, the French translator of Inger Christensen's poems. His office was dark and warm, and Karl has a wonderful way of storytelling. I learned more about Inger, most special was the recording he found from Danish radio of her reading when she began to write. She sings her poems. I've never heard anything like it.
Karl passed me a copy of his French translation of Butterfly Valley and I left joyfully kicking leaves. It is hopeful that the Danish house can bring Inger over for a future turtle. We must find a way for her work to be published here, even if it has to be a low cost limited (or unlimited) turtle publication. The translations exist but the publishers say "poetry doesn't sell". These days...
I had lunch and a good rest, then Isabelle came over to make a cast of my ear. It is her project of ear casts with smells (she mixes in certain scents in to the plaster). This has to do with two other ears, one related to Camille Claudel and the other to Antonin Artaud.
Diala arrived and Isabel gave us a lift to a bookstore where a young Lebanese comic artist was having a book signing. The author, Zeina Abirached, remembered Diala as she gave a glowing review to her first book "(Beyrouth) Catharsis". It was a coincidence that I passed by this bookstore last week after an osteopathy session and wanted to buy this book but was 10 centimes short. I made a note of this signing, then met Diala, and discovered she knew of her work. We could not stay as I had to eat and get home, but it was a wonderful day.
I am waiting to hear from Antoine about the 23rd and whether we need to visit this priest again this weekend to confirm turtle. Meanwhile, Etel Adnan can read, Stephen Watts and Ziba are trying to come over from London, Colleen, Winter Family and Gaspar (cellist) will play, and Andrea (flute) is also hoping to make it from Basel. So the event is shaping, and there are a lot of helpers. If Karl Poulsen is in town he can introduce some of Inger's work, which he may also read, or we can play her recordings.
I may try to sleep a little more now. Remembering the advice of nurse Laura Wilde from the NHS in London, I can sometimes wake and eat but not yet drink coffee and return to sleep. Good morning! MHS
SATURDAY 3 November 2007.
The idea of going to the clinic has still not fully registered. I pray it is not a dream. Damn, that's what I should have done this morning in church! Yes, went to church. For turtle. Met Antoine who had sent my turtle proposal to the priest. He met with him last week and we went together this morning. The priest hesitant. I made turtle quite "reverential", but I can imagine the list of people and the looseness of schedule was too anarchic! That's just turtle.
Then he took us to another space rather than the crypt in which Winter Family played. It is another crypt, a little smaller, for children. It is perfect for small and big turtles alike. And we can do it from 1 to 6.30 on the 23rd.
Now I have to see when the clinic will begin. If before, we will postpone turtle until next year, but it still may work.
That wore me out and I had to postpone my meeting with Cécile until tomorrow. I did make it to see Nicholas Ray's "We can't go home again". I only knew that it was done with students, but it is crazy wild wonderful! I recalled the Experimental Television Center at Binghampton college, and some of the people there. This was hippy lovely, a sense non sense collage of great beauty. I was laughing (often alone), and both nostalgic and inspired.
From what I read, Ray was editing another version that he never completed (and better, claims Jonathan Rosenbaum). I will see Bernard Eisenschitz tomorrow, who wrote a book on Ray, and will learn more.
Now I should try to wind down and sleep. First enjoy a little more of Junot Diaz's new novel. Bonne nuit! MHS
FRIDAY 2 November 2007.
I forgot to tell you of PROP - Proud to be a V.I.P. www.nuans.de which nüans just published. It is a turtle! Not only is there a section dedicated to turtle, but from the first two inside pages by Wynn Dan to the interview with Anna Blessman and Peter Saville you will find turtles throughout. The only thing missing is the turtle logo. It will have to be stamped on - why not? Katje Stuke did a wonderful job of design and it is nice to see many friendly faces and have such good memories. Bravo, nüans!
I got my application off to Denmark yesterday but had to cancel a museum visit with Cécile Colleen. Still recovering from the weekend.
Met with the speech therapist, whom I like a lot. She is also very encouraging. I commence twice a week on Monday.
Katje Stuke is coming to Paris for photo week. Will show her new book. Check it out and help her make it at www.ks68.de.
This morning I learned I can go to the Swiss clinic - soon! Then I went off with Melody to the Cinématheque to see THE INNOCENTS with Deborah Kerr and the beautiful cinematography of Freddie Francis. But I do not remember Rupert, the turtle!
Found some more recordings of Carl Nielsen, got some food, trying to catch up with emails, read a bit, sleep and hope to swim in the morning, and make a Nicholas Ray film, "We Can't Come Home Again", late afternoon. Part of Victor Erice's carte blanche, so I must see it.
TUESDAY 30 October 2007.
Not quite 7 am, waiting for the sun to rise. For myself to rise. Philip Wiegard left yesterday, Leticia Obeid tomorrow. It is a day between sadness. A happy sadness for these are friends for ever.
I have not recovered from the weekend. The party on Saturday for Letitia, Philip and I - their leaving, my birthday. It is not that I stayed up so late but rather spoke too much. A wonderful frustrating pleasure.
Then on Sunday I was hoping to see YOUNG MARBLE GIANTS. They have not played together since the early 1980's but for a recent gig in Wales, and I saw them in NY in 1980 at Hurrahs, where I shot TRIBECA and first met New Order. I not only saw them, but I filmed them thanks to Nicolas Plommee. Nicolas took me to see the CONCRETES in 2005 which led to my working with Victoria Bergsman. And that was at Nouveau Casino, the site of the next turtle on 17 November! It was nice to be shooting with Oona Bijasson as well.
I met Nicolas when I presented my video work at Forum des Images as part of Anne Grange's CINESONG. I dj'd at a club where Nicolas spun. Afterwards handed the turntables over to old friend Mark Kamins. Mark and Nicolas became friends. I have been out of touch since Mark moved from Paris to Vienna two years ago. Mark texted me this weekend a birthday wish.
This leads up to sad news. On Sunday a friend of ours from NY, John Robie, wrote of the death of Frank Callari. Frank was a NY dj of the same era as Mark. We were all friends. I had actually been thinking about Frank a few days before. The last I heard he was enjoying great success managing a band in Nashville. So the 1980's cast a big shadow last week. I see it as part of my journey out of the darkness, with some shadow of protection. Friends we lose in body, but never in spirit. Now I have new friends in the Young Marble Giants. Stuart Moxham had tried to play the first turtle at Chelsea Space and I had dreamed of YMG playing a Paris turtle. Now I can at least show a video of their performance and, perhaps, plan something live for next year.
It was an end to a special week that brought me in to touch with Karl Poulsen, translator in to French of Inger Christensen's work, and her friend. I will Meet Karl at the end of next week. I was most excited to hear that BUTTERFLY VALLEY has been published in a journal in French, so I am hoping that Karl will read it at the next TURTLE & BUTTERFLY event, possibly 23 November.
The other day Letitia showed me a site for residencies around the world. I had to see what was in Denmark and, indeed, there is one. And its application deadline is in 2 days! I will make best efforts to apply. Scandinavia has been good to me, good to turtle.
Tomorrow I will go to my first speech therapy session. The sky is clearing after a day of rain. Indeed, I did not cry yesterday! Perhaps I was too tired for such emotion. It is not a necessary tradition.
Thinking of new friends, I must mention Melody Owen (thistlepress.net) whose work is beautiful and delicate, like a butterfly! And her videos have a poetry, like little acts of magic. She has introduced me to the Beluga whale, a small white wonder.
Keep tuned to Letitia's blog (nuevamelusina.blogspot.com).
I am trying to compose my CV. Was never good at this, and now must add what I have done since before I fell ill. It is more than I remember - and I mean that both being surprised at so much, and knowing that I am overlooking things. I will do my best for SAIR in Denmark!
WEDNESDAY 23 October 2007.
I am comforted by the stories of Tove Jansson. Her snow of words isolates and protects, keeping good things in and bad things out. I build safe places in my imagination. Childhood seems like a present in all ways. Tove's celebrations are not nostalgic but new. Familiar as a dream, and more special for we can return to her words. Again, I thank Ali Smith who introduces "A Winter Book", as she has been doing to the publishing of her writings for adults, and Penelope who keeps me alive with her generous spirit. The story "Correspondence" save my day on Sunday and made me think of Jan Morris. Now I eat the stories slowly like a special gift box of treats, but they are more like natural medicines, tonics to the spirit which can only lead the body on good paths, or "chemins".
Reflexology this morning, and a visit from Dana Stoica about photographer Nicolae Sandulesco who published a book in 1965 of his photographs of Brancusi's work. I saw a few photos here at the Cité and pursued him for turtle. I was sorry to hear that Nicolae is ill, but happy that he is interested to be a turtle. May it bring him health!
Am trying to wake from my nap and write. Overwhelmed by yesterday. It began with an appointment with a speech pathologist, Dr Elizabeth Fresnel. Dr. Fesnel was recommended by Dr. Francoise Héran, my MRI radiologist.
Dr. Fresnel said that it is amazing where I am considering where I came from. She was also encouraging about healing, even for my soft palate, through speech therapy (which may include singing - you would not want to hear). She thinks this could help to stimulate/reconnect in that grey and/or white matter. I loved looking inside my throat as she showed how I am working (and not working). Again, it is here in Paris, that I find such positive outlooks on the possibilities of the brain. Its plasticity. Regarding my fatigue, she simply said it was to be expected considering what I went through.
(Dana said she had a friend in a coma for 2 months with many problems and, after 6 years of work, she returned to her former self. It has been merely 2 1/2 for me. I need to find the patience.)
Jin Yiming called in the afternoon. She is a Chinese/Korean pianist who lives upstairs. She invited me to her studio to learn more about my illness and wants to help. Yiming and I will go shopping in Chinatown tomorrow and she will begin to cook for me! Enough for my daily meals!
Met with Lina Broecker, an artist from Munich. I like her work a lot and hope to have a link to what she did as "public sculpture". Brilliant! (where am I, London?). I wait to see her partner's video and am sad they, with their two = kids, are leaving tomorrow. We had passed one another many times, but it took until the final days to really meet. I am sure we will meet again.
Alison wrote that she has gone through all the footage and will send some notes. Beirut lives! Will always live, in its special way.
Sara Claudel stopped by last night. I showed her the Inger Christensen book of poetry from 1962 I just got It is the French publication that contains the poem she gave to turtle. Sara recognized the translator's name, looked it up, and confirmed he works in the Danish part of Cité Universitaire where she works! I had been trying to find him to translate some of Butterfly Valley in to French for an upcoming turtle reading and he's in Paris! Sara is making the contact now. I hope he is already engaged by a French publisher. If not, turtle to the rescue!
Just got a preview of Junot Dìaz's first novel. His short story in the New Yorker earlier this year was so beautiful. Tove, Junot... I should read and rest now. Good night! MHS
MONDAY 22 October 2007.
No tears yet
Before I go on I want to share Stephen's poem on Benjamin.
Marginal Note in Time of War


His name was not written
Hannah Arendt


Walter Benjamin took his own
life out of pure exhaustion, walking
into the mountains against love's gravity
up the scarp slope of his melting reason
to where he was abandoned by language.
Huge lethargies in the world glutted him
then stiff blood came, pulsed out in coils.
Who knows where he could have gone to
after that, except he couldn't go on, burst
by the butchered choice of angel history,
a tremendous shattering tossed across his
face, tiny maggots gobbling on sunlight,
fascisms in the honeys of his friendship.
His name unwritten, nowhere to be seen.
He who was the loveliest among people.
Why did no-one tell him when he lived ?
Nothing was left to hold him on the hill.
Angels could not put back insane reason.
Exhaustion killed him, more than terror,
more than despair, or a theology of dirt.
At the end-when the angel of history
called out his name to mock him-he
walked higher up into the blind frontier
and took his own life on a hillside that
looks over the sea : one of the loveliest
places on earth, as Hannah Arendt said,
and like himself, halfway up
and halfway down.



Stephen Watts
in collection The Blue Bag,
Aark Arts, 2004, ISBN 1899179925

SUNDAY 21 October 2007. evening
Dreamt of my friend Tilda last night. Then, during coffee, I happened upon a piece from John Berger's book, "The Shape of a Pocket". I had pulled it off the shelf last night. Tilda is a friend of John's.
A book mark took me to Rembrandt and the body. "Corporeal" is a word Berger uses several times. I cannot remember ever seeing it in print. It is a word that came to me when I had to write about turtle at Chelsea Space. I remember having to fight for it as it rang so true. To describe my illness as a corporeal civil war. And here it was used so terribly well. Berger moves from museum to hospital to speak of the laws of the body. He even quotes filmmaker Robert Kramer, "Behind the eyes and throughout the body. The universe of circuits and synapses. The worn paths where the energy habitually flows." And goes on to say that Rembrandt "was the painterly master of this corporeal space". I must visit the paintings he references in the Louvre.
Yesterday Penelope introduced a photographer at a book launch at her bookstore The Red Wheelbarrow. She used the word "collaboration" with comment that she does not like that word. I had to know why. It comes from her childhood in Western Canada. I did not exactly follow her reasoning but to understand that it comes from "to collaborate" in a quite negative sense, such as to collaborate with the enemy. I agree with Penelope that we should find a better word to describe artists working together. Perhaps make up a word. Any ideas?
This week began on Monday. Nothing new. I cried. But it was a good cry, not like the previous Monday crash. I thought of New Order's song. And I thought of where the title came from: an American teenage student shoots his teacher in school one Monday. When asked why, he said, "Mondays make me blue". I am not sure this is the source for New Order, or I read it in relation to another song by someone like Bob Geldoff/Boomtown Rats? Then I thought of my first music video idea for New Order's song. A suspenseful narrative cutting of children readying for school, each packing a weapon in their bag. When we fear for the worst, picking the weapons from the lockers, the kids bury the weapons in a mass grave, a celebratory demonstration against them! I proposed the idea to Rob Gretton but he said that television in England would never show a gun (with a child?). I think this was before MTV "rules". A little personal history.
On Tuesday I decided that I had to get one important thing done a day. On Wednesday I finally wrote and got a package off to Brian Keenan. Thursday a proposal to the clinic. Friday a letter to Inger Christensen. Friday morning I met Marie Losier before she flew back to New York. She said the festival was wonderful. The people of the festival, the audience, the ambience. I gave her the news that my ex-student Larry, sound editor in New York, will help on her Tony Conrad film! Marie is taking it to Berlin. I am hoping to take my Beirut film there - I think I have a way. We made a pact to meet there!
Yesterday I met Isild about her upcoming show (see Paris news) while Antoine met the priest at St. Sulpice about a turtle in the crypt. The priest is interested but it is only possible during the day on Thursday or Friday. I knew it would be too much for this coming Saturday so now we will consider for late November before I leave Paris. Perhaps a Friday would be nice, with a lunchtime concert and another early evening. I have been making a list of people who would be involved so we can present the program to the priest. Thank you for the introduction, Ruth and Xavier (Winter Family), who will be a part of what happens. Stephen Watts wrote today that he and Ziba were ready to come read!
Etel Adnan read last week in a bookstore on rue Mazarine. I went to say hello but was too tired to stay. Anne Pears joined me and we ran in to Jim Hayes. Hercules had just put us in touch and we have been phoning one another to meet soon. Still must do that. I sadly had a bittersweet walk home across the Pont Neuf. Nights are not yet mine again.
Yesterday I knew Letitia was visiting Benjamin's grave at Port Bau on her way back to Paris. I happened on Stephen Watts poem for Benjamin which I will try to find to put here. I photocopied it and put it under her door for her return late last night. I woke to her message of warmest thanks. After visiting Monica I brought her a croissant and she told me briefly of the journey. I brought up the question of collaboration and she has written of it in her blog (nuevamelusina.blogspot.com). Then I had to nap and go film Philip completing his sculpture. It was short and sweet. Perfect. We strolled out for a chicken, I've eaten and rested again, and now am bringing you up to date on my life.
I must drop a copy of David Pears book to Penelope to sell. The air is crisp but the sun still bright. Tomorrow Letitia and I will visit the bibliothèque where Benjamin wrote (and Bataille saved his papers, now in a Berlin archive). But I must write to Alison about ideas for Berlin.
I just listened to Brahms' first symphony which I heard in Basel and wondered of the relation to Beethoven's 9th. I finally looked it up and liked Wikipedia's reference:
An important theme in the finale of Johannes Brahms' Symphony No. 1 in C minor is related to the "Ode to Joy" theme from the last movement of Beethoven's Ninth symphony. When this was pointed out to Brahms, he is reputed to have retorted "Any ass can see that!", which suggests the imitation was intentional. Brahms's first symphony was sometimes jokingly referred to as "Beethoven's Tenth".
MHS
SUNDAY 14 October 2007. evening
This is what I wrote for Marie Losier to present for this evening's screening at the Festival "en route vers la monde" www.verslemonde.com

Hello!
I am here with you through Marie, how lucky is that?!
It saddens me to be so close to my first opportunity to be present with the film, but it warms my heart that I am part of this festival program.
This is a small work but means a lot to me. It is a love letter to Paris. It is also the last thing I did before falling ill. My approach was in celebration of the Nouvelle Vague where filmmakers took not just to the streets, but to their streets.
Inspired by an old song of New Order when I began to work with them and Victoria's simple story and the way I knew only she could carry it, it is Irena Lubtchansky's frame and Catherine Quesemand's rhythm that completed the dance.
On my web site (www.kinoteca.net) you will learn why THE TEMPTATION OF VICTORIA is dedicated to Michael Powell.
In the story I tell how I only recently learned that we missed the chance of working with Michael as a result of sport over art. It has to do with Tony Wilson, responsible for bringing me in to my New Order story, who died this summer.
While THE TEMPTATION OF VICTORIA was made by special request to the band, and the first I directed for them, the two earlier videos I produced for both New Order and Tony who was my collaborator in all of my Factory work. They have their own stories which you can also read on my website.
These screenings are dedicated to Tony, with thanks and love to Marie. And to you! MHS
P.S. Please let me invite you to TURTLE at www.turtlesalon.com as it is an important part of my crawl back to life.
SUNDAY 14 October 2007.
I was right. The bench in the park was where the sun first appeared as I sat to briefly eat my late morning snack. I was alone. More alone than I knew when I noticed many of the plants have been removed for a seasonal change. The few that remained held its beauty. We do lose things in the fall, only to make room for preparing anew.
I met another friend through death. Alexandra Boulat, a photojournalist. I read the obituary only today. She died here in Paris the other day at 45 from a brain aneurism. Younger than I. Less lucky than I. The turtle cemetery is filling with people I have never met but whose spirit will be carried and celebrated.
This evening THE TEMPTATION OF VICTORIA play in a film festival in western France. Yesterday I met Marie Losier on her way there. Marie programmed the short with two other music videos that I produced. We met by Gare Montparnasse so I could pass her a train ticket for a journey I was to share with her but cannot. This is the closest I have been to presenting the film.
The short time we spent together was charged with love and pain. First Marie had the news of Lady Jaye's death by heart attack in New York on Tuesday. Marie has not been to sleep since then, keeping with Genesis, LJ's wife and partner. Marie will return to Paris tomorrow for a few days so we will have another moment together. We plan to help each other with our films and plan to share them in Berlin next year.
I visited Monica this morning but did not go on to the café. I wanted to tell her about my week since I saw her last Sunday, that I never made it to the Pasolini film, how I had to stop a medication as I found myself in tears and fear on Monday, but that I am much better and am working on how I can get to the clinic, and I believe that I can.
Have been filming Philip in his studio this week. Nothing planned, just looking and it feels good. A little portrait may emerge.
I have had to write a lot of mails this morning, and have more to do. Am tired now and must take a nap, hoping to wake enough to continue with my day. Perhaps I will write more later. MHS
WEDNESDAY 10 October 2007.
Monday was a nightmare that I have survived.
Yesterday morning I had coffee with Letitia just back from Beirut. It was good to hear her stories. It was a better day that ended with a sleep from 11 to 7 - non-stop! This has not happened in years. Must be the fatigue and fear from the weekend giving me something. I am moving as slowly as I can.
Just finished THE ANGEL OF HISTORY out in 'my' garden. Wearing a wool cap as the sun went down and formed a beautiful Ellsworth Kelly shadow across the page. The story is poetically told that I felt a good sadness. I was happy it was over for Benjamin and not for me. I traveled closely with him and the story colors the France I am in now. The world we are in now.
SUNDAY 7 October 2007.
Out of sync. It is 4.30 and only recently did I finish lunch. I woke at 6.30 to enjoy a moment of the pink light. It was a morning of laundry, and a visit to Monica with a brioche. Passed Eugene Green on the way to the café. It seems his new 'spot' is Au Chai L'Abbaye where I used to eat dinner alone, enjoying simple cheese and wine. Paris is too full of my past. Eugene has finished his opera text, is writing a book and a film script.
At the café I could not work, wrote nonsense and finally left. Antoine was late so I sent him a message that I was across the street in the sun. When he arrived we walked to the Luxembourg Gardens and sat near to the chess players. My mood lifted as we discussed a possible turtle on Saturday the 27th. It is only an idea, but a good one. Will depend on many things, especially the space - I would like to do it under St. Sulpice and during the day. It would have a loose schedule of music and film with readings. It is near to both Etel Adnan and Emmanuelle Riva. Hoping Verity Sussman could come over before her busy November. Michael Ward-Bergman I fear is engaged. Will show video of Arthur Russell, whose spirit the day will be with and for. Stephen Watts and Ziba would be a blessing. I need poetry. I need strength. As I write I cannot imagine this happening because it needs a lot of me. A lot of me that is not here. Marie will be here on Saturday to go to the festival and I cannot even imagine that without fear. Fear that I have yet to recover from Switzerland. But fear is part of my life.
I came across something Hemingway said, "Worry destroys the ability to write. Ill health is bad in the ratio that it produces worry that attacks your subconscious and destroys your reserves." Fear. Worry. Words. Where's the poetry?
In THE ANGEL OF HISTORY I've just come to where Benjamin dictates what will become his "Philosophy of History", the work that lay on Etel's bed in her short story "The American Maladie". I must go out in the sun before the little park closes. It is closing so early these days!
Ok, I'm back. So many small people. Children. Bookstore closed but the walk took me past a special grave. There were such beautiful flesh pink leaves of a vine covering the wall behind. Individual ones floated down, one as if waiting its turn after another. Then a rustling of pigeons on the roof stirred a flurry. The smell of decay further on urged a fall smile inside me. Some pleasures don't come easy.
A Swiss German couple arrive with their two children. The view from my window. The sun's last kiss of the rooftops. I listen to the Avalanches. MHS
SATURDAY 6 OCTOBER 2007.
Nuits Blanches. A cool morning, a warm afternoon, a white night. Alice with strip with her friend Gaelle near Les Halles, just about now. I was there a few hours ago to find a guy from New York building their "stage".
I could film if only I could make it back to there. It has been a full day, a day full of life from fun to fear. Early on St. Sulpice, briefly a bite nearby with a friend, and after a rest a spurt of energy to visit a couple of galleries with Philip. First to ColletPark (www.colletpark.com) where Pierre Weiss's show will soon end and Rita McBride will soon open! Pierre was there with Gaelle Obiegly. They are both friends and Gaelle's new book JEALOUSY came out yesterday. Park Hyun-Jeong was most friendly and perhaps a future turtle. I remembered once stopping in the gallery for directions to another and the small space made an impression on me. Afterwards we were close to the gallery of Silvia Bächli, whose work I like very much and have contacted for turtle. She said that she was too busy and now I know why. She had a big show at the Saraveles Foundation in Porto this year, and one opening at Pompidou 7 November!. Galerie Nelson-Freeman was most gracious. It was a pleasant gallery afternoon.
This week began with the return from Switzerland. I ust reflect, and recover from the travel. Andrea and her parents were most kind. I think I have leaned on them too much.
There I wrote:
STILL IN PRODUCTION, A Grim Tale Where Life imitates art.
My biggest production that could ever be is upon me. I have been awarded it without asking! I am lucky beyond imagination. But it is wearing me out, almost killed me!
It began in the summer of 2005. Filmmakers always have several projects 'in development' and I was on my way to China for Channel 4 in London when, BOOM, I was knocked out by something I could not resist. It changed my plans. I stayed in London intensely working in a special facility for three months. I had a large crew who worked around the clock. The script was being written during the production so we never new just what the results would be. You know I love to work this way - true art, I say! - but often it is too hard on producers.
But these producers had the finances needed, could somehow always find more, and the equipment - it was a dream! In fact, I did dream fiercely during the early stage of the production. Both wonderful visions and nightmares. Again, not so unusual, but never to this extreme.
I often felt that I was the production. Everyone was working so hard for me. They really believed in what I had to do! I was king and now I know what a responsibility that is, and how exhausting it can be.
I was drunk with the work. Without drinking I stumbled, heard sounds (Jean d'Arc) and saw things in pairs (Noah's ark?). I was in a whirlwind of activity, within and about me.
Have you ever been in a coma? Well, I have and this is what I can tell you. Am telling you.
I am in post-production now. It is so slow I call it a "turtle". I am having trouble making decisions. The material is too rich, too layered, and it could go in any direction. There is the beginning, a 'teaser', and it makes this clear. Everyone wants to see more!
But I know that I will finish and it will let me work again, which, of course is to live! I wonder whether it will be a serial, like chapters in a book (as my composer sees it), or a series of walks, making small steps, which add up to a big journey.
I have to change my team (but for the composer). I am in trouble. That is my story now - trying to rebuild what I have. I've come to Paris where my film heart, soul and history is. Even here is it hard. It is the right place but now I am in Switzerland! Who would have thought?
I am following the voice of an angel and I think I am getting close to the end. An end which is a beginning. As Susan Sontag said, if you begin and it's not the beginning, begin again.
So I begin again and I am ready for my premiere. There is still a lot of work to do but I can taste it. I can smell it. I can feel it. I am my own production. I am producing myself back to life.
SATURDAY 29 September 2007.
Tuesday morning I met with Letitia Obeid, a video artist here at Cité. She was flying to Beirut that afternoon, for the first time. I showed her the beginning of my film and we discovered a lot together. She is in Paris with keen interest in Walter Benjamin's final project on the Paris arcades, or Passages. I begin with a Benjamin quote. I arranged for her to meet Fouad Elkoury and Akram Zaatari, who happens to be a friend of the only person she knows there. Her family, from Argentina, comes from Lebanon, some generations back.
I feel that Letitia has taken my spirit with her and I asked her to look for my ghost. I believe she is back tomorrow and brief messages have shared her falling in love with the city. Before she left, Letitia sent me:
Benjamin wrote in his "Passagen Werk" (or the Project of the Arcades) this for you: "In 1839 was elegant to walk with a turtle. That gives us an idea of the rythm of the flaneur in the passages".
So I that is why I feel the edit is a walk. With a turtle!
I returned WHAT WAS LOST to the bookstore with good comment and was passed a copy of Bruno Arpaia's THE ANGEL OF HISTORY, a fiction with Walter Benjamin a character. Years back I enjoyed Jay Parini's BENJAMIN'S CROSSING, which he references. This also ties in to Victor Erice's SPRIT OF THE BEEHIVE as the other character is fighting Franco in Spain. The two will meet near where Benjamin is buried, a site I plan to visti one day. But now I am walking with WB in Paris and just learned that Sylvia Beach, who founded Shakespeare & Co., comes from Baltimore, if there be truth in fiction.
Met with Maxime who promotes these special music shows about Paris, such as Winter Family under St. Sulpice. Will see Antoine tomorrow about us all collaborating on some turtle events. Isild Le Besco is in New York showing Charlie at Alliance Francaise, and Marie Losier, who curates there, is coming this week to take me to a film festival next weekend to show some work. Then Rita is coming, as is John Baldessari for a show at Marion Goodman.
Elisabeth Karoyli met me at café de la Mairie on Friday morning before moving to Athens that afternoon. Another Elisabeth, Elisabeth Weta, from Düsseldorf joined us. Weta gave me her image of "turtle in the sky" which is a ceiling of a Paris church where the two windows resemble translucent turtles. K left and I took Weta to see the Delecroix paintings in St. Sulpice. She pointed out the angel Michael in one of the paintings. I can't hear the lyrics for the music. How many times have I been there, even drawn the stand in the middle which gives the information.
John Gianvito sent a poster for his film - it is so beautiful.
Tomorrow I will try to see a Pasolini film, part of Erice's 'carte blanche' at Centre Pompiou. MHS
SATURDAY 29 September 2007.
Basel, Switzerland. Am here visiting Andrea Loetscher and family. Yesterday Andrea and her mother drove me to visit a clinic two hours east of here, past Zurich. But I will begin with Monday, the morning I had my most recent MRI (IRM in France).
Nothing new in the routine of putting in earplugs and gliding into a tunnel of the machine. The picture taking seemed shorter and the noise less than in London. I would guess due to advancement in the technology. Most noticeable was the lack of loud clanging sounds and the shorter time inside.
The neuro-radiologist was most kind. She spoke with me after reviewing the images and comparing them against the ones from 6 months ago. There was nothing new - no more lesions or further scarring. There is one (or more) in an unusual place in my brain stem. She said something about it being normal for a pregnant woman?! She said that there would be more healing over time, albeit very slowly. This was more encouraging to the doctors in London who said that after one year I would not get better but, at my age, only worse! I have never accepted that and have done my best to produce myself back to life. In Paris this was a first step: making sure my vitals were fine, then consulting a new neurologist who ordered the MRI.
I went nearby for a coffee while my friend had to return to the MRI office for something. Then I was summoned back for some more scans. The radiologist had looked at the CD of all of my MRI's since I fell ill and wanted to take some particular ones of the basel ganglia area.
That afternoon I broke down. My friends at Red Wheelbarrow were warm and wonderful. I walked out on the Pont Marie and thought of feeling sorry for myself. A confusion of feelings. Then for my best friend who suffers so from depression. I felt a taste of her pain and it hurt me so to imagine hers so much greater and so constant.
On Tuesday the radiologist met with the neurologist at the Rothschild Hospital to review the materials and then write a report. On Wednesday the neurologist requested to see me to discuss them. He spoke of the plasticity of the brain and agreed with the radiologist that healing would continue. There was no particular therapy suggested but perhaps to see a speech therapist again, but rather felt my anxiety added to my fatigue. So he prescribed more valium, 3 x day, and a small dosage of an anti-depressant.
At 4.30 Philip and I went swimming.
Wednesday evening I met Mark Rappaport and his partner, John, at the Theatre du Chaillot to see Beckett's HAPPY DAYS. It was an English production directed by Deborah Warner with Fiona Shaw. It was a gift from Mark and meant a lot to me.
Seeing Beckett is another step up the ladder to life. It is like when I went to the Berlin Film Festival this year after having been there the year I collapsed. In hospital, when my double vision corrected, I asked Ned to find a book of Beckett's with large type. So the first book I read was ILL SEEN, ILL SAID.
I have seen Happy Days twice before. The first time was in New York with Billie Whitelaw and nothing has surpassed that. (Mark saw it with Jessica Tandy at Lincoln Center). The production in Paris was very "a la mode". Winnie wore a black dress, perhaps Chanel since her powder case was obviously Chanel (smelled of product placement). It seemed more like French comics with Fiona's exaggerated features. But there were moments of beauty and, of course, the language is the work, and the work is poetry.
The strangest thing was having an intermission between Winnie buried at the waist to the neck. Worse was playing the "Happy Days" theme song from the American television series!
Buried to her neck Winnie was better. Her fashion was gone, her teeth blackened, and Willie was more of a presence and played wonderfully. It was sublime.
Thursday I was to travel here to Basel. In the morning I returned the loan of Amy Hempill's collection of short stories. It started off wonderfully with a feeling of the standup comedy of Lenny Bruce. Then came the animals. I love animals, but here they seemed to get in the way. I picked up a copy of WHAT WAS LOST by CATHERINE O'FLYNN, a book recommended back in London by that became part of the long list for the Booker. On order is Amy Bloom's collections of short stories and the "Angel of History" I requested.
Then I went to the SCNF train boutique to buy my ticket. My choices were midday or 5 pm so I chose midday. Back home I finished packing, Philip was available to help and Isabelle could drive us to the station. The train journey was easy. I listened to Jacques Brel and Winter Family. Andrea met me and took me to her home where I promptly slept.
Friday was a long day. We left late morning for the clinic. We arrived early afternoon. The director, the godfather of Andrea, was most kind and proudly gave a tour of the facility. It started with strong memories of my hospitalization and I had to question whether I could return to such an environment. When we got in to the building in which I would reside should I stay there it felt better. It is a wonderful facility that embraces alternative therapies in combination with their advanced neurological mechanics. Qigong was an integral program whereby reflexologists are called in to compliment.
After a rest I met the head neurologist. He was familiar with the Parkinson specialist in London who he regards as the best, and reiterated that I had wonderful care. I acknowledged this and we proceeded on to if and how I could benefit from the clinic. Through our lengthy conversation I left with the neurologist needing time to further review my materials and produce a proposal. It seems that I do not 'fit in' to a position of an early neurological problem which he can 'promise' improvement. Seems to fit with nobody knowing what happened to me. I feel yet another challenge, and he seems like a man interested in challenges. At dinner last night Andrea's father confirmed that he was a special man with unorthodox ways, often at odds with the clinic in the way that makes the place so special and so successful.
I had written out an overview of my condition, its history and my current concerns. We went over it carefully and then we came to TURTLE. I had not reviewed my writing and had not bothered to attempt to explain. He ran out of the room and returned with a large dictionary. Then he quoted, "In American, to turtle is to ... ", something to do with hiding behind something. I laughed and made a brief explanation. TURTLE defines me more than I realize. You cannot categorize turtle, nor my illness, nor my work, my life. Is it something I am hiding behind?
I do not know if I will receive a proposal from the clinic after all, I do not know if I could find the money to pay (knowing it will be very expensive), nor if it is a good idea. I think it is, but we will see. I cannot worry.
I am enjoying being in Basel, finding some good air, even some art. There is an exhibit of forests, and I just discovered a large show of Robert Gober where Tacita Dean had a show a couple of years ago. I may see a friend in Zurich who has an art space perhaps for a future turtle. Tomorrow we will go to hear the Vienna Philharmonic. I am in bliss. And now it is time to nap.
From the land of air and chocolate, and more. MSH
MONDAY 24 September 2007.
The morning sky is ablaze as I glance to describe it. Until now it was grey and white, as beautiful, but like a brain. My brain. I am off in a few minutes for another MRI. The sky was grey matter with white matter below. The white matter with scars. Now a pink tinge has become almost orange.
At a bookseller on the quay outside the Cité a book jumped out at me. FANTASTIC NIGHT by Stephan Zweig. I so like his work but could not think of how such an idea of a fantastic night has changed in my brain, in my life.
The other day turtlesalon site received a mail from a large cultural institution in Beijing that is being built, enquiring about turtle setting up there. The clearly do not have an idea of turtle, nor do they know that I was on my way to Beijing when I fell ill. Perhaps turtle will have to go there some day. When turtle is ready!
I never made it to the film yesterday but encouraged Leticia to go. I saw Gina, Ana and Shirley briefly and that was all I could do.
Today, it is first the MRI, then this afternoon a meeting about 17 November with Silversun Pickups, then a swim. Tomorrow I cannot remember. On Wednesday I am to go see Samuel Beckett's HAPPY DAYS directed by Deborah Warner with Fiona Shaw. I hope to meet Ms. Shaw as she recently went to the Galapagos and must have some turtle news.
More radiation... MHS
SUNDAY 23 September 2007.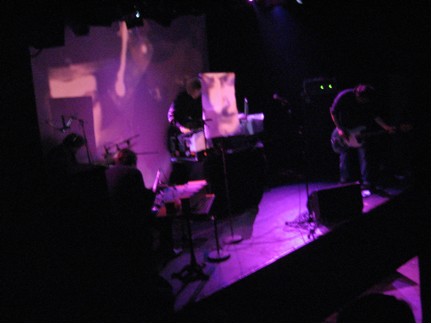 I made it to the concert Friday night. Sublime. They played early and I was able to get home early. I took the metro from Place Gambetta which stopped me in my tracks. Here I filmed a couple of scenes for SOUVENIR. It began at Café Gambetta which is no longer there and ended in a telephone booth which is there. Barely. Like me it stands damaged. The fountain in the middle still works but was not lit. It was a somber moment for me. Bittersweet.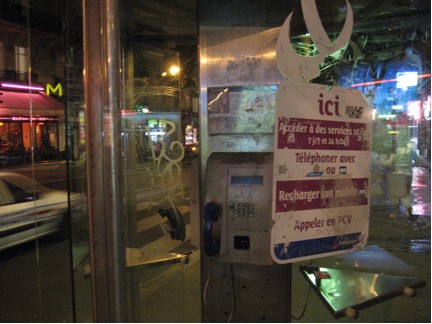 The waiter in the café scene is played by Geoffrey Carey, whom I ran in to at the swimming pool two weeks ago.
Yesterday was a washout. I paid for Friday night. I realize that I am a reverse vampire. The rising sun is my moment of bliss. I often stand and watch it drinking my first coffee, in London as I do here. Mornings remain my best time.
But I did go to Gare Montparnasse to have a coffee with Fanny Howe who was passing through Paris. Her train was delayed. I could not wait as I had to meet Johanna ter Steege who was here for a cast and crew screening of a small French film. Was good to see her and Jan, but I had to excuse myself from the screening. I introduced Michelle Carey who came to meet me and is a fan of Johanna's work. Michelle was then off to Italy to meet our mutual friend Olaf Müller and to a film festival, of course.
One evening last week I watched Almadovar's TALK TO ME, a film I had not seen since its release. I did not remember how much Pina Bausch's dance played in the film. The opening was a piece, Café Müller, which I just saw in Paris this past June. That was due to a friendship I made with one of her dancers, Melanie Maurin, when I presented turtle in Düsseldorf. The last person in the film was Melanie!
After 7 years with Pina, Melanie has returned to her studied in Montpelier to become a doctor. I wrote her immediately, having forgotten to return a mail to her mother a couple months back. Melanie wrote right back that she was assisting in a surgery the following morning and spoke of the surgeon's dancing hands.
This morning I was able to visit Monica and share a coffee on my way to Café de la Mairie. There I worked until almost noon. My paper edit.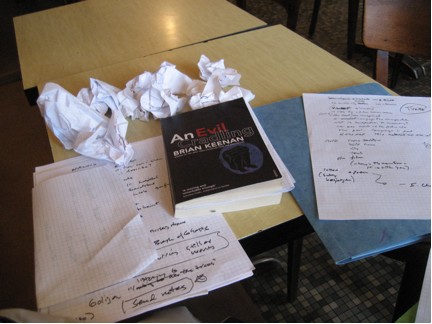 Going over pages of notes, making new ones, organizing and throwing out old papers. Fatigue set in and I crawled home (by bus) and back in to bed.
Eating lunch I heard a most beautiful and sad song by Jacques Brel, LA VILLE S'ENDORMAIT (The town sleeps). The word 'fatigue' jumped out for me. It is a song off his last album, written and recorded when he was knowingly dying.
I am now waiting to hear from Gina Birch who is arriving with Ana da Silva for a film premiere tomorrow which uses 4 Raincoats' songs. After they will play in a bar. I know that I cannot go! My day begins with another MRI.
Am supposed to take Laetitia, an Argentinian video artist here at Cité, to see Erice's THE SPIRIT OF THE BEEHIVE at Pompidou later. Am not sure I will make it. But you must! There are DVD's and today will be a new print. And it will play once a month through December. If you are lucky...
MHS
FRIDAY 21 September 2007.
The week began low. I had to cancel my meeting with Yvette Mallet whom I have not seen in 3 years. With luck, Philip was up for swimming at 4.30 so I went. It lifted me. Dinner that night with Yoichi's fresh squid helped further.
Tuesday the osteopath, then laid low. Wednesday the reflexologist set my mind abuzz. I was tripping with energy. I had to eat, then rest. Woke slowly and assembled material from the film for Markus Acher, the composer, who came to visit last night. I was ahead after being way behind, overtaking the hare. But stayed calm. Yesterday helped a friend make a DVD of her work. Then I received what appears to be good news coming regarding help with my health. Markus arrived and I went through some material, including a funny story Fouad told in Beirut about Robert Frank after the civil war. And there was the sync sound to the man playing the 45's to which I had put his music for the edit I made when he last visited me in Paris in the spring of 2005.
I have not seen Markus since I fell ill, and he now has a one year old child. A lot has happened to us both. But we remain on a good 'chemin' with our work for the film. Markus had good clear feelings for the material and its construction. He saw it as building chapters which fits in to my recent thoughts. But his eyes set me alive. I could not sleep. I thought of what he calls chapters as a series of walks. I thought of how an 'album' of songs, such as his Neon Golden by The Notwist. The songs as chapters or walks. Chemins.
Now I must make my walk to my swim with hopes to make Markus' concert tonight with Tied & Tickled Trio.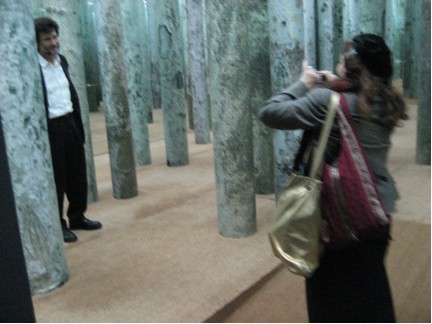 Victor Erice in Abbas Kiarostami's forest..
SUNDAY 16 September 2007.
Up early enough to do a wash while I wake. With coffee I read AWAY as the sun rises. I can glance to my left and see the brightness of color defining the clouds. My favorite time of day. Even more special this morning is listening to two recitals of Andrea Loetscher, flautist and friend, who is in Basel. But she is with me here at sunrise this morning. After the Mozart comes the special Nielsen. The ending takes my breath away. It is Andrea's playing. I have heard another's and it is not the same. I know so little about the flute. I thought I knew nothing, but when I made a copy of Victor Erice's The Spirit of the Beehive" yesterday I realized the haunting music is with flute! It is an instrument that has been in my subconscious for years.
This takes me back to 24 August. It was the day I was rejected from a blood test because I had eaten breakfast. That morning I received a package from Xinran. Xinran is an author who wrote, "The Good Women of China", a book that so moved me that I made contact with her in London in 2005 as research for "Enigmatic", the Joy Division documentary that I was heading to Beijing for.
I had come across her name again recently and a correspondence began. Then she asked me to write my thoughts about Chinese music for her website (www.motherbridge.org) , culture for children. I answered that I would do anything for children and I did not know about Chinese music. But I wanted to write and asked Xinran to send me a CD. To my happy surprise it was "A treasury of the Xiao tunes", played with "dizi", a Chinese flute. Furthermore, there is both traditional music and songs written in Twelve-tone Serialism. The flute is playing in to my life, giving me life.
I could never carry a tune, but a turtle I can! Being able to whistle again was a goal in hospital. Now this turtle can whistle, though not well enough to hail a cab in New York.
Also that day brought me joy in hearing from Bridie. She was better and going to college! Bridie is my "adopted" turtle (see her at the Woburn turtle).
Then I met artist Erin Tappe from Tasmania. She is leaving after her stay here but we just met and there was a turtle bond (turtle glue?). I discovered that her father had a similar brain situation that has effected his speech, more in the way of stuttering. And he is a speech therapist! I have just received his email address and an interest to correspond (I asked Erin if he might).
On another day I met another departing turtle soul, Tony Chun. I saw him carrying a 35 mm film can and learned that he is an experimental filmmaker. My first words upon learning he was from Taiwan were "Tsai Ming-Liang", a filmmaker who means a lot to me. A scene of his VIVA L'AMOUR was shot in Tony's apartment! That film has an extraordinary ending, comparable only to Antonioni's L'ECLISE whose work Tsai obviously reveres. Which reminds me to send Tony my story of a hallucination about Tsai when I first entered the hospital.
I have just returned from my nearby garden where I finished Amy Bloom's AWAY. It blew me away. Will resonate for a while. A special read. It all comes down to poetry!
The sun is almost asleep and I hope to post this weekend's traces this evening before I eat and sleep.
Good night. MHS
SATURDAY 15 September 2007.
Päivi Takula writes back with a contact for me. Tuulikki Pietilä is still alive and she passed me a contact for a filmmaker who has worked with Tuulikki and Tove Jansson. I have just finished Tove's sublime FAIR PLAY, her last book, and through turtle Ali Smith's introduction learned of Tuulikki. The two women shared a life together, likely similar to the characters in the book. At least it is true that Tuulikki filmed a lot in Super 8 and I am interested to see if it could be part of turtle. Besides, she also drew many of the Moomin characters!
Forgot to mention lunch with Mark Rappaport on Thursday. Lunch with friends is hard - any meals. Eating takes a lot of energy, is slow, and if I talk can choke easily! But it is nice sharing some time and listening. Afterwards we stopped in toe the Red Wheelbarrow English bookstore near me (www.theredwheelbarrow.com) where Mark spoke with Abigail and Penelope about AWAY by Amy Bloom. As we left Penelope came out and handed me a copy on loan - a true turtle gesture! I also learned from them of an independent booksellers "best seller" list at www.bookweb.org.
Reading is keeping me alive. It is the one easy thing I can do with a cup of coffee in the morning, tea in the afternoon and evening. In bed in the middle of the night. In the park nearby. Books, the Independent newspaper on Friday, and the Times Literary Supplement. As everyone tells me I must rest. Which reminds me, time for a nap before lunch!
ZZZZZZZZZZ
Back. The time it takes to write, to reflect. And the energy. I stare at the mess of my room. I don't mind mess as long as it works. Here it gets beyond that point. So I am only writing on the weekends now. For you. For me.
Alison is silent. I know she received the hard drive with the film selects and I presume the project opened or she would have alerted me. I have held back from any notes. There is more material there than she or I expected. I threw on a little of the interview with Margarethe Von Trotta, more of Fouad in Etel's apartment, Fouad looking at the contact sheet from 1981 for the first time in Paris 2005. There is the "home body" sequence where I set out to explore the destroyed house where Fouad and I discovered "Benjamin's Briefcase" and the series of shots of Hiba's nude body, both a reference to Le Mépris and a landscape on which to project war, to scar with images. I wonder how Alison will read all of this. I have decided it is best for her to walk the forest of the film alone. If she gets lost that will be best. For us to be able to work together it has to be as two people taking this walk through unfamiliar territory and through dialog to build the song, a song which searches for its soul.
MHS
FRIDAY 14 September 2007.
MY LIFE IS A SOUND CHECK.
Up early. Swim early. Lunch at Jezabel's: steamed wild sea trout with ginger paste, mixed peas and beans with curry sauce. Enough to take away for dinner. This is a weekly ritual and every time I feel healthier for it!
Met Antoine at 6.30 at Café de la Mairie to discuss the upcoming turtles, especially the Raincoats who will be here in a week.
First he took me to the sound check of Winter Family (winterfamily.info) who were playing that evening in the crypt under the St. Sulpice church. I told Antoine that Count Basie played there, but in the church itself. The crypt is most special and the music sublime. No, more than that. Xavier Klaine plays piano and Ruth Rosenthal ---- sings, speaks, in English and Yiddish. It is poetry and takes me back to my visits to St. Marks church, NYC, as a student to see/hear Allen Ginsberg, William Burroughs, Peter Orlofsky, Anne Waldman, John Giorno, Patti Smith... Ruth even plays a harmonium and I flashed back to an evening following St. Marks. I had been invited to a party at Ginsberg's and found myself in a room with him playing harmonium and singing for Bob Dylan. A photograph made it in to a Bob Dylan story in People magazine. My parents did not know how to react. This also takes me back to seeing Arthur Russell with Ginsberg in Camden, New Jersey, years before we met at The Kitchen in New York. That is a story I must write in preparation for a turtle celebration of his work. Dear Arthur....
Back to Winter Family - it is the making of poetry. Antoine is releasing a CD and DVD next month. I am sure that it will be on their website (above) and I will make an announcement here.
Staying for the concert at 9 would have been like having sex without a condom, which is why I go to sound checks. The last one was Osvaldo Golijov at the Basilica in St. Denis. I wrote of my hug there with Dawn Upshaw. This night was a turtle hug with Ruth and Xavier, and Teresa Eggers, who showed up before I left. I must share her mother's writing on the Power of YES: (www.newsreview.com/sacramento).
As I am making notes I receive an email from Stephen Watts. He and Ziba are reading tomorrow. More poetry. May it never end.
Charles Ives' music is playing on BBC radio. SUNRISE, his last song written when he was 52. Soon after he woke one morning, descended the stairs weeping that he could no longer write music. He didn't, and lived for another 26 years. I can't help but think of myself, waking and crying, the fear of not being able to work any more. I am struggling not to let that happen. Alison has selects from the film. There is a silence. I have withheld from giving notes feeling that she has to find her own way in to the material. We must see if we can have a dialog and collaborate to make the walk, or a series of strolls.
It was back on Saturday 25 August that I had my blood test (had to remember not to eat), then met Alison briefly. She passed me Brian Keenan's book AN EVIL CRADLING (see last weekend's traces). On Sunday, Kim arrived from Ireland to visit for a few days. On Monday, Alison stopped by to show how to put the selects on to a hard drive to send to her. On Tuesday, Amira Solh from Beirut stopped by to look at the beginning of the edit. She was moved to participate, as I had always wanted. Wednesday, Kim left and it was my first "good" day since I returned from London in July. I was so tired that weekend but these friends gave me a boost. Kim also helped me to shop, clean... live! Alone it gets hard to stay on top of things. I also had begun to swim the previous week.
This week Markus Acher arrives to perform with Tied & Twisted Trio at La Maroquinerie (http://www.lamaroquinerie.fr). He will also come by to talk about the film (he is composing the sound track). What can I show him? I have gone no further with the edit. That is what disturbs me. I have to get stronger to return to the work. But I will be able to share more from the selects and prepare some sounds for him to take away.
Somewhere along the way of being here I was taken on a short walk by Cécile of COLLEEN. It was her special Paris and, indeed, it was. She has hopefully sorted her visa to tour with BEIRUT in the U.S. soon. Meanwhile, Teresa's friend Matthieu (www.myspace.com/videomoon) is filming with BEIRUT in New York (I met Teresa through Matthieu - Antoine as well!).
MHS
MONDAY 10 September 2007.
Today is the first turtle in Paris. For one day Isild Le Besco will show some art in Centre Pompidou in the foyer outside the cinema which will hold an avant premiere of her film CHARLY tonight.
One relief this morning was to learn that a hard drive of my film's selects that I shipped to Alison in London last week is not damaged, as was reported in the tracking news on line. It was moving (a good sign) from Germany?!
I have found some notes on my film from 2002. It was then called 'The Philosophy of History" after the essay by Walter Benjamin which figured in Etel's short story. At that time the film took place in Etel's apartment and through her television, her "magic box", we would travel through time, and make time.
There is an approach there to editing which may be recalled and used. As Benjamin referred to writing history as an excavation to be revisited many times, and to be rewritten by those who suffered (I did not volunteer!). I recall the Benjamin reference of history always written by the winners made in a Woody Allen film, one of his best, "Crimes and Misdemeanors". Allen and Benjamin!
Keep a look out for John Gianvitor's "Profit Motive and the Whispering Wind", a film which takes Benjamin further in its poetry. It just played in Toronto and is being wonderfully embraced around the world.
John is a true turtle. Love & peace, MHS
SUNDAY 9 September 2007.
Back at café de la Mairie.
Things fall apart, the center cannot hold... A terrible beauty is born. W.B. YEATS
As quoted by Keenan. That 'terrible beauty' resonates in my life. And in my film: the way that scars of war on buildings can be regarded as beautiful colors and patterns.
Is the poem the source for the title of Chinua Achebe's THINGS FALL APART?
John McCarthy, who spent most of his time in captivity with Keenan, came to Beirut to make a film on him for Worldwide TV News! Has the footage ever been dealt with?
Brian's first mirror. I will never forget mine in rehab. I could recognize my self at 100!
Brian's pain in his ear led to thoughts that he would never again hear music. I had the same fear.
"Fear is diminished when we give something a name - we take possession of it" Brian writes. I have only a "probable" diagnosis, a probable name. Fear remains.
"When routine to a caged animal is changed it becomes more aggressive." My aggression is in my healing. My animal is the turtle.
"Welcome to Lebanon" is oft the response to questions of the conflict. Karma said the same in our interview in café Torino but I did not know what she meant.
Brian spoke of once emitting a "primordial" sound he made that he could not recognize as coming from within. Being with a tracheotomy, I felt like I was animating "The Scream" by Edward Munch in a loud silence.
Keenan discussed with McCarthy how to make a film of their experience. Did he see "Blind Flight"?
In the preface Keenan refers to D. H. Lawrence on the act of writing, how "writers throw up their sickness in books". How in "An Evil Cradling" he had written a "reflective symphony" and renewed his love for the world through this "love story", this "mirror to his life".

He adds a poem of Yeats, "The Choice":
The intellect of man is forced to choose
perfection of the life, or of the work,
and if it take the second must refuse
a heavenly mansion, raging in the dark.


These are some of my notes to which I feel close to Brian. I hope to write him. And I wonder whether, unlike Walter Benjamin, his briefcase was found.
I am still raging in the dark, trying to compose my love story. MHS
SATURDAY 8 September 2007.
It is unusually warm and bright which made for a nice walk across the Seine to the Café de la Mairie. It has been a while since I have come here, since I have written. I arrive upstairs and all the chairs are on the tables. The waiter comes and sets them down, first the ones in the corner where he know that I sit. The coffee arrives and I undress my bag. There is the script to send to Stockholm, the DVD's I will wait to send to Basel until an important one is made, "Le pays de Animots' which I carry and slowly consume in French. Within it is a clipping from last Sunday's Observer where Robert McCrumb speaks of blogging, the web and Orwell. This is to remind me to explore bringing McCrumb together with Jean-Christophe Bailly, the author of Animots, for a turtle tango to make a bigger dance.
I discovered McCrumb when in the hospital. I read "My Year Off" of his experience in the same hospital following a stroke. The night before his illness had similarities to mine.
Bailly was suggested by a friend here who publishes him, and he is also friends of others I know, so I hope to meet him soon - after I finish his book! Animots is for 10 year olds and in a series inspired by Walter Benjamin's radio broadcasts for children in Germany, 1929-32.
This is a long way to what I wrote in the café. This morning I finished Brian Keenan's "An Evil Cradling" (1992), an account of his kidnapping in Beirut during the civil war (1985) and held captive for almost five years. It is a harrowing tale, with beauty, poetry and humor. Even more for me as I shared a lot of his experience in what happened to me. In some sense I continue to be captive looking for an escape while finding my own humor, beauty and poetry in order to live.
Unlike Brian's, my darkness has been without physical pain but for the noise in my head. He wrote about noise and many other things that I recognized. But how can I compare? I could not have survived what he did, but they say I was not to survive what happened to me.
The Lebanese civil war is the subject of the film I had begun. When I was well enough to realize I might return to my film, I knew I had to see it through my body, my own civil war, and the scars that will remain. My own civil war's history is ongoing, not unlike Lebanon. Keenan's must continue in some way with his own scars.
This summer Keenan returned to Beirut for the first time since he was freed. A documentary is being made on him and I suppose that is what took him there. Or perhaps his choice to return inspired a documentary. I, too, hope to return.
Film is how I first learned of Keenan's story. "Blind Flight" was made from his book by British director John Furse. I was in the New York streets on evening during the Tribeca Film Festival (2004) when I saw actor Ian Hart wandering and he struck me as the D.H.Lawrence character I was looking for. A friend introduced us. I later learned that Ian had played Keenan and the film had just premiered at the festival.
I had read about "Blind Flight's" production problems in the British press and how the cast and crew spent two weeks there waiting for approval to shoot before having to film in Northern Africa. I had to learn from that when preparing what was planned as a feature. Now I have filmed like a tourist, though my work seems more like a reporter.
A friend introduced me to Virginia Woolf's essay "On Being Ill" concerning the difficulty to describe illness due, in part, to the lack of development of language in that area since it was not a major subject in literature. It is a most special essay that reshapes as do clouds - to which she references to Yeats. And she is right to claim the importance of poetry to the ill. Keenan speaks of this in his own way, referencing poetry and putting it in his book (including his own), and poetry has kept me alive. Literally!
(You've read my references to Inger Chistensen whose "Butterfly Valley, a Requiem" I carried with me for months, and there are poems under WORKS on this site by those who are close to me.)
My thoughts are shape-shifting, now disappear... MHS
WEDNESDAY 22 August 2007.
Bucheron café. A new café for me that I only noticed when I visited Bernard Eisenschitz next door last week. It has just opened after vacation. I am happy to find no music! The noise of the rue de Rivoli is OK - wait, I spoke too soon. Music has arrived. Oh well. It has been a good morning, something I haven't had in a long time. Now it is pouring rain so I will stay for a bit.
Andrea Loetscher I home in Basel preparing for a concert. She is alsos trying to help research in reparir of my health (doctors, speech/voice therapy). When Andrea plays her flute she blows oxygen in to my blood. A rush. Who knew that the flute would enter my life in such a way? It is an instrument I have overlooked. Now I learn that Florian of Kraftwerk plays the flute, and it is present in their early music! Thank you, Andrea, for uncovering this treasure.
I found some on my Beirut film from some time ago. Good notes. So I read through and made new notes this morning, then emailed them to Alison Carter who is coming to discuss the film this weekend. We will discuss a possible relationship in working on the film together. Alison knows my work. Came to see Souvenir in the cinema twice. And I know hers. Alison also made a significant edit on the 7-minutes I edited that made it the special beginning it is, and later unveiled how to continue. Beirut may be her entrance in to the world of Paris! Whatever we will decide, Alison remains a part of this work.
The man in the café drew up the menu on the blackboard finally revealing a panna cotta for desert! The rain has let up - time to go to the market, return for my protein boost and plan my day.
I returned to my room to find mail from Martin Duparc, who is helping to create a certain collage for the film. He had visited a while ago and we went through the materials which he took with him. Without reading his note I watched his rough sketch with enthusiasm. There is a lot of magic - I was so happy I phoned Martin immediately to thank him. I look forward to repeated viewings and discoveries. This morning the film feels alive in me making me a little more alive.
I want to return to Monday. I received Sharon Morris's new book of poetry, FALSE SPRINGS. I turned directly to the poem I heard her read at a turtle event during the first turtle at Crockatt and Powell bookstore and then blew up and put on the wall at Woburn Studios/Slade turtle. The poem is


HANGING ON TO THE HEM OF YOUR DRESS
I like to keep a step behind you, to keep you
in my view of the world,

to believe you when you say 'there is only existence'
and nothingness is merely a word,
the way zero had no place in Roman numerals,

but for things to be as many as there are, no less, no more,
there must be no things between things,
for the hare would never overtake the to rtoise.

There is, however, a loneliness
in my stepping out in front of you.


Then I received an email from poet Mimi Khavati in response to my congratulating her on the article in last Friday's Independent
http://arts.independent.co.uk/books/features/article2869711.ece Mimi read at Woburn turtle, thanks to Sharon. I almost missed her but for forgetting my hat. I was exhausted, on my way home, but returned for my hat, Mimi began reading, and I could not leave. I think I wrote about this at the time, thanking Diana and Hisham Matar who took care of me that evening.
Then Iman Abou Hmid, a Palestinian artist on her way home, stopped by and gave me a poem for turtle called BREATHE. It is in Arabic, handwritten on a brown paper with white string sewn in a simply pattern. I had Iman read the poem aloud in Arabic, and she will send a translation that I will share with you.
Today I went swimming! Turtles do, you know! But this turtle went on Monday for the first time since falling ill. It was hard to face the damage done. I must thank my dear friend Philip Wiegard who took me. Today I went on my own and made ten laps. I will try to go regularly to join all the other turtles! Which reminds me that I must visit the turtles in the Jardin des Plantes. I proposed to do that with Cécile (COLLEEN) as soon as she is back.
Just an hour ago I received a mail from Michael Ward-Bergman who is in Maryland about to record a new Groanbox Boys CD . Most exciting is the news that he has been commissioned to write a piece for Dawn Upshaw! And I had a gift of mp3's of the recording of his concert at Carnegie Hall earlier this year that I happened to catch, and that is where I met Christina Courtin who sang in his piece.
Today has been a good day. Now I bid you a good night. MHS
MONDAY 20 August 2007.
Tony Wilson is being buried today. I am unable to be there. Who will throw the dirt in to his grave? I would have gently tossed, perhaps given one throw in memory of Rob Gretton. My spirit is there.
Tonight there is a concert in Stockholm for Arthur Russell. Rough Trade have just released a 4-song EP of covers. Vertiy Sussman will be there, I won't. But I hope to bring them to Paris, or at least have an evening dedicated to Arthur.
Music where i am staying is becoming part of my life. The flute has enchanted me, and more. Most unexpected. And yesterday I filmed under a piano while listening to a friend play. It is the beginning of something.
I hope that I can write more soon. Am struggling with a deadline for nüans PROPS publication. MHS
SATURDAY 11 August 2007.
A sad morning. I had decided to not work on my film so to get more rest, more strength. After my ritual exercise and breakfast, I was having my coffee and reading when the BBC radio news announced the death of Tony Wilson, Anthony H as he preferred, last night. It was from a heart attack in hospital in Manchester. I had just written an email to Tony last night, asking how his fight with cancer was going, and asking him to be a part of David Blandy's project at the Cornerhouse if he was up for it.
David wrote this morning that he has been a part as David has been playing music for him.
A heart attack? It must have been a broken heart. Tony loved life so much and I am sure he was fighting his hardest to live. He must have known he could not win, even accepted his death in his Catholic way. And, like Rob Gretton, I hope that he passed in his sleep.
Last evening my friend Maria took me for a walk. I said that I felt the need to cry. This morning that need was fulfilled. I dressed and crossed the Seine thinking how Tony finally tackled Proust's masterpiece years ago. I went in to the church St. Suplice and lit a candle for Tony and one for my mother, a regular habit. I sat and cried. The hurt and sadness felt good. Terribly good. I then went to the first floor of the Café de la Mairie to have a coffee, read and write. Anne Bertrand arrived for a meeting. A good friend to share a needed hug with.
What could I write? I had to edit my piece for David Blandy which spoke so much of Tony.
Turtle is becoming a graveyard. That is not a bad thing, just sad. I like graveyards. I have spoken of how I continue to discover turtle, first as my home, then as a kind of city planning, and maybe I mentioned a tomb, such as in ancient Egypt, as I might be gathering the treasures with which I would like to be buried. And now a simple graveyard. Tony is in good company with Rob Gretton, Ian Curtis, Derek Jarman, Arthur Russell, Michael Powell, Susan Sontag and Samuel Beckett (both buried here in Montparnasse).
Now there follows an attempt of an edit to my piece for David Blandy, now dedicated to Tony's memory. Peace and love and anarchy! MHS
THURSDAY 9 August 2007.
I wish illness could take a vacation when the practitioners do. I have yet to recover from my brief trip to London.
I am editing my traces from Düsseldorf, where they began, for a publication the nüans is making. I feel that I wrote a lot more then, though I was in worse shape? It must be that I am also working on my film edit here, and Anna is not taking care of me! If I write now I feel that I will only complain, but I want to write. I miss speaking to you. You are keeping me alive. There is maybe too much to share and you will have to read about it in the Paris part of this site.
One thing is that I finally completed the Michael Powell - New Order story which is posted in texts on kinoteca.net.
I now must write something for David Blandy's residency at the Cornerhouse in Manchester.
(http://artradio.fm/main/index.php?option=com_content&task=view&id=22&Itemid=40).
This has become a lot more due to the death of Anthony H Wilson on Friday. So these traces bleed for Tony.

THIS IS SOMETHING THAT ONLY HAPPENS IN THE NIGHT.*
1980. New York City. Hurrah Club. A Certain Ratio are playing and I am filming them. Simon Topping sings and plays trumpet. The band are also filmed playing percussion in a loft in Tribeca. My first film. Michael Oblowitz on camera. We worked together with Lawrence Weiner. Skip Lievsay helped me edit at Phantasmagoria. The heyday of Saturday Night live. Belushi would pop in. Mr. Bill was created there.
This is when I met New Order, their first time to America with ACR. There were only three. With Ian gone the band were finding their way. It was hard to speak with them, even for me. I was still sad. I handed Rob Gretton, their manager, a cassette I made of their show. That is where our work began.
ACR were Tony Wilson's band. Like bad children they did not treat him well. Tony was a good father, a mad father. It was Tony I met at a party for French magazine ACTUEL where I also met Geoff Travis of Rough Trade, and Michel Duval of Factory Benelux and Les Disques du Crépuscule. There began my unexpected music journey.
It was Manchester which almost ended it. When I fell ill in London two years ago I was in development of a film ENIGMATIC, a documentary about Joy Division. I thought a lot about Ian in hospital and the irony of almost losing my life while working on a film concerning someone who took his life.
I had been to Manchester while ill, popping antibiotics like a junkie. Went to the rehearsal room of the current ACR. They would be part of the film. I did not realize then that I was inside a tornado, or it was inside of me.
This is a long way in to my soul of Manchester.
The first independent record I ever purchased was the Factory Sampler at 99 Records on MacDougal Street. John Dowie was the only artist on there who did not become a part of my Manchester. Cabaret Voltaire became fast and important friends. Richard Kirk scored SOUVENIR. Of Factory NY produced and released YASHAR (John Robie remix of Cab's song). Made a deal for Quando Quango's LOVE TEMPO. Vini Reilly worked with Stanton Miranda who sang on two of his songs. Richard and Vini would both be part of ENIGMATIC.
Tony was the reason I got involved in Factory and ACR were his band. Rob Gretton supported the videos I made for New Order and through him I worked with 52nd Street and negotiated their deal with A & M records (how did I do that?). I loved Rob's Records Mr. Scruff and the precursor to the Doves, Sub Sub. VOODOO RAY was an anthem for Miranda and I.
I saw Manchester through Factory and Tony's Situationist anarchy. His gentleman's punk. His spirit could not be topped. He was a dedicated maker of a fashion (though he had bad taste in shoes!). I learned a lot from Tony, from Rob, from the musicians, but it was the music which formed part of my soul. Manchester almost killed me. For that I am lucky.
THIS IS SOMETHING THAT ONLY HAPPENS WHEN THE TIME IS RIGHT.*
A further note on my first film. Tony was my collaborator on TRIBECA. I sent him the 16mm film and separate mag stock and, when he transferred it to video, he discovered an unintended piece of sound at the end and left it in. It made magic. Somehow when videos and films went missing from Factory, Tony held on to the original film which I discovered one day on his shelves. I brought it back to NY and that is why we now have a new transfer. (a VHS version was on a cd of an ACR release a few years ago).
Bergman, Antonioni - there was enough great loss recently. But they had come to the end of their career and you had not finished yours, Tony. Cineccita Studios cried yesterday for you. May your loss give birth to a new wave of music and anarchy.
As Peter Hook said, say hello to Rob and Martin. MHS
*ACR lyric as sung in TRIBICA.
WEDNESDAY 1 August 2007.
The short trip to London last week took a lot out of me. The travel, the packing, carrying weight I should have not - all objects are now heavy.
It has been a time of working with scents for a turtle sculpture, and trying to better my back. The sad new of Berman, then yesterday Antonioni. Persona and L'eclisse. And so much more.
I ran in to Laurent Perrin, an old friend, yesterday who suspects there is a serial killer for an era of cinema! The day began with a turtle from Danish poet Inger Christensen. She offered her first poem from her first collection, handwritten in Danish, English and French. I had written to Inger thanking her for helping me through my illness with her work (Stephen Watts introduce me to her work). I share the poem with you:


If i stand
alone in the snow
it is clear
that i am a clock


how else would eternity
find its way around


Inger Christensen, 1962


In the afternoon the first turtle in Paris was confirmed: for one day at Beaubourg, Isild le Besco will show artwork in glass table/vitrines outside the cinema for the avant premiere of her film CHARLY.
I cannot write more now. MHS
WEDNESDAY 25 July 2007. London
I best begin last weekend. Monica had to work at 6 am so could not join us for Philippe's performance. Philip Wiegard, an artist from Berlin who has become a friend at CDA (Cité des Arts), came with Keeley, Matt and I. Arriving early to pick up tickets there was a problem. I felt bad for Perrine, Pascale and Cécile as they scrambled to find a way in for us. They did. I took to sitting on steps near the entrance so that I could leave early. The show began at 10.30 and I was happy to see a beautiful striptease by Alice before I left at 11. It was wonderful to see the costumes on movement I had seen in rehearsals - costumes that would come off! Decouflé made a wonderful spectacle of a tribute to striptease with almost a freak show of characters. The threatening rain held back and it was a cool but lovely evening in the middle of the Palais Royale.
On Sunday I began working on the film at Café de la Mairie. It is the best place to sort through my notes. A lot of my edit is preparing before working on the computer, back and forth.
At noon I met Maria Jauhiainen, who works with metals and is also at CDA, for a midday coffee. She showed me her work and I share a piece with you.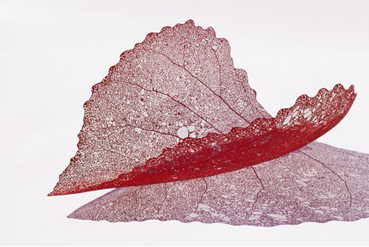 Maria draws leaves and then makes or casts in metals. She likes to make metal light. I almost cried when seeing the beauty of her work, this piece reminding me of a butterfly. Certainly, this butterfly, Maria, joins turtle!
In the evening I received an invitation to meet with Isabela Rossellini. She was returning to Paris from Montpelier and said it may be easier than when I returned from London. It was a magic evening as she told me of her project for short films for Robert Redford's Sundance channel. I told her that we screened her short with Guy Madden MY FATHER IS 100 YEARS OLD at 6 am during turtle's "morning swim" in Mouse on Mar's NATIONAL BANK OF studio in Düsseldorf and she was happy for that. After dinner she showed me her storyboards, wonderfully childlike and clear, and these she has offered for turtle! I must thank Peter Scarlet for introducing us in New York during his Tribeca Film Festival. Two wonderful turtles joined on Sunday!
Monday morning I met Anne Grange who brought me over to present my music video productions at Forum des Images a few years ago as part of her Cinesong series. I helped Anne get Laurie Simmons last film for a series at Beaubourg in June and Anne loves her work. She is also helping me to find a place for turtle in Paris. One place she suggested is '104', a large space that is just being renovated. After my meeting I received a mail from Dominique Bourgois with a contact for the same place! It is a friend of hers. So I have written and we will see.
I am not worried for turtle. It cannot be too planned. Turtle will always find a place when it is right.
Received a press release for the Arthur Russell covers CD to be released next month by Rough Trade. Very exciting. And the Silversun Pickups (www.silversunpickups.com) can play in Paris in November so it should be a turtle event!
I had to leave for London. Keeley and Matt came over in the rain to help me to the train. I was not carrying much but a large duffle bag inside a suitcase to fill. Tomorrow they are helping me to the train here as they returned from Paris this evening.
On Tuesday I had an early coffee with Vicente Todoli of Tate Modern. He is putting me in touch with a friend who fell ill during giving birth, shares some of my problems with speech and has been helped by someone in Paris. Also with a gallery in Rome to possibly help to bring turtle there. Vicente himself was limping having stepped on a sea urchin somewhere!
That afternoon I had a fitting for a prosthetic for my mouth to help my speech. I was not sure I was going to do it, but I liked the doctor and felt that I should try. Before the appointment David Racz took me to lunch at Planet Organic. It was our anniversary, of sorts. Monday had marked two years since he came by for coffee and ended up taking me in to hospital. It was only when he helped me out of hospital at the end of October 2005 that we finally had our coffee, at Planet Organic!
David has been a dear friend these last two years. He is my old friend Peter Davidson's partner in Lab Architecture and it is Peter's apartment that I have been staying in. David is now moving in to the apartment at the end of the month so I am here also to move out. It is emotional as well as a physical chore. But David says I can move out slowly, leave things here, keep keys and always stay here. What amazing friends I have! And now I have to return twice for fittings so it will work out more easily than I had anticipated.
I was lucky to get an appointment with Angela, my friend and reflexologist here, and afterwards met Bushra El Turk for an early Japanese dinner nearby. Bushra is beaming - she is so busy now with work including developing an opera for the Royal Opera here! Bushra began to speak of a project for Paris turtle using at least 20 accordions! I recalled Glenn Branca when he performed a piece for 20 guitars at the Mudd Club in New York with Robert Longo and Rhys Chatham. We went to HMV afterwards to see if we could find the recording but it is out of print.
The internet is not working here, nor at the Groucho Club - though I ran in to Colin McCabe there. He says Isaac Julien's film on Derek Jarman is almost finished (Colin's producing) which reminded me to try and get something for turtle in relation to that work. Maybe even a screening! I have been using my computer at Recorded Pictures. Have not had but a chance to say hello to Hercules there but he will be in Paris when I return with another turtle, Jonathan Demme. It will be nicer to see them there together. It was working through Jonathan, when making the New Order film for THE PERFECT KISS, that I met Herc back in 1987. Herc was there in hospital with me from the beginning. I have to tell Jonathan about being in touch with Jack Cardiff (it was for working with him that I was contacting Jack back then).
I was hoping to see more people here but it is too difficult. Just sorting through CD's and DVD's took up most of today. I was hoping to see Keith Collins, Derek Jarman's partner, this morning but he is out of town. He thought I was here last week. But now that I will be back two more times it will be easier. And tomorrow I will see Ben Hopkins and Malin Ståhl. Ben is editing a feature he shot in Turkey. We will discuss Sebald, and I will even see Stephen Watts briefly in the afternoon. In the end I will have seen a lot of people!
Have also been busy with nüans as they prepare PROPS, a publication that will include our turtle collaboration.
Time to go back to sleep as it is already Thursday. Good night. MHS
SATURDAY 21 July 2007.
On Thursday Keeley and Matt arrived, bringing some of my things from Paris. So good to see them. They were going off to see Lambchop that evening at Fondation Cartier but I could still not go out.
Yesterday was a good day of work. It began with body building. Neither my body nor my building, but in Beirut. I was editing. In the Afternoon Jowan Le Besco arrived to help me shoot Johanna ter Steege who was coming to visit with Jan and their daughter Hannah (why am I just noticing the palindrome?). Johanna was late so Jowan left me his camera. It was the mic that was most important for me. I ended up shooting Johanna in the small auditorium in the basement. Perfect. On take! Johanna is so good - I am so lucky! We all had dinner nearby at Galerie 88, where Daniel Devlin is doing the first Paris turtle in September, and where I will be showing some videos. Then we went for ice cream and they went to their hotel as they had to drive to the south of France this morning.
It took time to get up today. It feels like I have done nothing, but I did food shopping, stopped by a shop to make sure they got my email about turtle, told Monica I had a ticket for her tonight, took the bus back to the market, got some more food, had lunch and a nap and several email correspondences. But when I do not work on my film I feel that I am doing nothing. I am still tired from Animal Collective and being out so late. And yesterday's work took a lot out of me. I have to remember I am still healing and have to pace myself. So frustrating.
Tonight I will take Keeley, Matt and Monica to see Philippe Decouflé.
My writing is not inspired but I will try to keep you posted anyway. I am putting everything in to my work. MHS
WEDNESDAY 18 July 2007.
I received this from a friend this morning:

A day in the life (tortoise remix)
I read the news today, oh boy.
A tortoise passed away in Brisbane Zoo
She'd known Charles Darwin in her time.
Her name was Harriet.

She was born in the Galapagos
and ended in Australian Zooooo
I'd love to turn you on.


This after last night's Animal Collective gig. Such moments of magic. I stayed late after trying to leave. I had gone early to meet them and to introduce turtle. I hope that they will be a part- their spirit is already there. And they are from Maryland where I grew up. With them I met Jah Division and afterwards I ran in to Cécile of COLLEEN who has opened form Animal Collective in the past.
I went with Philip Wiegard, a sculptor from Berlin also here at the Cité des Arts, and met there France Nerlich who brought a friend Sara Claudel. It turns out that France met Sara at the Maison Heinrich Heine here in Paris- I can't wait to tell Ben Hopkins! (the bust of Heine I got for Ben still waits in Düsseldorf as it was too heavy for me to carry- but Ben promised to be my slave for life if I got one for him!). I will see Ben next week in London where he is editing his new feature. Just got a message from Laura Wilder that I will also get to see her in London. Laura was a nurse in the John Young Ward in the hospital and was my angel. I am lucky that she has become a friend. But I had forgotten that on Monday the 23rd of July, two years since I went in to hospital, is also Laura's birthday!
Today I need a break from people. I hope to only go to a rehearsal of Philippe Decouflé's new work that premieres tonight in the Palais Royale. I shot scenes in both SOUVENIR and THE TEMPTATION OF VICTORIA there so it is a special place for me. Besides thinking of Collette being visited by Cocteau...
Monday I met with the Centre Culturel Suisse and Anne Bertrand. I had met Robert Frank there once years ago and passed by recently to discover that e-flux video rental had an installation there. Their director had recently died and Anne wanted to make an introduction to one of the people running the place now, Klaus Hershce. We got along so well, and when he brought in his partner Nicolas Trembly, we discovered that Stuart Comer had introduced us recently at the Tate Modern. I think turtle will do something there, perhaps just a screening in the fall, and maybe more in 2008. Good people, good place, a true turtle sanctuary.
Back to work. One more coffee... MHS
SUNDAY 15 July 2007.
Today Paris unleashed its new bicycle system. You can rent bikes and drop them at many depots throughout the city. They seem to be a hit and I look forward to figuring out how to use them, and try to ride a bike here.
Yesterday I had my ritual breakfast with Monika at La Louisiane and went on to work at the Café de la Mairie. It was wonderfully empty upstairs. Later Jean Charles dropped by to show me some videos before leaving for Provence. It was sunny and hot and I was tired so I stayed in and did not even step outside for the fireworks.
This morning I woke and began to work on the film for the first time selecting pieces to send to Martin who is helping me with a special section. This felt terribly good. Then I passed by Monica on the way to the café again to meet Alice Roland who is working with Philippe Decouflé this week. She was late and I was lucky as I got more work done. When Alice arrived we got lost in discovery. It was poetry. Then I had to get home to eat and rest. I was supposed to visit Isild le Besco in her studio to see her paintings but could not reach her. In fact, it would have been too much for me. I cancelled going to a concert in a park by Mahmoud Ahmed from Ethopia as I was too tired and it was too hot. But I took Mark Rappoport up on his offer to join him for a film. It was RUGGLES OF RED GAP from 1935 with Charls Laughten and it was wonderful! We laughed so. Laughten was superb, and the scene with the drums a classic. Then Mark and I sat outside in a café for a cool drink and talked. I so enjoy his company, but that means I was further worn. I made it home and made my first pizza in a small oven I bought last week from a departing artist from the Cité des Arts and went to sleep. It is now really Monday at 4 am and will have to return to sleep now. I just wanted to catch up with some news since turtlesalon.com is catching up with me. You can now begin to see a list of new turtles for Paris. Still do not have a gallery space but am in contact with a few people and am meeting the Swiss Cultural Center later this morning about a project there.
A big week ahead with Animal Collective, Tarwater and Philippe Decouflé.
This week closed with poetry, discovering our shared love and need for poetry with Alice and Isabelle. I discovered L'Amoureuse in a bookstore earlier in the week, a poem by Paul Eulard with a translation by Samuel Beckett which you can read at http://www.kirjasto.sci.fi/eluard.htm as I cannot seem to copy it here.
And Bushra sent me this poem which awaited me this evening:
PIANO
By D.H. Lawrence
Softly, in the dusk, a woman is singing to me;
Taking me back down the vista of years, till I see
A child sitting under the piano, in the boom of the tingling strings
And pressing the small, poised feet of a mother who smiles as she sings.
In spite of myself, the insidious mastery of song
Betrays me back, till the heart of me weeps to belong
To the old Sunday evenings at home, with winter outside
And hymns in the cosy parlour, the tinkling piano our guide.
So now it is vain for the singer to burst into clamour
With the great black piano appassionato. The glamour
Of childish days is upon me, my manhood is cast
Down in the flood of remembrance, I weep like a child for the past.
1918
She was sharing our first conversation when I mentioned my interest in the space under a piano which Jonathan Cott wrote about - the place he first learned music while his mother played.
MHS
FRIDAY 13 July 2007.
Last night I went to hear Matmos (http://brainwashed.com/matmos) at Fondation Cartier. I like them a lot but it was not a special performance. They admitted being a bit lost at the end of a tour where each date was a completely different occasion. Last night was commissioned in relation to the Rock'n'Roll show exhibition. It was nice that they used a Bo Diddley track "I Want Candy" to play with, with some success. Best was the final cover of a Suicide song. Quite nostalgic for me.
I was happy to meet Drew Daniel and learn a secret about Matmos' recording with surgical instruments. Was most surprised to learn they are moving to Baltimore! Drew will be teaching at Johns Hopkins.
Today I had lunch with Inger Servolin and Etel Adnan. It was uncanny to receive a phone call from Margarethe Von Trotta in Village Voice bookstore before lunch. It was Inger who arranged for the taping of a conversation between Margarethe and Etel a few years ago for our Beirut film, footage I just reviewed last weekend.
Margarethe was calling to let me know that she cannot help me to reach Bruno Ganz. It seems it is difficult, but not because of Bruno. It seems he is very protected. I think I will reach him one day. I want him to read some Sebald for turtle (he gives readings of Goethe, Heine...and I heard Sebald, too!). Of course it would be good to discuss his time shooting THE CIRCLE OF DECEIPT in Beirut as well. It will take time, turtle time.
After lunch I was worn out and took a long nap. Now I will go out for a stroll in the evening heat. I have enjoyed the cool, wet weather. I take what I am given. Am lucky to feel anything!
WEDNESDAY 11 July 2007. LE NEZ ET LA TORTUE.
This morning I read my notebook entry 5 July 2005. I had noted my diarrhea in Poitiers, the beginning of the journey in to hospital. While my viewing the footage of Alex in the churches kept its distance, this entered me.
I woke at 5.45 and had a wonderfully productive morning beyond my notebooks. Then I went to Bologne for my weekly reflexology treatment.
Met Thierry Fournier for lunch. I choked. He had planned to meet at a sushi restaurant but it turned out to be Chinese. So we dove in to a brasserie for a steak. I needed the protein. But this is not easy to eat and talk. I love to do both, and a piece of meat got stuck in my throat. Nothing serious. I could breath. It was just uncomfortable and we had to leave lunch early. It reminded us of the time we were celebrating my birthday at a restaurant of a friend of Thierry's, maybe 20 years ago. A fishbone lodged in my throat and we had to go to two hospitals for someone to locate and remove it! The owner of the restaurant came with us so I was looking forward to returning for a much-needed drink when the doctor said I could not swallow until the Novocain wore off!
At 5 Jean-Charles and Jacqueling Blanc had me over to meet two people who work with scents. Isabelle Doyen and Laurent-David Garnier both make parfum and have worked with Jacqueline. Isabelle is the nez behind Annik Goutal. They each have ideas for creating something for turtle. I cannot relate them yet as they are in early development but this is one of the most exciting things to happen through turtle for me. I am in a wonderful correspondence of discovery with Isabelle and will meet Laurent-David again later this week.
TUESDAY 10 July 2007.
Yesterday was a day of forgetting. I forgot I was doing laundry. Not serious. But then I forgot an appointment with an artist, Adeline Keil. I had seen her work at a show in a squat and wrote to her. She was coming in to Paris for a few days so we were to meet. Where was I? At Gare du Nord sorting my travel to London. Before that Wynn Dan and I took a stroll to his favorite Lebanese restaurant for lunch (forgetting my laundry...). I received a mail from Adeline that she was there and I was not. I have not been able to reach her since, by email or phone. But I feel so bad. I always tell my friends to remind me of things, but I forgot to ask her of to do the same. Ughh. I do hope she forgives and will be part of turtle.
Today I heard from Niki Cardiff, the wife of the great cameraman Jack. Look him up on IMDB.com. I tried to hire Jack back in 1985 to shoot THE PERFECT KISS of New Order with Jonathan Demme. I found Jack in Paris busy writing his memoirs so I found Henri Alekan (not a bad second choice!).
Last week I met with La Filmothèque de Quartier Latin about doing some turtle film screenings. I met the new owner, Jean-Max, a few years ago when he helped Isild Le Besco show her first film DEMI-TARIF. Jean-Max and his son are redoing and old cinema and the small room downstairs is called the Audrey Hepburn room. I thought of Jack's wonderful portrait of Audrey hanging in the Groucho Club in London. Thus I though to write to Jack to let him know and just to say hi.
I had a lovely volley of mails with Niki. They are planning to come to Paris in September. Jack is 93! They are trying to dig up something related to Michael Powell's A MATTER OF LIFE AND DEATH. That was Cardiff's first full feature as camera, and that is the film I am referring to in the dedication of THE TEMPTATION OF VICTORIA.
SUNDAY 8 July 2007.
The end to a good weekend of work. On Friday Martin came over to begin helping on my edit. We went to ISKRA in Arcueil to get a sound file off of Gerard Holthuis' "Coral Reef" film. Part two of his wonderful work replicates the sound that was in my head in the hospital. It must be part of my soundtrack. Saturday we looked through footage I shot in Poitiers with Alex Naudet when I got sick from something I ate and my body could never recover. The footage was in Romanesque churches, part of research in to a film inspired by one that Andre Bazin never made. I thought I would be a mess, but I felt a distance. It was the talk between Etel Adnan and Margarethe Von Trotta that hit me. Perhaps it was my presence, being addressed and asking questions myself. Then Martin and I strolled over the Eglise Sainte-Julien-le Pauvre, "the oldest church in Paris", so Colleen said and it promotes itself. It is a very special place and I will try to make a turtle concert there with Colleen and others. Maybe Etel and Emmanuelle Riva will read their poetry there. Today I went back to visit Emmanuelle, to show her some of my Beirut footage and to give her a CD made from the vinyl in one of her books of poetry from 1969. She reads her poems on one side (one of which about turtles!) and is interviewed on the other. Today Emmanuelle sang a song for me. It was a magic moment. Earlier in the week I visited Emmanuelle who has just lost her mother. She gave me two handwritten poems she wrote last year, a discovery that she even wrote poetry. Then she lent me two books published in the 60's.
EXTRA. I forgot to report that the large toroiseshell butterfly, thought to be extinct in England, is back! They thought it died out in the 60's. The 60's will never die out!
And I forgot to mention that early in the week I also received the final edit of Claire Pijman's portrait of guitar maker Flip Scipio.
This morning I made my morning ritual visit to Monica at La Louisiane and there appears Rirkrit Tiriavanija, old friend and artist from New York. He now lives in Thailand with his new wife (new to me, they married two years ago - I am sorry not to remember her name). Rirkrit sent a puzzle artwork to the first turtle. He was on his way to Manchester to work with Liam Gillick and Peter Saville among many others. I look forward to his return in two weeks.
This afternoon Górecki's Symphonie no. 3 with Dawn Upshaw was on BBC radio 3 and it inspired me to write a letter to poet Inger Christensen.
Must retire to sleep now. Good night. MHS
THURSDAY 5 July 2007. morning
OK. It is now Thursday morning, 5 July. Time to list what happened at the beginning of the week. Within two days the following materials arrived:
A DVD in my mailbox from Santiogo, who I met in the laundry room the day before (http://santisan.free.fr/). Wonderful work that you can see, and it turns out he did an image in the group show that I liked. I have yet to follow up on the few works that I noted so this was a lucky coincidence.
A DVD of Nina Menkes' new film PHANTOM LOVE.
A DVD of Katherine Dieckmann's new film DIGGERS.
A DVD of shorts of D. W. Griffith, including THE SANDS OF DEE!
2 Proofs of Jonathan Hayes novel PRECIOUS BLOOD (jonathanhayes.com) as I am trying to help him to find a French publisher.
Then on Tuesday evening I went to the cinématheque to see an "avant premiere" of Olivier Assayas' film BOARDING GATE but could not stay for the screening. I was too tired. Just wanted to say hi and congratulations. Mark Rappaport handed me his Pasolini script I can't wait to read! And all of Sonic Youth was there as I discovered that Kim Gordon is in Olivier's film. It was nice to see them, but especially to learn from Lee Renaldo that he and his wife Leah Singer will be back in France this summer for an artist residency. Leah has one of the most beautiful pieces in turtle since the beginning.
Isild le Besco asked if I could help her to show some paintings and drawings when her film CHARLY premieres at Beaubourg 11 September, so I am scrambling to make that happen. It would be a wonderful first event for turtle here. Daniel Devlin will bring an installation/performance here to Gallery 88 later in September after its premiere as a turtle event in London earlier in the month. Look out for ads in Artforum and other international art magazines.
I began the week with a good working session on the Beirut film at my favorite writing place the Café de la Mairie. Of course, Eugene Green was there.
Then Isild's brother, Jowan, who shoots her films, just returned to town from India or China and stopped by. He also dropped off his feature YAPO. I have so much to see and read!
I will do it when I can. Meanwhile, Martin Duparc arrives tomorrow to help me prepare materials for my edit (www.proto-tv.fr).
In London, David Racz, who took me in to the hospital, is moving in to Goodge Place at the end of the month. That is where I fell ill and recovered. It is owned by my dear friend Peter Davidson, David's partner (www.labarchitecture.com). I will be going to London in two weeks for a doctor's appointment and bring back to Paris the rest of my things. This marks the end of an 'era' for me there. Two years. I guess it is time to put it behind me. And I am strong enough now to go on and finally return to New York! London saved my life - the doctors, my friends, and the art world through Chelsea Space.
Yesterday I went for tea at Cécile Schott's home. Cécile and I have been writing ever since I discovered her music in Brussels (theleaflabel.com). She records under the name COLLEEN. And her boyfriend Iker Spozio does her beautiful artwork.
But it was an emotional moment as I exited the metro station Voluntaires and looked to my right at the building I left Paris in when I was sick, soon to be in hospital after traveling through Ireland to London and Manchester. It is such a beautiful building and I had this small apartment full of light for one month. I remember telling one of the owners that I needed one more day there as I did not feel well. Well, I am back in Paris now in another place full of light!
I better get on with my day. Not that writing this is not a part of it - a long overdue part, but now you can see that it was an overwhelming week with what came in, what came up, and what I ran in to.
I will go on. MHS
TUESDAY 3 July 2007.
The cymbal and the soprano. A woman carrying a cymbal in to the Cité des Arts today was coming for a regular vocal lesson. She is a soprano with the Compagnie Terraqué. Terraqué is the title of a book of poems by French poet Eugène Guillevic who died only in 1997. Someone to discover!
Later today I visited Emmanuelle Riva, most wonderful actress who is part of my Beirut film. She lust lost her mother who was almost 98 years old!
But Emmanuelle never looked so good! She read some poetry aloud from a book of popular verse from Maadagascar. Then I learned that she writes poetry, and she handed me two poems in her handwriting as a gift. Then she pulled out three books of poetry published years ago, one with a 45 vinyl recording of her reading! They are in my hands now to photocopy and to make a cd of the recording.
There was a difficult moment when she remembered the last time we met. It was at a dinner following a presentation of my music video productions at Les Forum des Images. She said I did not look well, and I remembered how tired I was. Johanna ter Steege and Claire Pijman came form Holland and I was to DJ after dinner. Now I remember warning that I was very tired and would probably not be able to. I did a little, but had Mark Kamins play that night. That was in October 2004.
SUNDAY 1 July 2007.
I just read of the death of Arab poet, Nazik al-Malaika, whose work I do not know. And I read this poem.
"Lament of a Worthless Woman" (1952) "suggests the universal fear of being forgotten after death" (NY Times):
She left, no cheek turned pale, no lip trembled.
The doors did not hear the story of her death...
The news tumbled down the avenue its echo not finding a shelter
So it stayed forgotten in some hole, its depression the moon lamenting.
- Nazik al-Malaika

1952. The year I was born. It has come to mean a lot to me. I have met friends, such as poet Stephen Watts and made the acquaintance of Susan Sontag's son David Rieff, both who share my birth year. And I was looking forward to meeting Mai Ghoussoub, who also shares this year, but she suddenly died. The numbers emerge in different ways and often lead to something. Because I want them to. They are powerful if you let them be. Like poetry. So today I am introduced to another poet, another piece of writing that will lead me somewhere. Who knows where. It is like the way I am editing. I am not Hitchcock with a plan but rather want to discover as I walk through my work.
I thought I wrote yesterday and unfinished trace, but no trace of it! But I remember forgetting to tell you of my dinner with Andre. One evening I sat in front of my computer with my evening meal and finally listened to a CD Melissa Krerschmer sent me of Carl Andre's poetry reading at Tate Modern some time within the last year. Carl read poetry I had never read, and he spent tome win conversation with someone (forgive me for not noting his name) discussing his writing poetry since 8 years old, in a literate family who read him Yeats and others at that age, and his move in to sculpture while continuing his poetry. It is sad that his poetry is not available because no one ever considered it worthy of publishing. It is my dream that turtle could make such a publication.
In my feature SOUVENIR (due to be on DVD in the fall, I threaten) Carl let me translate a poem of his from an old Guggenheim catalog of a show of his there and use it with a young girl speaking its phrases and learning them from her mother. That poem will be part of turtle in Paris.
We have found a cinema partner here: the Filmothèque in the Latin Quarter, and will also screen videos at Galerie 88 near to where I am staying.
Good morning! MHS
THURSDAY 28 June 2007.
I have been meaning to write. Am so far behind now and can't even find my notes. Working hard, maybe too hard. Finding it difficult to speak this week. So much good going on, yet no Paris collaborator yet. Possibilities, but they must come to fruition soon or turtle in Paris is a scattering of little turtles without a home. Maybe Paris is enough of a home. I just have to dive in to my edit.
Am compelled to write this morning after seeing CONTROL last night, the story of Ian Curtis and his death in 1980, and receiving a book on Francesca Woodman this morning - another special artist who also took her life, in 1981 Two ghosts who live with me.
I was happily (?) surprised by Anton Corbijn's film. His wide frame was perfect, and respected. No wandering frame for no reason. It was Debbie's story seen through Anton, so his story ultimately. He was able to share some truth, knowing and respecting Ian. Kudos, Anton! Made me sorry not to have been able to make the doc on Joy Division with Carol Morley and Natasha Dack. Would have been a good companion.
This evening Arnaud Lefebvre will talk "One day in the life of a gallerist". Peter Saville is at Palais du Tokyo but I will meet him and Anna Blessman over the weekend. Tomorrow Elisabeth and I meet the people who run a small cinema in the Latin Quarter about doing some turtle programs.
On Tuesday Catherine Quesemand visited. Catherine edited The Temptation of Victoria. I met her through Irena and William Lubtchansky. Catherine edits the films of Michel Piccoli, the actor who has also directed three films. Pierre Gras, a film critic, recently mentioned his high regard for Michel's films and was disappointed that the French hardly know about them. So, of course there is a turtle there in the making!
But Catherine took me around the corner to the Musée de la Shoah where there is an exhibition of mass graves discovered/uncovered in the Ukraine (1941-1944) by a French Catholic priest. Both the museum and the fact that Catherine's grandparents went missing at that time in the Ukraine were discoveries for me. She left a letter in hopes to learn about her family. The experience there weighed on me. A good weight, or necessary one. Still, I find it strange that a museum display of articles of horror can give the objects beauty. Like film in itself is so beautiful that it is hard to make an anti-war statement recreating war as it, too, makes it beautiful. The beauty and the horror of war. Maybe beauty can be pushed to make a stronger horror. That's what poetry can do.
Earlier in the week I had a nice visit from Michael Duffy who teaches at Slade Art School in London and was part of turtle. He made a beautiful video installation just next to my turtle room. Then I had a wonderful visit with Mark Rappaport. Mark has moved to Paris from New York. We have been out of touch for several years but somehow his name came up at the video store Blaq Out and they put us back in touch. We spent 3 hours together. It both wore me out and gave me great energy. He is a most wonderful filmmaker (From the Journals of Jean Seberg among other films) but is focusing on writing now. He is so happy here. We are sure to spend some good time together. Next we will meet at Olivier Assayas's screening at Le Cinémathèque next week. Haven't seen Olivier in ages.
Also last week I was back in touch with Geraldine, the woman whose apartment I rented where I cut the 7-minutes of Beirut footage that turned my film around. She lives around the corner. Another circle drawn.
Tonight, as I went in to the Metro right outside on my way to a gallery talk I ran in to a woman who will be dancing with Philippe this summer in his striptease show. We met at his Caramba performance two weeks ago. She is going to his solo tonight and I must go before it closes on Saturday!
Arnaud Lefebvre gave a personal and moving talk "One day in the life of a gallerist" to compliment another beautiful show. The title is inspired by Rosemarie Castoro's poem "A Day in the Lie of a Conscientious Objector", made between Februray 23 and March 26, 1969. Her poem is an artwork on display written on a calligraphic practice pad in different colors. David Gordon wrote a short poem for the show "which speaks of beauty, an oriole's song, art, Brancusi and Bach." Being from Baltimore, and my love for Brancusi, this poem spoke to me.
Arnaud is so close to me in what he does with his gallery. It is through him that I was introduced to Martina Klein's painting and met her. Martina lives in Düsseldorf and made a white painting for turtle to show films and videos on. It was not just generosity, but very special art in her concern with the spectator in relation to her work and the painting's surface. And I met a young art teacher named France! France brought Martina to her school in Tours and she heard of turtle and Martina's work for it. I think turtle will visit Tours, with Martina I hope!
It is almost 10 and I should have dinner, but I'm not hungry nor do I want to cook another meal! If motivated, I will go to the rue des Rosiers for a falafel sandwich. Maybe I am not so hungry beause my sister's care package arrived today. It had the proper high protein power shake which I had just before the talk at 7. I had taken my last L-carnatine at breakfast and 3 bottles arrived at noon, with the shakes and cereals! I am in health heaven! Almost can't wait for breakfast. In truth, the cereal is not very exciting, but it is the right balance for me. And I found blueberries near the gallery! I had bought cassis by mistake recently at a local market. They have been my blueberry substitute. So fragrant. On that 'note' I say good night. MHS
P.S. I hope that my "name dropping" will encourage those who do not know of whom I speak to look them up and discover! That is why I share this with you.
FRIDAY 22 June 2007. continued
Punishment Park was the Peter Watkins film. From 1971. Harrowing. While dated it is sadly very relevant today. That must be why it is being released here on 4th of July!
So is it dated? Just in the style of using zoom (a subject that will figure in to turtle Paris). I love his use of documentary style in fiction. It reminded me of Nina Menkes moving film The Bloody Child. We will do a screening of her new film Phantom Love (www.katapultfilms.com).
I mostly thought of John Gianvito and his work. I know how much he revere's Watkins' films, and he has also met and I believe interviewed him. I was taken by Kaori Ito, the dancer friend I ran in to at Pina Bausch a couple of weeks ago. I mentioned then that she is working with a performer who is Charles Chaplin's grandson whom she had introduced me to. Walking out of the cinema this morning I pulled out my notebook asking her for his details to contact him about turtle and we ran in to him! So we will meet soon.
I want so much to show Gianvito's new film here soon, rather than wait for turtle. Yesterday I stopped in to the Suisse Cultural Center where I was once with Robert Frank. E-flux (of Ludlow Street) is there for a couple of months and I liked so much the screening room that I am looking in to doing a turtle screening there with Robert's work in the fall in relation to a Swiss writer. Just an idea brewing.
Have heard from Jason of ORCHARD (www.orchard47.org) and am happy to learn he is doing a show with Sadie Benning in September!
There is so much more but I really need time to myself, and to respond to mails. More soon. MHS
FRIDAY 22 June 2007.
I don't know where to begin. It has been so long. So much has happened to keep me away. All good. I continue to get stronger. Am either busy working or busy taking needed time for myself. I can finally look forward to returning home to NY. I'll be well enough, strong enough, to deal with my living there. For now there is so much to do here!
Am listening to BBC3 radio, a John Cage choral piece based on the word Oregon. This afternoon I will go to a rehearsal of AYRE with Osvaldo Golijov, Dawn Upshaw and Michael Ward-Bergman. This morning I will see my first film since arriving in Paris. Kaori Ito has invited me to a screening of a Peter Watkins film. If I am strong enough this evening I will see Greil Marcus at Fondation Cartier where he is doing a "soirée nomade", something turtle will do in November. But I may just meet Greil for a coffee over the weekend if he has time.
This week I received a book of poetry by Ziba Karbassi in Persian. I love her work which I can only read in English translation, but since I heard her read in Persian I wanted the original. My neighbor here is a painter from Iran so I can share the work.
I've also received a book of stories by Sigizmund Krzhizhanovsky, a Russian author who died in 1950. This is his first work available in English. I ordered it from John Sandoe books (johnsandoe.com) sent it to me. A most wonderful bookstore in London I only discovered just before leaving. David Gothard took me there. The first story is magical and haunting. A special discovery, and the second this week! If you can still get your eyes on the New Yorker summer fiction issue Teen-age Runaway by Junot Diaz is a most special voice. I picked it up for the other names but was drawn first to this story. I so look forward to his first book this fall. Yes, I hope to find time to read again!
Am also searching for an essay by James Baldwin "Equal in Paris".
Turtle seems to be finding a home here. Finally reached Jenny Mannerheim at NUKE and her gallery and magazine will be a part. Yesterday we met Persephone at LH Gallery whose spirit is true turtle. Nicolas Delprat introduced me, and it happens that they are close to NUKE - both in friendship and proximity. The shape of turtle will be discovered with its collaborators here.
Paolo has mailed me the DW Griffith "The Sands of Dee" (yes, I still owe you the Michael Powell story).
Oh, a friend in Stockholm whom I have never met, Marie Wennersten (www.sr.se/src) has seen/heard Inger Christensen read her poetry and made a radio program with Tomas Tranströmer - two of my favorite poets. Sculptor Tommy Støkel is part of a show opening tomorrow in Denmark "Seen from a butterfly wing". I was introduced via email to Marie through Juan Carlos Zalvidar, an old friend who came to London to do part of his Polaroid series at turtle.
I've got to shower now, make my second meal and get over to the screening. At least I've brought you some news. Today is Friday, my one day of buying a newspaper - the Independent as Friday has a good book section! MHS
FRIDAY 15 June 2007.
Philippe's SOMBRERO was a treat as I was able to invite Eva, Michka and Clara Assayas' 13 year old daughter who has just entered the dance conservatoire. His work is magic and enchanting. For me it was more. And less. More because it is part of my crawl back to life. Sombrero was at a theater in Chaillot, the same building that I first videotaped a rehearsal of Philippe's in the late 1980's. Furthermore, the lead in this show was Alex Naudet. I was shooting with Alex in Romanesque churches around Poitiers when I first fell noticeably ill on the path that led to the hospital. I had not seen her since then and now I will look at the video I shot for the first time. There was also Olivier, dancer and video wizard, who was with Philippe when I had them as guests at Bennington College.
I said less as the work was lighter, more refined. Less dance and, although more "effects" through video and light, it was more elegant, at times sublime.
The music is credited to Brian Eno. There were moments of brilliance, and others that seemed to get in the way. Julie, a dancer I saw after who had visited me in the hospital, said her favorite piece was by Bartok. So it was a mélange.
In a week Philippe does his solo, then this summer a striptease! (well, don't know about him as I sat next to the woman whom he said is a most wonderful stripper he is working with - so who knows who is stripping whom?!). I look forward to a lot more of his work.
This feels a good day. I am at a new café near to where I stay. It is on a back street, nice and friendly, almost empty, bright and quiet - except for the "light music"! Still, I can live with that - I think I have found my morning home. On Tuesday I tried the Columbus café (a Boston chain?) where there was to be free wifi. I had a signal but it would not work. Anyway, the coffee was bad because they use ultra-pasteurized milk. Anyway, here at my new café I have found wifi!
It is Friday so I began with the Independent - the first English paper I have bought. On Friday they have a good arts/books section. On Sunday I can read the Herald Tribune and Guardian at La Louisiane when I go to visit Monica - I'm on a budget so most of my news comes off the web.
Tonight I am to see a new creation of Pina Bausch but am trying to go to the run through this morning/afternoon instead as two nights out are too much for me.
Earlier in the week Melanie Maurian, the Pina dancer I met in Düsseldorf/ Wuppertal, came by and helped me to shop for basic things. Isild Le Besco gave me a towel, a Mexican woven piece for my bed, and an African print for my floor which is now covering a chair. Jean Charles brought me a large Burkha carpet (his son is loaning it to me) and Jezabel's exercise mat on that is bliss. They have each given so much more, along with Anne Bertrand and Elisabeth... I am blessed.
TURTLE PLACE is on hold, or taking another way of working. It was not something easy to jump in to, but it should be a place for certain events. The first solid plan is mid-September. Keep your eyes open in Flash Art, Frieze and 2 more art magazines for the news (if you read them - I'll let you know when they appear). Daniel Devlin is organizing this for artist Herzog he works with.
Anne Bertrand left me so many things that I am discovering slowly. One is a catalog from Japan and I found Robert Frank within. Images I have never seen, but more importantly a text Anne has written on Robert's THE PRESENT and FLAMINGO - two films that are very important to me. The first time I saw The Present was when he presented it to a small class of photo students at New York University. I laughed, and cried (you can read about THE PRESENT under RUN in New Order texts at kinoteca.net). Flamingo was special because I remember Miranda recording the voice-over in our closet on Sixth Avenue.
Tilda just wrote that she will be in Paris next week! She is putting me in touch with John Berger regarding a recently found Pasolini documentary he wrote about last year. Clare Peploe is trying to get me a copy.
Also, I am in touch with Mark Rappaport, a NY filmmaker and old friend who has moved to Paris! There is a lot to do here, but I must take it slow. Keep it slow so I can win! MHS.
THURSDAY 14 June 2007.
Late afternoon after my first good day yesterday. Today not so bad. Am speaking of my health and the factor of my fatigue. Yesterday was the first day since I arrived not to have felt fatigue. I got tired but there is such a difference. Today I am tired only, I hope. Maybe it was the food of Jezabel's at lunch, who knows? But at least I can taste it again and I hope that it becomes the norm of my days.
Today I received a mail from Stephen Watts. He is on his way to a couple of days in Norwich in honor of W.G. Sebald, or Max to his friends, such as Stephen. He forwarded me something he is in the process of writing about Max. Perhaps he will read it there. I have not read it yet - I had to get a cartridge for my printer as I prefer to consume it on paper. But I wrote Stephen back to say that yesterday morning, as I was waking in a café, I began looking at the first of many notebooks I must look through in preparation of returning to my Beirut edit (as I casually call it). Following some notes on the conversation I videotaped between Etel Adnan and Margarethe Von Trotta, there is a page referring to the attack on Dan Rather, the U.S. newscaster, in New York and a note that Beckett was attacked here in Paris in the 30's. Then:
SEBALD
After the shoot I learned of his death and cried.
These notebooks are going to be difficult to get through I fear. Two pages later is a note to interview Kapuscinski - he died in January.
But I have links to these people, Elizabeth Rubin having just written about her encounter with Kapuscinski in NY when preparing to do a Paris Review interview. This piece is in a recent Paris Review with photographs that he took - something I was not aware of.
Elizabeth will try to bring his photographs in to turtle in Paris. Perhaps they can be in dialog with the images Sebald collected.
I had a coffee in this café this morning and discovered free wifi. So I am back. But free wifi in Paris is not so simple. I won't bore you with this. The important thing is it is not the café I need to find where I can write. it is too loud, directly on rue St. Antoine. It may take a while to replace the first floor of the café de la Mairie.
Tonight I will go to see Philippe Decouflé's spectacle SOMBRERO at Chaillot. I know that I have a lot of catching up here, but I did not bring my notes for traces - just needed to get out and write about "Max".
MONDAY 11 June 2007.
I have chosen a café close by on Boulevard St. Germain rather than carry my computer to Café de la Mairie, but it is too loud here!
Today I am fully moved in to my studio at Cité des Arts and this evening is the opening for the group show there. I expect to meet a lot of people and be worn out. My fatigue is back but I am sure due to the moving and trying to maintain my diet in a new place. I have to find some important organic/soya high protein products in a place where there is much more smoking than 'bio'. The bio, or organic, stores are much more limited here so I may need to get things shipped from the U.S. and U.K. My friends are loaning me things that I need, such as a toaster and towels. I have to learn the best markets and find a café with internet (if I am lucky). Anne Bertrand tells me it is free in Beaubourg and that is not too far a walk.
Yesterday morning my OED word of the day was 'remediless'. Then on the street blasting out of a café just setting up was a dance track with a woman singing 'shut the fuck up'. I had to laugh and felt that Beckett was reminding me about life.
There is not a lot more to share. I just wanted to write here before I move today. Next dispatch from my studio area! MHS
WEDNESDAY 6 June 2007.
I am in Paris and still settling. Arrived Sunday evening to a mixup at Eurostar where I was stranded on the tracks for half an hour, Elisabeth waiting and trying to get me help. Monday morning Elisabeth helped me to check in to my room at the Cité des Arts. I have not yet moved in, but that day I left behind a small pink origami turtle, one of the thousand Heather Willensky made for the first turtle, to guard the place for me. In the afternoon I ran in to Laetitia Masson, one of the people who helped me to make SOUVENIR. I met her when she was just finishing film school here and she was my 'script girl'. Now she is the mother of several of her own films, and two children! Her current film she shot with Amira Casar who is working with me on the Beirut film. Yesterday morning I returned by another route to familiarize myself with its location and the turtle kept it safe.
Today I had to drop of something for a group art show next week. I decided on the following which I call A FILM, A PLACE AND A BLESSING.
I made laser prints. The FILM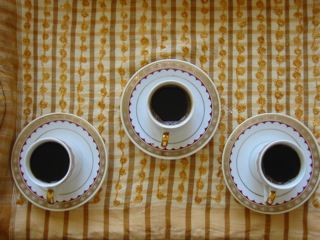 refers to one I call P.S. BEIRUT (a portrait of Etel Adnan) and is a still I took at Etel's home in Beirut, the PLACE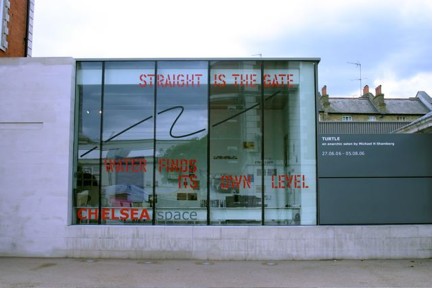 is a wide shot of the exterior of the first turtle at Chelsea Space, and the BLESSING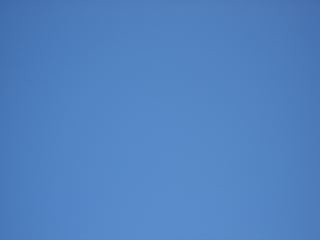 is called SKY (for Derek Jarman), a collaboration I did with Frances Richardson for turtle in Düsseldorf where Frances told me to take a picture of the sky. A clear day gave a pure blue, so it was clearly for Derek.
But the day has been a difficult one physically. Moving here, and doing too much. On Monday evening I went to see Melanie Maurin in Pina Bausch's Bandonéon from 1980. It was beautiful and hard. The set was perhaps the biggest player for me. The simplest of hers I have ever seen, yet somehow the strongest. It's transformation from an open tango inspired place with large framed images of boxers to the same space emptied of these photos was somehow extraordinary. I was exhausted!
It was nice to run in to dancer Kaori Ito, who used to work with Phillipe Decouflé. She introduced me to the man she is working with now who is the grandson of Charlie Chaplin!
Then yesterday I had a nice and protein filled lunch with Jean-Charles and Jacqueline Blanc. In the evening I went to the beginning of a film/music festival www.filmerlamusique.com to see the premiere of Marie Losier's portrait of Genesis P Orridge. Isable Perquie met me there and reported that Emmanuelle Riva is out of town but back soon, and Raoul Ruiz is back briefly from London and on his way to Chile. I hope to see him before he leaves. I was due to shoot with him on the set of a film when I fell ill. I began a portrait of him several years ago which may find its way in to my Beirut film.
Marie's film started late but I told asked me to be her eyes and ears - but it took my body too! It was such a personal, powerful and poetic work. Kudos to Marie. But the night was too much. I can't go out two nights in a row. And it was filled with unexpected pleasures. I ran in to Anne Grange, who brought me to Forum des Images a few years ago to present my work with music videos. David Linton was performing - someone I haven't seen since the early 80's in New York. Then there was Rhys Chatham looking exactly like his photos in the current WIRE magazine. Rhys came to work as music director at the Kitchen just after I left. I remember having a shouting match with him as I was being abusive of using the facility and he was quite rightly annoyed. We greeted as old friends and exchanged details. Rhys has been living in Paris for years. I wanted to stay to see Scout Niblett performing later but had to get home.
I am too tired to continue but I wanted to get a start. Bonne nuit! MHS
SUNDAY 3 June 2007.
My last morning in Groucho's for a while. Just read a preview of Damian Hurst's show by Will Self. It reminded me of an evening here having a drink with Rob Gretton, New Order's manager, up where there used to be a pool table. Will Self came drunkenly over to Rob, muttered something then pulled a Hurst painting off the wall and tossed it out the window. I was entertained, even impressed. Those were the days when I spent my evenings here rather than the mornings. Now I see people stumble trying to wake.
These last few days have focused on getting a TURTLE PLACE here off the ground. Stay tuned! 17 June there should be some visual statement. Turtles are coming out from everywhere to make this happen...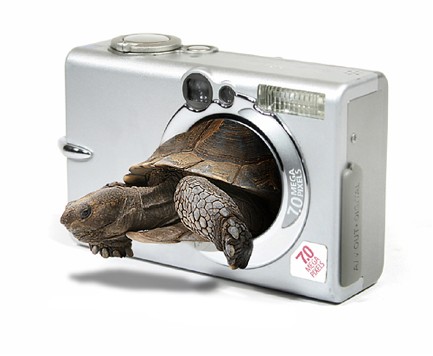 Daniel Devlin is trying to get the Weiner printed in time to be sewn on to the shades, Ana and Renee are ready to get dirty and paint, as well as getting help from Michael at Slade regarding rear projection.
Katje Stuke (www.ks68.de) is in town for the photo fair and we met up yesterday. Katje is from Düsseldorf and was part of turtle there. She also designed the poster for FILM OHNE TITEL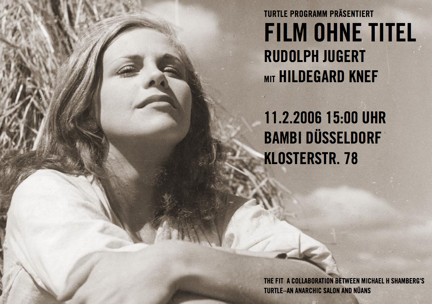 We went to Slade Art School where the masters students were madly finishing the installation of their final show next week. Since I won't be here Piper Mavis invited me for a preview of her work. I was so moved by the room with video. Her images in very slow motion capturing children in the air was mesmerizing, joyful and meditative. Yes, she confirmed the use of a trampoline and I shared my Bizarre Love Triangle story. Piper also installed her photographic series beautifully printed and presented. I was so happy for her. It was magic to find Piper in London when I wrote her for the first turtle. I thought that she was in Los Angeles. Piper was one of my first students when I taught at Bennington College. I came in during her last semester. Now I learn that Piper is moving to Paris! Who is following whom?
I was also able to see Malin Stahl's installation of several videos on monitors simply and beautifully displayed and a video projected in a structure of a room, a scaled down version of the room the video was shot within. It focuses on a young girl playing between images and objects of fun and war. The fighter plane drawings of the girl reminded me of those I videotaped within a bombed out building in Beirut. Such drawings must sadly be familiar tools of expression throughout too many cultures.
I passed other works of what appears to be a show with some strong work. I saw many turtle busy! I wish them all the best.
Tomorrow I will check in to the Cité des Arts. I have no idea what to expect, and I kind of like that. Then tomorrow night I get to see a preview of Pina Bausch performance with Melanie Maurin, one of the dancers who spent a lot of time at turtle in Düsseldorf.
Finally, as promised, here are a couple of poems from Ziba Karbassi and Stephen Watts. I better hear home and finish packing! Gina Birch is taking me to the train, which reminds me to follow up on booking her gig at Salon des Amateurs in Düsseldorf in early September, with Ana and the Raincoats, then bringing them to Paris. A Bientôt! MHS
FRIDAY 1 June 2007.
Yesterday met with Tracey and K & J about TURTLE PLACE. I think others understand turtle better than I! Rather than branding the place TURTLE PLACE we will just put the logo somewhere, like a stamp on a package. The space is temporary - only for 3 months, and it will be a turtle space in the way it is referred to and used. Tracey is brilliant, K & J right there with her! I think I even heard Tracey refer to turtle as a sanctuary... so right!
It was Eliza Flanagan who came to me first to make this happen - thank you my friend!
We will go ahead with Weiner on the shades and Marker's idea of a scrolling video (text and image) in the other window. So I am in high gear to sort these out. Our goal is by 17 June for a special Marylebone Lane day.
They want to repaint the whole thing white! Purrfect. So, just as I move to Paris I will have to return. But what could be better - another turtle and a new me able to travel!
Things are also brewing in Düsseldorf for archiving turtle there for a magazine of nüans and a possible museum event in October - the best month anywhere in the world!
Oh, almost forgot. On Monday Gina Birch and I went to a taping of the Jools Holland show. Silversun Pickups were playing and Nikki Monninger, who plays bass, invited us. I met Nicki at Rhino Records in L.A. and she has been kind enough to stay in touch. The first song they played threw me back to over 3 years ago driving in Los Angeles listening to their homemade EP. It is a song I loved and am so happy it is now coming out for people to hear. Warners has picked them up outside the U.S. (I think they are on an indie there?). Can' t wait to get the cd to hear more, and to know the name of the song I love.
On Wednesday Eliza and I got to see them play a couple of songs at Barfly in Camden before going to see Blonde Redhead. Should have stayed at Barfly - I love BR's music and it sounded good, but I was waiting for more. Am happy to have seen them thought, and Silversun will be back in Europe this summer. Such a good band and they are all sooooo nice! The Jools Holland show is tonight. MHS
THURSDAY 31 May 2007.
I' m crying in the Groucho Club. Just read "A New Life", a continuation of a comic by Anna Foroqhi. Anna is a filmmaker based in Berlin, and a friend. A dear friend - dearer than I knew. We have spent little time together over the years we have known each other - maybe 10 years? - but have kept in touch. Her work has always been a part of turtle. Not just films, but at Chelsea Space she had a wall of comic-like drawings of Jerusalem. In Düsseldorf was a new set of Beirut. Then Anna was pregnant and I encouraged her to draw comics about this so I could follow. Follow what? And why? I don' t know, but her pregnancy became a part of my life, my recovery. Then Sita was born, but it was not easy for Anna. In her comics there was danger, but it seemed to be overcome. Then Anna wrote how Seta was born but how she almost died. I was so happy for Anna and her partner Haim, but sorry that she had to suffer so. The other day I received a new comic. As usual, I sent it to Mel at Recorded Pictures who printed it out for me. This morning I read it, and I cried. All is well as I follow the news of Seta and her family, but within it was what happened in the hospital. It was scary. It took me back to the hospital, but I cried in happiness that Anna shares in something she has overcome as I begin a new phase in overcoming my illness. It brings me closer to Anna, closer to life. I hope that I can be as truthful and brave in my work ahead in Paris. MHS
MONDAY 28 May 2007.
Bank holiday here in London. Let's start with TURTLE SPACE. Lawrence Weiner sent over a piece to install on the three windows facing Woburn Street and Guillaume proposes a Presentation Promptor for the window on Marylebone Road. The prompter is scrolling text and images. Guillaume will focus on animal news and we' ll throw in some poems and other items.
Saturday, the thought of the day in the Independent was,
"Interpretation is the revenge of the intellect upon art" Susan Sontag, Evergreen Review 1964.
Had breakfast with David (yes, my friend who carried me in to hospital) yesterday after showing him the space. He shares my excitement. To repaint, however, is a much bigger task than I anticipated, but speaking with him I realized that I need only clean and repaint the upper portions of the glass that are now painted in and turn that in to a statement that this is TURTLE PLACE. If we are lucky Sara Fanelli will hand write the text to be places alongside Marker's logo. This is a simple solution that we can do right away!
We ate at La Fromagerie (lafromagerie.co.uk), a place that Arpad (from Düsseldorf) had me deliver nuggets of dried milk to the owner Patricia. Patricia was there and says she will be part of TURTLE PLACE (TP)! Check out her wonderful Dirt Café project (dirtcafe.com).
In the afternoon I went to Oxford to lunch with Anne and David Pears. I had seen Anne in New York recently but have only corresponded by post with David. He had suffered a stroke last year and is struggling with the frustration of a slow recovery, something I share. But his loss is his identity through deterioration of his "photographic memory". He explained how he chose Philosophy because his mind was cluttered with Latin and Greek, the previous focus of his studies.
He can still recall a lot, however, and told some wonderful stories of Auden and others. I asked him about something and he recalled his first book of literature read wholly that impressed him was Jules Verne's THE MYSTERIOUS ISLAND which he read when he was a child. I recalled how I was in Verne's hometown of Nantes a couple months before I fell ill.
He recalled beautiful lyrics by Henry Vaughan for music THE FOUNTAIN by Elgar.
The unthrift sun shot vital gold,
A thousand, thousand pieces;
And heav'n its azure did unfold
Chequer'd with snowy fleeces;
The air was all in spice,
And ev'ry bush
A garland wore:
Thus fed my eyes,
But all the earth lay hush,
Only a little fountain lent
Some use for ears,
And on the dumb shades language spent,
The music of her tears.

I returned to London intending to go the the Throbbing Gristle performance to Super-8 films of Derek Jarman but decided my fatigue was too great. But let me tell you of this fatigue of mine - it may be lifting, or abating. I do not want to make such a public announcement yet, but I did not go out on Saturday to protect what I hope is happening.
On Friday I had gone to Tate Modern to see Ikue Mori perform with the films of Maya Deren. WITH the films - she had a dialog with the work rather than illustrating with an interpretation. The program began without film and Ikue performing a song. Then Meshes of the Afternoon played with its own soundtrack. Seven films in total, with one other, maybe two, with its own soundtrack. Films I had never seen came to life with Ikue's music. Stuart Comer commissioned Ikue and put this wonderful program together. I stayed to congratulate after and got home at midnight - feeling fine!
It was so special to see Ikue after so many years. She lives in the same place in Manhattan, just as I do! Then on Sunday I saw another old friend, John Giorno, who also lives in the same place as when I first met him in the 1970's. Well, really met John in the 80's but saw him read several times at St. Mark's Church with Allen Ginsburg, Patti Smith, William Burroughs (who stayed in John's "bunker" in the basement of his building).
Jump to Sunday. John was there to present Warhol's SLEEP, Andy's first film of Giorno sleeping. The film is only six hours but is playing in a loop to accompany a score by John Cage which repeats an Eric Satie music phrase for 18 hours! It is being performed on a piano with 10 pianists alternating, including Gavin Bryars (who inaugurated the first TURTLE at Chelsea Space with the poetry reading of Etel Adnan), Michael Nyman and others I never heard of, but one young student I met named Andre Fan.
The transition from daylight to night took me back to Robert Ashley's installation at the Kitchen in NYC. Robert had made portraits of 7 contemporary musicians, including Pauline Oliveras and Philip Glass, that each consisted of an hour interview and an hour performance. The works ran on a row of monitors surrounded by potted palms. The audience lounged on cushions as the day turned to night and the light became the tv sources and the colored lamps within the plants.
My walk home tonight in the cold and rain, across the bridge, getting soaked, was a pleasure because the fatigue did not have me dragging my feet. I could be Gene Kelly in paris, and I will be in paris soon! That bridge tonight that I stopped on soon after I was released from hospital to feel how lucky I was. I had just been to visit Vicente Todoli, and on my way out tonight I saw Vicente - another angel who visited me in hospital.
Back to Monday. Today I am feeling that my fatigue may be lifting. Or my nutrition is working. With the help of my dream. But I do not want to shout it yet. When my vision corrected the first time in rehab with my sister I did not tell her. I could not be certain it would stay. And it didn' t, but I soon returned, ebbing in until it stayed. The same then with the noise.
So if my fatigue is controllable, just sensible eating and work/ rest, then I am a new person!
I returned to the Tate to catch the end of the event and see John read again. I had my times wrong as the piece would not end until 2.20 but I was able to catch an interview with him for Radio Resonance after which he read two poems. This took place in a separate auditorium and I was able to video him for personal purposes. Perhaps we can add it to the site sometime soon.
I know I promise a lot - Stephen Watts is sending me one of Ziba's poems and one of his own. We must be patient. MHS
FRIDAY 25 May 2007. continued
I forgot to mention in reading of Don DeLillo's new book Falling Man, from the image of the falling man off the World Trade Center, I could not help thinking of Robert Longo's Falling Man series which Robert drew upon in the making of New Order's BIZARRE LOVE TRIANGLE video.
As noted in the text on making it (kinoteca.net) the finding of the trampoline to shoot the Falling Man (and Woman) images was the most difficult. Someone must have written about this body of work made years before 9/11? MHS
FRIDAY 25 May 2007.
The week is ending but the weekend is beginning. After a tough Sunday I focused on preparing for Paris. In two days I threw out a lot of things, mostly papers, and re-edited what I needed to take with me. There was order, some order. Now is a mess, but it is an OK mess. I can still see how it can come together.
On Wednesday morning I met Michael Ward-Bergman for coffee. He was carrying a stick he uses in performing with the Groan Box Boys (groanboxboys.com) that is covered in bottle caps, sheep hoofs and other noisemakers.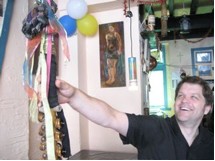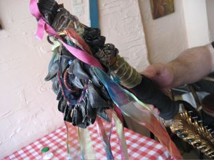 Osvaldo Golijov introduced us and I believe I told of his playing TURTLE at Chelsea Space last summer. We discussed his doing something in Paris in September and my wanting to have Christina Courtin come as well (myspace.com/christinacourtin). Christina performed in Michael's work at Carnegie Hall earlier in the year and I was mesmerized by her performance. I was happy to hear that Christina has been signed by Nonesuch Records. David Bither at Nonesuch put me in touch with Osvaldo years ago after my hearing the cd they released "K'Vakarat". I will be lucky to see Ayre of Osvoldo's performed again in Paris next month with Michael and Dawn Upshaw.
I told Michael about meeting Isabella Rossellini recently and found he shared in a fondness for her, so I took him around the corner to the show I discovered the other day of photographs from the making of the film "My Dad is 100 Years Old" with Guy Maddin. On the way I spoke of filmmaker Cosima Spender in Mali with Natasha Dack and how I requested a witchdoctor from them. Michael stopped, undid a pouch on the top of his stick, pulled out a little person figure made out of cotton or wool. I held it and spoke to it about my physical needs and Michael put it back, gave me the stick and I had to shake and pound it a few times. On Charlotte Street one can do healing! Michael went off to ship his stick to NY and I went on with my day.
That evening I met a friend Eliza to go to an opening with some turtles in it (Kris Emmerson and Frances Richardson). Eliza wanted to show me something first. Near to the shoe shop she works is an empty corner shop and she proposed that I use it to put things in the window, or even in the space, over the next six months. I was interested and we went on to the new ONE ONE ONE gallery to see the show. I did see my neurologist enter as I was leaving - good to see he allows himself in to art! I went home and to bed early but then woke and began making notes of who might be good for this space being offered. But I worried as I will be in Paris during this time. How could I do it? Then I got so excited I named it TURTLE SPACE. I remembered how I went to Chelsea Space to tell Donald I could not take him up on his offer, then could not say no. And TURTLE was born. So I cannot say no now and I will find a way to make it work. Eliza and the people of KJ Laundry clothing across the street really want something to happen. I had just had a meeting with the students at Slade earlier that day about a TURTLE CD release in the fall and other events and am sure I can get some of them to help. With others.
So yesterday morning I went back to take pictures and dimensions.



I had Melanie Wilson meet me there as I thought it might inspire her to do something. I think it set her mind buzzing. Melanie just returned from performing in New York and will take her SIMPLE GIRL to Edinburgh for the month of August. Chris Doyle wrote back with interest from Hong Kong, Guillaume in Paris is pondering it, as is Wynn Dan, and Anna Blessman and Peter Saville will visit the space this weekend.
Ok, I am mad. But I need to be. I said I need to dream and this is dreaming.
The weekend: a Tate Modern weekend. Tonight Ikue Mori is performing to Maya Deren films. Tomorrow Throbbing Gristle to Derek Jarman super-8 films. On Sunday John Giorno will be with Warhol's "Sleep" and Gavin Bryars, Michel Nyman and others will play Cage's staging of Satie's "Vexations" for hours... I will go to what I can and try to meet up with Ikue and Giorno. I am tired just thinking about it!
The week was not all art, but health too. I saw my speech therapist, Gary. He thinks I have improved more than he predicted but that he has done all that he can. He thinks my diction has improved. I agree, but as I fatigue my tongue gets twisted - literally. By the end of the day I can hardly speak.
Gary suggested that my next step is an obturator to hold up my soft palate. It may or may not be for me, but it is better than rushing in to surgery to help it close (they add tissue or such). But he said that, similar to the electric stimulation to the throat I had recently for swallowing, there is a plate for stimulating the soft palate! For me, that is my next step since I responded well to the throat. Now I have to find out where! It is still experimental and I am more likely to find it in Germany or the US, but maybe here. Gary did not know. So my therapist in Baltimore is researching (she had not heard of it) and I am beginning to explore Germany and France... anywhere. If someone reading this can help, please do!
I think my diet is helping my fatigue. I still have to rest throughout the day and limit the things I do, but I am hopefully on my way to a more even day and not just a couple of hours or morning bliss followed by waiting for the following morning.
Of course adding to my life with TURTLE SPACE is not the obvious path, but it gives an energy through the spirit of what it can be, and will be. I hope that we can paint it and make it special. Will need to find a little sponsorship with some able helping hands. Conducting this from Paris can begin something that I have always wanted for turtle - to be able to inspire people to make their own turtles. Now, be warned, I will be back! But elsewhere in the world let's TURTLE! My day has begun. Good morning! Michael
SUNDAY 20 May 2007.
Yesterday became a wonderful day. I struggle to remember how it began, but I ended up sorting through papers and items in preparation for Paris - what to take and what to throw away. I had done a preliminary "rough cut" before I went to the states. I got through this thanks to the football match between Chelsea and Manchester United. It was not a good game, and I never watch football, hardly tv, but it kept me company and I got a lot done since it went in to double overtime.
Oh, now I know why I forgot the morning. I even forgot that I wrote of it yesterday.
Last night I went to see Stephen Watts and Ziba Karbassis read poetry at an event near Liverpool Station. It was at a church that was destroyed in 1993 by an IRA bomb. St. Ethelbburga's has been rebuilt in to a "Center for Reconciliation & Peace" (www.stethelburgas.org).
It is a beautiful space presenting a VOICES OF EXILE evening with belly dancing and flamenco music (this was wonderful). It became a late evening for me as they changed the schedule twice so that Ziba and Stephen came on at the end. But it was so worth it. I had seen Stephen read before, but here he read Ziba's poetry in English as Ziba read in her native Persian. It is hard to describe her performance but it was more than moving. The language was made love to. Her voice at times seemed almost Japanese in whispers. I felt that she was my voice, or I dreamed it. I knew her poetry, thanks to Stephen who has been translating it in to English. His reading was truly his and added yet another dimension to the work. I will ask Ziba if I may post a poem of hers here. Meanwhile, I give you some images from last night.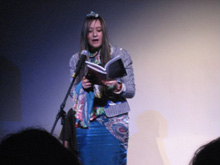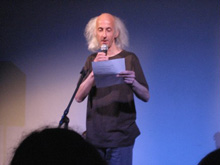 The bus conveniently stops just in front of the church so it was easy to come home. I was surprised to find it was already midnight! It was lucky that there was wonderful food at the event so I kept to my nutritional needs.
I slept ok, even dreamed, but only remember thinking that it has been a while since dreaming. Maybe it is because I read of a dream in old notes I came across yesterday.
This morning I woke feeling well. I did not have to wait to get through my exercises and breakfast for that. Maybe something good is happening. Or maybe it was the poetry.
I met David at the market off Marylebone High Street. I had never been there before. It was small and lovely and I got my dinner that I will soon cook. Then we had breakfast and a good talk.
I came back for a quick rest before going to Tai Chi. It was good, and difficult. Good to be moving this way again, but hard revisiting a recent past. I got a lot out of Tai Chi when I did it with Miranda in the Fall. Alex, the teacher, is very good. It is in a medical center off Soho Square for £2 a session. There were a couple of people I knew from before, but more flooded in as I was leaving and I found it hard to speak to them, physically. I came home, had lunch and went back to sleep. Now I am writing to wake and to share. But I still think of Bridie.
I love you, Bridie. MHS
SATURDAY 19 May 2007.
Groucho Club, morning. Walking here in the sunshine it is cooler than what I dressed for, which is nice. It has been more than a month away from this ritual. I was looking forward to seeing Paul and hearing about Bridie, walking through Soho Square, open earlier this time of year. But I fell in to wondering about the future, or how the future escapes my thoughts and how much a part of ones life the idea of future is. Can I have a future without speech? This week I will see my speech therapist and am concerned that I have reached a plateau or am just moving so slowly forward I can't see what's in front for what's behind.
But what came in front of me was Paul's news that Bridie is back in hospital - her bones are falling apart. The pain in her ankles during turtle, then her hips and her back, were signs of a disease. Bridie is on morphine, in a lot of pain. She cannot go to the hospital she needs for this until another infection clears. Then they hope to replace her ankles, as they are joints, and parts of her back, but they do not know about the femurs. Bridie, I will come to visit you when you are ready. Turtle will always be here for you. I love you. Hold on to your great spirit.
There is no need to continue on with my personal thoughts. I need to focus on my work - it is all that I have. No vacations to plan. My daily potholes can be repaired. As Malin refers to Bruce Nauman how he stretches his arms and marks with his fingertips all the space that he needs. Maybe that is why I no longer dream like an architect for a house of permanence, but rather a house of impermanence. A house that speaks to be recognized through dialog, that shouts to be built. A house whose design is the celebration of its parameters and limitations. Here I open Wallpaper magazine and see a small home in the mountains. I am attracted to the design, the materials, its location, but no longer do I dream of such a place in my life. Am I lost or am I accepting the space to my fingertips?
What is there to dream but to make poetry of this mess. The perfect body cannot escape the mess. Perhaps the imperfect body can better perceive. Here I am speaking - here I have a voice and an intimacy. But where is the flesh?
Can I be independent again? Can I return the kindness of others? This is what concerns my future. I must build the strength to speak in any voice that I can. I would have chosen others for my work anyway so what am I sacrificing, or compromising? Nothing.
Time for early nap. MSH
What will my space in Paris be? I hope that it will be an empty place I can make my impermanent own.
Most of turtle is in Duusseldorf, in Anna's apartment. It will likely come to Paris. But what will turtle become in Paris? It is good not to know. This is where I dream!
Someone greets me and I say, "good morning" - that brings me back to reality. Two words I do not have to think about, but I do. There is no longer a natural way to speak.
Now it is 9.30 and I must consider my next meal. Pace myself. I've had two slices of multi-grain toast with ricotta and smoked salmon, and coffee of course. Fruit and cereal next? Then what for lunch, and dinner? And I must pick up some soya protein powder.
This morning the Kashi company wrote back that they have no distribution in Europe but that I can order what I need online! Maybe there can be an event in Paris for Kashi to sponsor to help them find a way in to the European market? Sorry, but I must find money for turtle. It has always been out of pocket, and not just mine. I even need sponsors for my stay in Paris. Better stop thinking of this now and focus on keeping my body in balance.
MHS
FRIDAY 18 May 2007.
It is finally sunny and warm. I am inside waiting for the plumber to finish so I can nap. It's really too hot and bright out there anyway.
Yesterday was for therapy: acupuncture in the morning and reflexology late afternoon. On my way to a performance I ran in to Bobby Nasari, Fanny Howe's son-in-law, mobile-talking outside the Groucho Club. I begged off joining him for a drink and went to my juice man for rhubarb, pear, apple and ginger! Took a bus up to meet Anita Wernstrom to hear about her performance in Sweden for an older Peace group. She presented my Beirut work- in-progress with other shorts and said it was all well received. We strolled over to a small performance space, The Garage, which is part of UCL (University College London). It was performances by Slade artists confronting the idea of theater including Malin Stahl www.malinstahl.se + www.malinstahl.se/becomingatree who performed in turtle at Woburn Space lying in a hammock seeking help to find her unicorn. Has anyone seen it?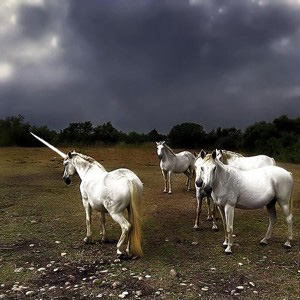 Was happy to find Sharon Morris there. Sharon read for the first turtle and made turtle at Slade/Woburn. Everyone's been talking about her reading at the launch of her book of poetry.
Also ran in to Anton Lukoszevieze, the co-maker of Woburn turtle. I had just written to him in response to a Cornelius Cardew concert he recently performed in a bathtub. Cardew performed at The Kitchen in NY when I worked there and I have a keen interest in his work. I have invited Anton to perform Cardew in Paris. Now I have discovered that we share in interest in Sebald, and he grew up in the area in which Sebald lived and worked. But Anton has not heard of Arthur Russell, so that will be a nice discovery for him!
I just popped over to my mail to discover a note from Anton. It turns out he plays the music of a lot of people I worked with at The Kitchen, including Phil Niblock. Turtle shows a dvd of Arthur Russell performing in Phil's studio AND I ran in to Phil in Brussels last December.
Walking home from the show I just made Planet Organic for something to eat and I was enjoying Lali Puna on my shuffle when Christopher Gutkind stopped me. It was Chris that first got me a copy of Stephen Watts' poetry. He is also a poet and I had to tell him that I have yet to open his book he so kindly gave me at the last turtle. We will meet again on Saturday at a reading Stephen is giving with Ziba, a wonderful Persian poet Stephen has been translating for.
BREAKING NEWS just forwarded by Ned - more turtles of war
http://www.nytimes.com/2007/05/18/world/asia/18turtles.html?ref=science
Please, plumber, plug it up - I need to rest!
Finally, the plumber left nearing 5 and I got a nap. It has been hard to wake but I forced myself outside for food and the fuel helps. Natasha Dack wrote from Mali where she is producing a documentary with Cosima Spender. Natasha says there are plenty of witch doctors there, so I'm on my way. Could provide some refreshing traces if nothing else...
bye! MHS
WEDNESDAY 16 May 2007.
London. Returned to a cold city and cold apartment. No hot water and no heat. David answered my call, came and arranged for someone to fix things. It was good to see David. It was he who carried me to the hospital. We now have a date at the farmers market Sunday morning.
A lot has happened and I will remember in no order. Yesterday I was walking to my reflexology appointment when I passed Jarvis Cocker. I introduced myself and mentioned turtle, since I knew he lives in Paris, and he was so kind and gave me his email. I look forward to meeting him soon.
Today I had coffee with Gina Birch and learned that Jarvis was in one of her short films in socks with holes in them (a direction I believe!). Gina is off with Ana to Lyon by train tomorrow for another Raincoats gig. We discussed Düsseldorf and Paris later in the year. I must say that Gina looked radiant, more so having been accosted at the cosmetics counter!
I am struggling to find substitutes for my diet I began in the U.S. and will have to repeat in Paris soon.
Check out WIRE magazine with Mark E Smith and Mouse on Mars on the cover. And go to their myspace page for Von Südenfed - wonderful! Funny, I released a Fall album, THE FALL APART OF AMERICA THEREIN, 1981 as a one-off on cottage records (and did a video for TOTALLY WIRED on a Fall video compilation - is it on utube?) and then did Turtle at Mouse on Mars studio in Düsseldorf a couple of months ago.
Just heard from Katherina Wartena, a documentary filmmaker I brought to Bennington. She just released a small book in Paris (orbispictusclub.fr/-Orbis-Pictus-.html) and is editing a doc in Amsterdam. Will return to Paris in September, just in time for turtle.
Tate Modern has a UBS weekend coming www.tate.org.uk/modern/thelongweekend2007 Ikue Mori will be there - we were friends back when she played in DNA - and John Giorno whom I have been trying to contact since last summer, Gavin Bryars who played in the first turtle and Throbbing Gristle with Derek Jarman Super-8 films (we just showed some at Woburn Studios!) I am exhausted just thinking of that weekend. Better sleep until then...
Am reading IT by Inger Christensen. Written in 1969 but only in English recently I continue my love story with this poet. I so recommend her work. Thank you New Directions for publishing this and BUTTERFLY VALLEY A Requiem. And thank you Stephen Watts for introducing me to her work.
MHS
SUNDAY 13 May 2007.
It's been a tough couple of days. A matter of nowhere to park to eat and not having prepared for this. With my new dietary needs I crashed. It took until late last evening to recover. I had to cancel seeing friends that I hope to say goodbye to today. It pains me more that I was not able to return to New York especially for the concert on Tuesday of Electrelane at Irving Plaza. Haven't been to Iriving Plaza for years but I remember many good shows there and like the venue a lot. The Blow is opening and Mia said she would pass on an invitation to participate in turtle for me. Tonight I will miss Silverspun Pickups here in Baltmore - a band with Nikki Monninger whom I met at Rhino Records, L.A., where she works/worked?
So I will be back in London tomorrow morning to follow up on speech therapy and prepare for Paris. I am lucky to be met and helped by my dear friend Bushra El-Turk, a composer and part of turtle's foundation. I will be sad to leave my sister and her family and not be able to follow them to Vermont - new house on an old foundation. I fondly remember many fine times at the smaller cabin they have built upon with the glorious sunsets on the porch overlooking the lake.
I must find my strength again so that small travels are possible. It is coming up on 2 years since I collapsed. Some say I am as good as I will get, but I believe I can do a lot more and others agree and support me.
Paris is possible because of the kindness of friends. Turtle is about kindness which is why its banner is Jan Morris' quote on kindness being all that matters. Last week I spoke with writer Elizabeth Rubin whom I contacted after reading her encounter with Kapuscinski in the Paris Review. You can here something in a voice and I heard a kindness and passion and believe this to be the beginning of a special turtle friendship. We are talking about bringing Kapuscinski's photographs in to turtle and I believe there will be something else, much more, and that is what turtle does.
Michael
TUESDAY 8 May 2007.
Up in middle night last night I whispered and thought I might speak softly from now on, but for instances of FIRE. My speaking seemed clear, but it was the moment, perhaps a dream. I may explore. Come close, I'll tell you more.


Pink and Blue in Baltimore

Today they spoke of terror on the radio
Again
Women who are martyrs and blow themselves up
(with others)
I was so tired Again I wondered could I think like them
And act in desperation for good cause
But rather than destroy my bomb would unleash butterflies
and turtles
Spread color where there is none and
Blackandwhite where needed
I'd give myself for that and tried to imagine such a scene
Then thought maybe it is already,
in slow motion, my life.

M H S


I whispered that last week, amended this morning. I turned a corner last night in preparations to return to Europe. It seems clearer to me now and possible to catch up. Am happy to learn that Philippe Decouflé has a new show at Chaillot I will catch. Alex Naudet, one of his dancers, just wrote to inform. It was with her I was shooting in Romanesque churches near Poitier when the road to the hospital began. What is cinema? I ask, for I was inspired by a film André Bazin planned and never made on such churches. It was a moment we found to begin thinking what to do when I was first stricken in my stomach. Little did I know it was the beginning of a journey through Ireland at the time of terror in London where I would remain for some time, a victim myself of something. I don't feel like pondering further this morning just came to me as I received this mail. Perhaps some of the footage will surface in my edit.
Kudos to John Gianvito for the response he is receiving for his new film, and for the grant he has been awarded to continue on another film. It only saddens me that we will not get to meet before my return to London. John's spirit has kept me going, that spirit out of a warm friendship. It was John who brought me to Harvard Film Archive to present SOUVENIR. Osvaldo Golijov was able to stop by and see a bit of how I used his music, and in Düsseldorf during turtle I met a student who was at that screening: David Michael DiGregorio. He was working with Andi of Mouse on Mars recording music. David is based in Amsterdam now and gave me a copy of a film he made that is beautiful and poetic (sorry I cannot remember the title). I will play it in Paris.
Michael
SATURDAY 5 May 2007.
It is getting harder to use my email here. Will not send through my sister's server, stopped at the local café, and now is not even sending through my server's web site. The only consistent place is at the hospital where I go for therapy and that will only be Monday thru Wednesday of next week. I have to find another workaround or take a vacation as the work would be too tiring.
Still battling fatigue such that I may not be able to return to NY to see Electrelane play on the 15th. The Blow is opening - it will be too sad to miss! My body will guide me.
I am most excited to have met Paolo Cherchi Usai in New York. We met again after the screening of his film and when I discovered that he is archiving all D.W. Griffith's films I asked him about the short THE SANDS OF DEE. Paolo calls it a masterpiece and is sending me a DVD! We have since learned that we share a friendship with Angela Dalle Vacce, a film/art critic on sabbatical in London now, and Paolo loves Jarman's BLUE so much he bought a print for George Eastman House when he was there. Paolo must become a turtle, hopefully for Paris but he will be planning the next Silent Film Festival in Pordenone, Italy.
Yesterday we saw THE KILLER OF SHEEP at the Maryland Film Festival. It is a film made in the 1970's by Charles Burnett which has been restored and is being re-released with the help of filmmaker Steven Soderbergh and others. It is a piece of ragged poetry - a true inspiration. I cannot let go of some of the frames, such as the little girl singing to her doll accompanying a record on the turntable on the floor next to her.
This morning will be a visit to friends Dolores Deluxe and Vince Peranio. I met them through an introduction by Chris Doyle - Vince and Chris worked together on a Barry Levinson film. Chris is an overdue turtle!
This afternoon is a screening of Guy Maddin's BRAND UPON THE BRAIN! with a voice-over by Isabella Rossellini. It will be good to hear this as, after meeting Isabella in New York I had though about her for voice in my Beirut film. Also screening is Zoe Cassavetes first feature with Melvil Poupaud who played Charles in SOUVENIR!
Before I forget I have just read in FILMMAKER magazine that Criterion is bringing out Chris Marker's DVD of La Jetée and Sans Soleil. It has been available in the UK and France for a while and I cannot recommend it highly enough. I will also note that an excerpt of SOUVENIR appears in the extras!
Tomorrow I may have the honor of introducing Tsai Ming-Liang's I DON'T WANT TO SLEEP ALONE. This is due to the sadness that Marcus Hu's mother is ill and he cannot make it. Best to your mother, Markus.
I will include a letter I wrote to Tsai last year. Tsai's frames are sublime. He does not move them - all occurs within. The gestures of Bresson and the choreography of Antonioni are there. Lee Kan-Sheng is his alter-ego playing in each film - like Jean-Pierre Leaud to Truffaut. Jean-Pierre even plays in Tsai's WHAT TIME IS IT THERE? If you become seduced by his work consider Antonioni's L'ECLISE and Tsai's VIVA L'AMOUR - the end sequence of each - such a love story!
(letter to Tsai)
14 October 2006
Hello Tsai Ming-Liang,
A little over a year ago I was in London on my way to Beijing when I collapsed and went in to the hospital for three months. It was very a very dark beginning, with an induced coma and intense hallucinations. Some were horrific, and others were of great beauty.
In an ecstatic moment, I found myself at my friend Clare Peploe's house. Under a bed there I discovered something about your work! Against an infinite black background was an array of synchronized rotating pin cushions, brightly colored spheres, upon which danced a group of miniature performers, garishly dressed - it was a dazzling sight to behold. The spectacle seemed to silently convey, as in a whisper, a secret about how you work. These were your collaborators who you always consulted to help produce the magic of your cinema.
I cannot recall more. Perhaps when I return to a diary when I was able to begin one I will find more, but I wanted to get this off to you today - I have been meaning to write for some time.
Your work has always inspired me as a person and as an artist. This I share with Clare, which must be why this "event" occurred in her home.
When I fell ill I knew all of your work up to "The Wayward Cloud" which I saw in Berlin months before I fell ill, including your television piece on AIDS.
Your frame is so exciting. For me, you are a frame to life. I feel like a young boy, looking out your "window", left to wonder at the world. Within the frame and beyond.
I look forward to your film at the London Film Festival, and am so happy that you have worked with my dear friend Simon Field, with whom I share so much in art, especially the film arts. It was in Rotterdam, in fact, that I briefly met you years ago.
All my best to you from London,
Michael Shamberg
I am so impressed with the film festival's programming - I did not expect to run in to Tsai's work here among others. I hope to be a part of it next year (last year they presented THE TEMPTATION OF VICTORIA).
I have been reading the poetry of Anna Akhmatova. Her REQUIEM and POET WITHOUT A HERO are something to savor. Deeply. I began reading her at the recommendation of Yekatarina Golubeva a wonderful Russian actress you may have seen in the work of Leos Carax or Claire Denis.
Am at my sister's and am able to send mail out via rcn web site so will send this now! MHS
SUNDAY 29 April 2007. 2 am
Yesterday was a big day beginning with a breakfast visit with Anne Pears. After a run down to pick up my materials for the Tribeca Film Festival I met up with Anne at the apartment she is staying in at the corner of Washington Square - very Henry James, as she described it. A wonderful apartment sits 15 stories high in an old pre-war building (as that phrase is still used to refer to the 2nd World War as if...). Anne's photographic work enjoyed being at the Baryshnikov Center last week, part of a benefit for the Humane Society. I was unable to attend but I was happy she shared the honor with some well known photographers and even some of my music associates such as Patti Smith. David Pears remains at home, frustrated as I am with the slowness of recovery, in his case from a stroke. That reminds me I owe David a letter.
Then I planned to go to see the Lebanese shorts program at 1.00 but, after lunch and a nap, it was too late. I was upset until I remembered that I needed to pass by a gallery to see an art show WONDERFUL BEIRUT by Joana Hadjithomas and Khalil Joreige. Since my most important event was at 7.00 pm doing all three would have been impossible. So I made it to the show and, as I had hoped, met Joana and Khalil there.
I mentioned recently about them and had an image of a postcard that the title of the show is taken from. Most of the individual images I had seen but the two large constructions were most beautiful - one from a super-8 film almost without image, another an aerial view of Beirut on a mirror cut in to small rectangles which the view is encouraged to take one of. I took a piece of the Sporting Club near to where Etel and Simone live and where I shot some film I used in my edit before I fell ill. Or should I saw before my war? There was another work which were contact sheets with descriptions of images rather than images themselves which told stories. It was too much for me to read them all but it was an idea that will be best in a publication.
The show is entitled CIRCLE OF CONFUSION. Khalil was not familiar with the book of writings by Hollis Frampton CIRCLES OF CONFUSION - a most inspiring and important book long out of print. Last year I heard that it was being republished, perhaps in the UK. Let's hope so.
The big trip was then up to St. John the Divine church where Arvo Pärt's PASSIO was being performed with a film by Paolo Cherchi Usai. This was what I could not miss as I can get a screener of the Lebanese films. SO, even though I was tired, I could not cancel.
We followed directions from the church's web site to take the 1 train to 110th street. At the station, however, the express 2 train was running local and the 1 running express. So we took the 2 all the way to 110th and learned that the 2 and 3 trains stop on 110th at the top of Central Park, east of Broadway. We had to then take a bus back West and ran to Riverside Drive where I mistakenly remembered the church, then turned around to walk a few blocks to reach the correct location. We arrived inside just as the PASSIO was beginning and got some reserved seats - our lateness was perfect timing.
It was a magnificent experience for me as I was put in that place of getting lost in my own work, like the early concerts of Philip Glass or my first Godard films. And that was New York to me as well. There was a lot to reflect upon, especially on observation and the means of observation. I do not think I can go in to it here, but it was also funny to think in terms of the history of music videos. How a piece of music is affected by having an image associated with it so that from the point of such experience the listening to the music will be forever altered.
In the case of Paolo's film it should be different. This is hardly a "music video", first for it's length of over 70-minutes, but also for its content and structure. The images were culled from archives of film and had a lot to do with surgical investigations of the body as well as those of bodies observed, often people will neurological disorders. The images were almost flashed on between great spaces of black and punctuated by animations of what often appeared as a handwritten title of the film passing through the wrong way (at 90 degrees, thus forming an abstraction). I was happy for all the blackness for the music needed to breathe and remain the base of the experiece.
I remembered being at Lincoln Center years back when Peter Davidson took us to here work of Pärt and Gorecki. Dawn Upshaw sang there and she is now working a lot with Osvaldo Golijov. I look forward to seeing her perform Osvaldo's AYRE again in Paris.
Michael
THURSDAY 26 April 2007.
On a train to New York. Will dive in to Tribeca Film Festival as I can, especially Arvo Pärt's PASSIO at St. John the Divine, see Peter Scarlett and Nazzy, meet Marie Losier, finally - it's been so long - and sort some things at home for home and turtle.
Reading more of Kapuscinski, thinking to make a show of his photographs in Paris for turtle. Victor Erice - Abbas Kiarostami show at Pompidou in September is something to look forward to. Barthomeu Marí send me the catalog of the original show in Barcelona last year, and its delay at Beaubourg was the reason for the Robert Frank series I presented in earlier this year.
I think back to the RUN video we made which ends with Robert's photo from the 50's in Herald Square, a woman clutching a book LISTEN TO GOD. Robert gave me a print and signed it, "Michael listen...". That phrase resonates with me now as I struggle to speak and think how now I must listen more, listen better, and through writing and film and other sources find my dialog with life. It is probably the source of the one line of voice-over from the BENJAMIN'S BRIEFCASE script that says "listen" (the rest, most poetic, writing is by Etel Adnan).
I wrote this yesterday -
I love to walk with Kapuscinski. To smell and see what he smells and sees. I feel like a child exploring the mysteries of the world. The danger is always surrounding him, the discomfort of the danger, and often the climate. Trusting mankind, loving life. The horror and the beauty which can join him around any corner, or straight ahead. History approaches and passes - an evening meal. How lucky we all are that he can share so beautifully the flavors and the textures of this life. How he can keep walking if dragging his legs. How loneliness keeps him company, and his loneliness snuggles up to us.
If I dared, could convey as he does, just a little, that would satisfy my dream of life. I must go inside. It is not science, or biology - strictly speaking - but a metaphor for where I have been. I am working backwards constructing and reconstructing memory like reviewing old footage and finding a new place for it. Strands of frames as new neighbors. Building neighborhoods.
My turtle is a home, a city or a town, an impermanent evolving film projecting surfaces over surfaces. Wallpaper lights of storytelling, peeling fabulous, even sublime, unfamiliar recognitions. Some practical, most a mystery. A poet's hut that has no permanence for the future but to last as an idea, as an ideal. Imagined then stored. That is my home. That is what I must continue to build. It is building as rebuilding the self. A future of no future (is this a punk reference again?) and worth the pursuit.
MONDAY 23 April 2007.
Will be hot today. Am anxious about my new therapy tomorrow and hope to see a nutritionist as well this week to help with energy and be able to plan a balanced diet with limited shopping and cooking.
By the way, no one has written to me via this web site. Is no one reading? That's ok, I'll still write. it's easier than speaking.
It was hot but it was dry. (Summers in Baltimore can be unbearably hot because of high humidity). And we went ice-skating today! I lasted a few rounds. Did not fall but fatigued early. Miranda is doing well. Carol, my sister, watched.
Went to a bookstore this morning and came across the current issue of the Paris Review. I have not bought it for a long time but this issue had a piece by the late Ryszard Kapuscinski (whom I have spoken of here before) and photographs of his! I never knew he took any - so this excites me to try to get some for turtle.
There was more: an interview with Harry Matthews. I dove in to that, saving the Kapuscinski for later, and it is just the tonic for the preparation of my edit.
Years ago I spoke with Matthews by phone, reaching him in Key West, Florida. I cannot recall why I phoned him but only that we spoke briefly and the conversation was uneventful. Peter Davidson knew him somehow, passed me his number and encouraged me to call. I wonder why?
I do like his work a lot, and that of the group he is a part of OULIPO which includes Italo Calvino and George Perec. I hope to bring Perec's work in to the Paris turtle, perhaps through Babette Mangolte and her work with him filming on Ellis Island. It was when I first met Dominique Bourgois on the first floor of Café de la Marie that she reminded me of a piece he wrote there of there - I think I have mentioned this before?
It was also in Paris years back that I made contact with Calvino's widow concerning a book of his I wanted to develop in to a film. She returned my call because her/his NY agent thought I was the other Michael Shamberg. We had a brief conversation, enough for me to learn that Richard Gere owned the rights to another Calvino work and had yet to make a film, so she was not encouraged or interested in pursuing any other. My only disappointment was Richard Gere and what he was doing with these rights? He did not seem a person to seriously make a proper film inspired by Calvino's work. I hope he proves me wrong.
Matthews lives part time in the St. Germain area of Paris, my base there for turtle, so perhaps we will be back in touch. Odile at Village Voice must know him.
Paris Review also had an interview with Jorge Semprun which also is helpful in the return to my work, even turtle. It speaks of the controversy of his weaving fiction in to his memoir of being interned in Buchenwald labor camp. His view that literature is best for portraying certain things seems obvious but is challenged. Matthews spoke of a similar thing in his fictive memoir MY LIFE IN THE CIA. Similar, but different. And in the introduction it mentions Semprun worked with Chris Marker. It may be the first time I saw his name was in relation to Chris. Have never read his writing though I am persuaded to do so now. Semprun is still alive and also living in the 6th.
I thank Baltimore for bringing me this periodical today. Along with poetry it is keeping me alive as it offers me a dialog with the future, in the future. I am reading Inger Christensen's ALPHABET front to back to front and back again. I do not know if it is this work in particular that compels this approach, or the need to read in both directions as an east/west action, but I am getting a lot out of it. Soon I will pick up her IT.
Today I received a CD of Carl Andre reading at Tate Modern this (or last) year. I missed his reading at Andrea Rosen's gallery last week. I have not yet heard it - can't believe that such a treasure waits for me. Even the Kapuscinski is unread - I just cannot take in too much at one time, nor can I pile up too much. This turtle has to pace himself and nibble as I can.
I hope to see Peter in NY this week - he can't be sleeping with his festival opening tomorrow (it is now Tuesday). I may be able to sleep, however, so I will say goodnight.
MHS
SUNDAY 22 April 2007. 4 am
once again. Baltimore continues to offer treasures. At Red Emma's (redemmas.org) last night I found a book of poetry by Victor Serge. I did not know he had written poetry (published by City Lights). Clayton, who rang me up, was a young man who shared my interest in Serge and said the translator of a lot of his work, Richard Greeman, had just visited the store.
Greeman wrote the introduction to the poetry RESISTANCE and translated his MEN IN PRISON, the first book of Serge's I discovered at Inger Servolin's home in Paris. A book of fiction that came out of Serge's experience in prison in France it captivated me with the poetry of his prose and the clear conviction of his humanity and commitment to standing up for rights(s).
The last time I was in Baltimore and visited Red Emma's with Kim Jensen I found a zine MIRROR TRICKS by Robin Hustle. Robin became a part of turtle in Düsseldorf and sent me a package here to my sister with more zines for Paris AND a free paper she co-edits and writes for in Chicago called THE SKELETON. Now I understand why I found MIRROR TRICKS here in the first place: THE SKELETON has a political bent in that it is concerned for people, truth and honesty. In the age of electronic news and information I am encouraged to find these people printing a free newspaper. The first issue I read had an interview with a 6-year-old cartoonist!
Robin also included an early zine EXTENDED RIDERS comprised of interviews with riders on Greyhound buses. Greyhounds and turtles have something in common!
Robin is working on something new for turtle Paris. Voting in the first round of the French elections has started. I include her turtle's friend Guillaume's comic comment: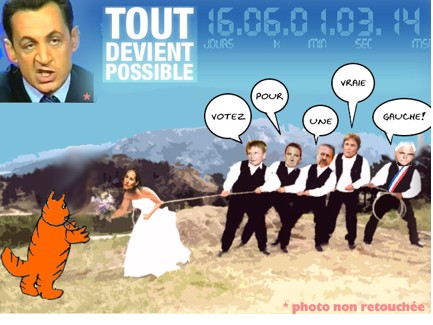 I wonder what state of things I will enter in to next month.
Yesterday I received an invitation to an art opening in New York by Joana Hadjthomas and Khalil Joreige (www.crggallery.com). I had taken one of their postcards from a show at Oxford Museum of Art and putting it in to turtle at Chelsea Space. Just after including it the same image appeared on the cover of G2 of the Guardian daily paper in the UK.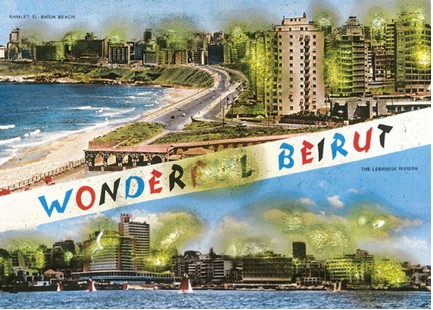 I knew of their work from my last visit to Beirut and was happy to find it again. Christine Thome, a curator I finally met in London, passed me an address for Joana. I wrote her a mail but had no reply, and I have not followed up on my attempt to reach these artists for turtle. Now I will be able to meet them next week in NY!
Baltimore to Beirut. It's a long story that I am living. MHS
8.45 am. At Daily Grind café where I properly wake, write and can send my mail. Received a call from Tony Wilson when I was not available. Have tried to phone him back but the network is not free. I hope that he is well and has successfully overcome his battle with cancer. Tony was the reason the Factory life started for me. We have been through a lot together. He had the loss of Ian Curtis first. I met only briefly Martin Hannett, Joy Division's producer and Factory partner before h died from overdoes, was a close partner of Rob Gretton, Joy Division's manager and co-owner of Factory with Tony, Alan Erasmus and Peter Saville (a turtle). I am anxious to reach Tony today.
Must go to see Kim Jensen and meet her husband Zahi whose work is in turtle. More from Baltimore soon! xm
FRIDAY 20 April 2007.
This could have begun as a rant, but I decided to focus on what is good like, the weather. Today the sun is shining and it will warm for the weekend. There is also a nice surprise in reading a free indie paper called THE SKELETON that comes out of Chicago. It is fitting that I read it here as it is part of Robin Hustle's work, and it was at Red Emma's here in downtown Baltimore that I came across Robin's zine and included it in turtle. We have had a good correspondence and, yesterday, I received a package from Robin via my sister's with many copies of her zine for the upcoming Paris turtle with a few of these SKELETON'S which I knew nothing about. I have to read further to properly comment but I am happily surprised at their political leanings to the working person and concerns for people in general. One of the first things I read was an interview with a comic artist who is a young girl of 6 years! Issue 3 has an owl on the cover - something Chris Marker would appreciate. I also like the statement about the paper vs. the internet as a need for truth. I have to look in to that further! I have often thought that turtle should have a paper, and Wynn Dan, an artist in turtle from the get go, made a newspaper for SOUVENIR to help me find money to finish my film.
The rant today would have been the frustration of my computer mail not sending, only receiving. This in the middle of my trying to sort getting the speech therapist here a proper doctor referral so that she can begin electric stimulation therapy for my swallowing next week. A simple thing, or should be. But there has been a communication problem with my doctor in Paris whom I have approached since my therapist in London is out of office this week. It will be resolved and I will be interested to see if this treatment can help at all.
I came to my local coffee place DAILY GRIND a few minutes ago to write this and, when I opened my computer, my mail was sent! I had no idea that they had wifi here! And free! So I am smiling. It must be a problem with my sister's server that I have to sort to work at her house.
Maybe I can get back to focus on my work. At least I can begin by catching up with unanswered mail before it becomes an overwhelming pile.ms
SATURDAY 14 April 2007. evening
Am inspired by the music performances at Carnegie Hall, especially Michael Ward-Bergman's with an extraordinary singer Christina Courtin. I am just lucky to have read yesterday's paper this morning and discovered the listing for Osvaldo Golijov and Dawn Upshaw's workshop concerts. At Carnegie Hall's website I discovered that this included the piece that Michael spoke of recently, so I had to go.
Osvaldo introduced me to Michael in London for turtle. Michael ended up coming to Chelsea Space one Saturday morning playing his accordion. Since it was an unscheduled event it was easier for Michael to wear his instrument from home and to play it coming and going. Only a few people were fortunate enough to hear Michael as he performed two pieces. One I recognized was part of (maybe the development of) his THREE ROADS, the piece he premiered last night.
I remember laying down on the bench by the window as he played - I had to with my fatigue. I was in bliss. Michael ended up walking while performing and went outside and played against the window where I lay. He infused turtle with such good spirit that it was the definition of turtle. Turtle was not about the spirit of the people who participate as they can, without worry of publicity and audience.
I was not surprised last night when Michael introduced his piece from three poems of Dante, Robert Frost and Walt Whitman. He said that he worked in a hospital and, one patient with MS who was paralyzed and could not speak, mouthed the final two lines of the Frost poem THE ROAD NOT TAKEN
I took the one less traveled by, And that has made all the difference.
Now I also reflect on my time at Bennington College where Frost had a house I spend some social time in. And on Arthur Russell whom I first saw playing guitar with Allen Ginsburg at Walt Whitman day in Camden, New Jersey, when I was in art school.
Michael saw a video of Arthur from the 1980's in New York and was so moved by him that he proposed playing with the video! A wonderful idea that must be realized - maybe in Paris!
In order to attend the concert last night I made the decision that raw fish had to help get me there and keep alert. I went to the old favorite in the east village early to catch there twilight special. I was early so I stepped in to Kim's video to check for the Mouchette DVD (Bresson) that Jonathan Rosenbaum wrote about. It was there, listing commentary by Tony Rayns and other extras. Then I noticed a few other films, all on Criterion. I was most excited to find Victor Erices' THE SPIRIT OF THE BEEHIVE of which I have written (and presented in Düsseldorf). This DVD however, has some promising extras.
So I bought nothing (good - must find a direct route to Criterion so I can afford all!) and went around the corner to the restaurant. I was the first customer and, rather than sit at the sushi bar (which I love to do) I took the table by the window. I was in heaven. I ordered the sashinmi version of the twilight special and was happy to find it have more food that before. There was salad and miso soup, green tea and fruit for desert.
Dinner was cooked salmon in a teryaki sauce, tempura (with a hot pepper - very nice), seaweed, fish dumpling, lotus root, potato, sashimi and rice, followed by fruit of melon, kiwi, strawberry, pineapple and orange. They still bring a fresh cup of green tea for the dessert. The presentation is a bit different than before, a little "fancier" but I found the meal better than in the past. And the fish is always the perfect temperature.
I wondered whether I might run in to Wallace Shaun or Iggy Pop. Sadly I would never see Susan Sontag here again, but last time Miranda and I ran in to Robert Frank and June Leaf. This is not a flashy place but loved by some that one might recognize. It is also not expensive, especially coming from London!
So, as you now know, I made it to the concert and survived. It is now Sunday morning and I will meet Makram for brunch. Makram took me to Beirut two Christmas's ago - he is part of my film there, and turtle... my life!
mhs
THURSDAY 12 - FRIDAY 13 April 2007. evening
What do I do with my time? I arrived here yesterday evening. I have been here just over 24 hours.
Now add a few hours. It is 2 am. I want to write - I always want to write - but I cannot. There seems to be all the time to write but there is so little, and sometimes there is none.
Traveling takes a lot out of me. It's like flying a big turtle. I get fatigued so easily, and so regularly, I have to learn to accept it. For a long time I thought one day it would lift. I read in Robert McCrumb's book about his incident with his heart and brain, that his fatigued lifted and that mine would too. While we shared, as per his description, symptoms of the night before entering the hospital, our prognosis was different. Well, his was clear and mine is still "probable". But it was even the same hospital so I was confident that I would follow that part of his recovery.
So I have to use time management with respect to this limitation. It's funny, but the first mention of the concept came from Tilda Swinton years ago. I think it was in New York. It may have been during the time she was promoting Orlando. But I feel it was in London, earlier. Tilda and time management. Hmm.
That all reminds me that I have yet to correct and revise my story of preparation for the short with Michael Powell. Thelma was so kind to read and comment and I have done nothing but make the corrections to the text. It just needs some rewriting. Ah, maybe this is an item for my time management. Item two, to phone Thelma and maybe see her, and her assistant who was so kind to forward Thelma's photos from the recce.
Tilda also of course ties in to Derek. The first thing I sought, and immediately found, was the oversized handmade booklet Derek made when seeking funds to make BLUE. I had not remembered that at that time it was called BLISS and was to develop in to BLUE. It is such a beautiful object that I look forward to share in the next turtle.
Back to time management. Mine extends to parameters: determining what I am able to do, to both accept that and to manage it. But I will not give up to get back more than I have now, be it little and slow. I just can't, but I have to balance this.
I have to write about this as well for it runs my life. I often feel sorry that I am not writing on a regular basis. It simply reflects the way I am living. I get lost a lot. Just out there in the world, or inside at home, I find myself lost and unable to do anything.
I am digging in my past here. In the small music room stuffed with vinyl, cassettes, cd's, videos and master audio and video tapes, I have been finding some treasures. First, I was looking for soundtracks for Elisabeth. She is taken with listening to Bresson's films and we have determined morning swims at La Cour des Arts caf&eacute: for this. I told Elisabeth about ECM's issue of Godard's Nouvelle Vague, the entire soundtack on CD, which I used to listen to often (as I would other films I would just put on for the sound while working) - and I found two copies right away! I also dug up Tati soundtracks. They are not complete films but have very little concern for music - his soundtracks are music in themselves. And I found my copy of BLUE. Simon may perform this for turtle in Paris this summer.
In Paris time management will be crucial as I want to try and edit each morning back on the Beirut footage. Even one hour a day could work. I fear it will wear me out for anything else - that's what happens when I use my brain intensely. In this case it will be both for the work and the mechanics of the edit. I have not been editing for a long time so I must keep it simple. I also must keep an order since Alison has come and cleaned up my mess. So no bad habits - I will try!
When we cleaned up earlier this week in London there was the fear that we would be throwing away some material. I feel that is probably true, but I will have to work with those parameters. We must have limits and I must do with what I have. If I need something more I will get it, or change my need.
I hope to travel to Lebanon this summer to visit the turtles and film them. A friend is getting married in Beirut so I am hoping to use that as my time frame. First, I have to see how things are going with my work and life and if I am strong enough for the travel. I have already accepted that I can make my film without returning to Lebanon. it will be nice if I can. But Paris is close enough.
My Elsworth Kelly book THE YEARS IN FRANCE: 1948-1954 was waiting for me on my desk. I had put it there with a few other items for Paris when it happened. Tonight I checked the places that I want to visit: Belle-Ile is one, and Meschers the other. So it not Beirut, maybe I can make it to these closer shores.
It is also a dream to have a work of Kelly's from this period - just a sketch on a napkin or a photograph. Maybe Lawrence can help through the dealer Matthews. Lawrence - I have to phone him, and Alice and Kirsten. There is a whole list of people. I know I only just got here and I need some time to settle.
I just found a cut out from a newspaper from 19 February 2005,
IN MEMORIUM. JARMAN, Derek. For our time is the passing of a shadow. And our lives will run like sparks through the stubble.
Derek hovers continually, unstoppably.
Last week I saw the Kaurasmaki film LIGHTS IN THE DUSK. It may not be my favorite of his, but it stands above most other films because of its honesty. Its truth haunts. I watched THE U.S. VS. JOHN LENNON on the flight over and found that Lennon had the same truth in his work. You listen to even his less popular songs and they burn with a truth, and honesty, that is poetry - necessary poetry. It is like the moving camera I speak of which I find hard to trust when unnecessary.
And I love Lennon's humor when asked about someone who had been bad to him, he said "Time wounds all heals" with a smile.
Now I am at the library as my trusty tap in at my window is failing. Not so trusty. I am lucky to live by the main library, so I will take advantage (3 books in hand already).
I wanted to mention watching the final episode of LIFE ON MARS. It always had a relation to my film SOUVENIR in that it took place in a coma following being hit by a car. But the ending came closer when the little girl came to camera and switched off the television - just as Orlando did from her hospital bed.
I doubt that anyone involved with the program ever saw SOUVENIR and I see it as something in the air. I am always happy to see this, such as a few years back with Richard Linklater's WAKING LIFE- again, hit by a car and taking place in the mind.
The first time I saw SOUVENIR in another film was the end of Olivier Assayas' IRMA VEP where Maggie Cheung's character's face goes through a visual transformation at the end. Orland's does the same. I was flattered to see that because Olivier is a friend and he has seen an early edit with that material before making IRMA VEP. I don't know whether it was conscious or not - I never asked - but it does not matter. SOUVENIR is filled with direct and indirect references to other films. That is art making.
I better get some food and rest. Will write more when I can. Know I am very happy to be near the Empire State Building - that's where I live. The BT Tower in London is a happy replacement, but the real thing is oh so beautiful. When I arrived home it was lit only in white light. Sublime.
Michael
EASTER SUNDAY 8 April 2007. evening
Today I learned that D H Lawrence's headstone from Vence, France, is in Eastwood here in England where he was born, I believe. I have been to the ranch in Toas where his ashes were buried and often wondered about the original graveyard that I thought one day I would visit. This came from a catalog from 1960 in a used bookstore of a show of photos, art and writing in a Nattingham gallery or museum. The man who died and was buried twice.
The day began well. Beautiful weather and a good sleep. I found myself upstairs a Maison Bertaux in bliss. I was alone and could spread my work out to sort how best to prepare for Alison. The almond croissants were baking and I was happy to wait. Right out of the oven and in to me though a smile. I thought I would eat half and save the other but I could not stop. It gave me the energy to try to sort files on my hard drives at home. I had discovered something and had an idea - and it worked!
The film could construct in a number of ways. I am thinking of a set up where just an hour or two in the morning may be a good rhythm. A morning walk - I have been thinking of the edit as a walk, planting a forest that one could wander through and find it anew, growing, each time. Tarkovsky spoke of sculpting in time, and I do see life as a sculptor. I see my time through nature - a nature that grows and decomposes (my favorite time - October). Perhaps spring is urging me on to work towards the fall. And Alison's offer of help is an encouragement that I need to get started again.
Michael
FRIDAY 6 April 2007. evening
I forgot to give my thanks to Virgin Airlines. When I went to finally make my booking yesterday, having established the best parameters for my travel, the price had almost doubled. I checked British Airways and their prices had remained low. I phoned Virgin and learned that their sale had ended at midnight. I told them how good they were to me when I traveled back in December with my needing a wheelchair and such, and that I preferred to travel with them. The gentlemen checked my frequent flyer account and was able to offer the lower fare with the use of a small amount of my mileage. There was no hesitation to try and help and help they did. Today I phoned special services to arrange for help (last time I just showed up and they took care of me). I applaud the company, and thank them for caring.
Michael
FRIDAY 6 April 2007.
Sometimes just finding the place, the position, to write these traces is a great effort. The effort now is tampered by hope. I will come to this.
Yesterday was full - too full. Acupuncture in the morning and speech therapy in the afternoon, a meeting with colleagues in between. I had a dinner to go to - one I had been looking forward to but I was lost. An exhaustion overcomes me and it is hard to move, to think, to even communicate with myself. I am lucky that I will be meeting Bushra to go with me. I can lean on Bushra as I often do.
What was special is that this was a dinner in the home of Aya Haidar, a student from Slade I met through turtle. Aya's mother, Hana, and grandmother Haibat Turk, both came to turtle and, in meeting, Bushra El Turk discovered they were cousins. Haibat had known Bushra when she was a baby!
There were several more people at the dinner, including Aya's sister and Haibat's editor. Haibat offered her just published memoir to all - a special woman whose early life in Lebanon I look forward to.
The food, all cooked by Hana and Aya, was sublime, and the desserts by Haibat were so good that I had to take some home with me. Before I left I asked if they might know Dina Haidar, a friend in Paris. She is a cousin of Saeed, Hana's husband (who was only returning to London today). I know Dina through Robert Frank. They are old friends, and the first time I saw Dina was in Robert's film THE PRESENT.
I tried to tell all the story of Philippe Azoury but I could no longer speak. Speaking fatigues and fatigue disables my ability to speak. Writing is much easier. Philippe added to yesterday being too much - too much good can be bad for me. I get overwhelmed and lost.
I had been trying to get in touch with Philippe ever since I learned he was writing a book on Philippe Garrel. We finally made contact and yesterday. After reading my sites he wrote me mails about how much we share - something I was unaware of. It is too much to list here, and was too much to take in yesterday, but it makes me happy that we will have time together in Paris, where Philippe is based, and could even share Lebabon, where he is from.
I was the first to leave and it was already 10.45 - awfully late for me. I was so pleased to find that a bus by the tube station actually took me near my home so I could stay above ground.
Today I woke looking forward to seeing Alison Carter who was coming by at noon to help me sort out an edit problem on my computer. Then I was to meet Kris about the web site and then a social moment with Frances Richardson, a mutual friend who is just back from a show in New York.
I still had a lot to sort with laundry and organizing and was already fearing another day with too much going on. Alison came and sorted things quickly and elegantly. But I could see what a mess my files were in and began to fear not being able to continue editing in Paris. I need to return to this work. I took Alison to lunch for her birthday and she has offered to return on Tuesday to further sort and explore my material. It gives me a focus, and hope.
Frances had to cancel today, a kind relief - we will find a better moment to meet. And I cancelled Kris. My focus is now on getting ready to travel back to New York on Wednesday and to get the most out of Tuesday and getting in to a rhythm of doing my voice exercises as prescribed, not as conversation, a lot of rest and work as I can.
London is sunny and warmish today and very quiet. Most have abandoned the city for a four day holiday. I have shopped and am happy to be at and near home quietly. Today a new Aki Kaurasmaki film opens so that may be my next move. Will let you know.
I am basking in the music of Blonde Redhead's 23 and Collen's LES ONDES SILENCIEUSES, Panda Bear's PERSON PITCH and Efterklang's UNDER GIANT TREES.
And on my broken old ipod shuffle (it only puts on the tracks it wants) a few old New Order songs remain timeless and reminds me why I have spent so much of my life with them. They also sadden when I think how wonderful their compositions were before they began consciously writing for radio hits.
Why, it has become a GOOD FRIDAY! XMICHAEL
WEDNESDAY 4 April 2007.
Things are happening too fast. Maybe it is the travel. And now the preparation for more travel.
On Sunday in Paris I had brunch with my doctor and friend, Tura Milo. We have spoken since my illness but this was our first meeting. Eloise, her daughter, has grown so! Eight years old and so beautiful. It was with Tura that I began having tests back in 2004/5. I knew there was something wrong but there was nothing obvious. I won't dwell on this especially as being with Tura made me happy that she was there, and would be there, for my stay in Paris.
Later I made a visit to the Beaux Arts school exhibition of Sergei Paradjanov. A small but exquisite show of collages and constructions, with great humour. I needed his joy. Paradjonov is obviously the spiritual father of Richard Heslop (a turtle who worked with Derek Jarman) and even Derek. The evening was a quiet sushi dinner with Elisabeth to sum up our work. Elisabeth has made it all happen in Paris. She helped put together the application for the residency and I am so lucky that she shares in turtle - from the beginning. And I should attach Elisabeth's piece she wrote on the first incarnation at Chelsea Space.
Monday morning I met with Katharina and was happy to find her with Anastasia and Leos. They know someone who lives in the squat near them that knew Arseny Tarkovsky, so we can introduce his poetry to turtle through Katharina reading. Or maybe we will make a film with her and the poetry.
From there I went to the Beckett exhibition at Pompidou. It was sublime. A young David Warrilow performing, original notebooks for the works, videos and films, paintings that Beckett loved and art inspired by his work. It was intense. A bit disturbing was the film by Anthony Minghella for PLAY. I noticed Kristin Scott Thomas right away. She was performing with Alan Rickman (who put together and directed MY NAME IS RACHEL CORRIE) and Juliette Stevenson, a most wonderful actress I have only recently discovered.
What disturbed me was the zoom in on a character. The performances were good, and the editing, but the zoom made the construction imprecise. What I mean is that today you find people shooting with a moving camera which can be cut in to at random points. This developed out of covering music concerts and producing music videos. But with Beckett all should be precise. His work should be respected and reflected perfectly. I found the zoom a cheap trick, which is so wrong for this work. I won't go on a rampage here about "coverage" and its history (but thank you Tsai Ming-Liang for making films without any moves to show how film can be made). In Düsseldorf I spoke on the camera in Film Ohne Titel - all moves were clearly part of the storytelling. That said, perhaps I did not give the Beckett film a chance. Did Minghella have a purpose with this action that is his interpretation of the text? I would like to know his thoughts because I have read how much Beckett means to him.
On my way to the train I passed by Fragonard, the name I know for its classic perfume. The turtles in the window attracted me inside. I discovered a lot more, and even wrote to the company about perhaps becoming involved in the Paris turtle. I received a reply! It was a simple acknowledgement but also an encouragement.
At the Eurostar lounge I first encountered so many Americans who purchased with attitude and no attempt whatsoever to speak French. It saddened me. Then I had the pleasure of running in to Lisa Le Feuvre, the curator of the Maritime Museum in Greenwich. Lisa is a friend of Danald Smith (artist and director of Chelsea Space - the reason for Turtle!) and responsible for Lawrence Weiner's current exhibition there. We met briefly at the opening but this was a good reminder to invite Lisa to be a part of turtle in Paris.
Yesterday I received a photo for turtle by Rona Chang, a beautiful landscape from Iceland. Rona was a student of mine from Cooper Union who has been part of turtle from the beginning. Her news is that she will have a residency with Thomas Ruff in Florida soon. Bravo, Rona!
I met Clare Peploe for a coffee and it wore me out - wonderfully! We share something special and, with my illness, we have not had much time together like this. It was brief, but with so much passion. It reminded me to share the film HARVEST 3000 years by Haile Gerima, from 1975 and set in Ehiopia. And the Pasolini film LA RAGGIA - a film I am looking for to show in turtle, which I read about in an article by John Berger - Clare may be able to help find it. Thank you Clare for stimulating my mind. You are more than a tonic.
Got the new Panda Bear CD - another necessary tonic. Now my computer has moved to Philip Glass MUSIC WITH CHANGING PARTS. This was the vinyl I played repeatedly at 16 rue des Pré aux Clercs in 1976 after shooting EINSTEIN ON THE BEACH in Avignon. A major tonic then!
I must begin to sort my stuff out for travel. We are entering a holiday weekend which will be most quiet here. Better get some food, too! Easter makes me think of D.H. Lawrence's THE MAN WHO DIED, a book I am very fond of.
Michael
SATURDAY 31 March 2007.
Beckett show now for Monday morning. I was near to him in the cemetery yesterday. Lunch at Jean-Charles and Jacqueline's apartment yesterday with Anne Bertrand and Elisabeth. Anne just wrote and piece on Robert Frank's films for TRAFIC periodical and all are preparing for turtle in Paris. A small apartment in the building that J-C and Jacqueline are renovating may be the first turtle location in June! An exhibit, perhaps to raise money, or even a dinner series proposed by J-C!
Evening I spent with Inger Servolin in Arcueil. Perhaps the Espace Jean-Villar will be available for morning screenings. I mean swims, of course! It is important to do turtle events in Arcueil, home of ISKRA and Eric Satie.
Today we are off to the former home of Molière, another possible turtle site, and this evening to Kadist in Montmartre, the other end of the line for Satie. Kadist to Arcueil for Turtle - KAT!
ANOTHER DAY TO LOVE AND BE LOVED. "Home" after Kadist, Elisabeth leaves me with soup, tzaziki, hummous, bread and cheese and is off to her dinner. I am tired but in bliss. Alone now, do not have to speak, and someone is taking good care of me.
At the table I have the G2 section from the London Guardian from last Monday. I have been reading parts of it off and on. Tonight I took a look at the cover story. I don't know why I had not read it before, but I know now why I did not throw the paper away.
Tom Hurndall had been fatally wounded in Gaza in 2003, only 21 years old. He was a photography student from Manchester and was shot saving a young girl. He was in Gaza having learned of Rachel Corrie's story. I have intended to bring Rachel Corrie in to Turtle because she was a wonderful writer. For me, her story, dramatized in the play MY NAME IS RACHEL CORRIE, was about the loss of an artist. Yes, person first. But her art should be recognized.
Now we have Tom Hurndall, whose story is summed up in this article well by journalist Emine Saner, but we have a lot more in Tom's mother's own words in the forthcoming book DEFY THE STARS. A piece is extracted in G2 and that is what I read first.
So this reminds me to pursue Rachel Corrie's words while it compels me to see if Tom's photographs might also be presented as part of Turtle. Perhaps together. I have not seen them, and I need not judge them artistically - Turtle has aesthetics, and more. It's politics is in its nature. Turtle is life - something I am holding on to while others, like Tom and Rachel, have lost theirs. How blessed I am. I use that word unconsciously but think of Reno Odlin, friend of Hollis' and Arnaud's, signing his salutations BLESSINGS.
Yesterday I visit Sontag's grave in the cemetery. Today, on the way back from Molière's house, I am first distracted by a banner with Pradjonov's name to happily discover an exhibition of his work Then I find myself near to Arnaud Lefebvre's gallery. I stop by. Arnaud greets me and sits me down to watch a video of Hollis Frampton's funeral by artist Robert Huot.
Later I tell Elisabeth that we should see if we can do something for turtle in the cemetery of Montparnasse. I ask if she remembers the scene in Bresson's THE DEVIL, PROBABLY, that takes place by a graveyard. She had told me about this film but could not recall that. Perhaps it wasn't in that film. Just thinking how I have always been drawn to graveyards, from local childhood to travels abroad, but death had never been so close.
A woman from Düsseldorf wrote of turtle that it is a place between life and death. I have always seen is as a place of translation, especially in poetry. Today, as we crossed the Seine, I felt it as a bridge. Turtle is something that lies between.
So now we have more work to do - to discover someone else's story. Perhaps Tom Hurndall's family will have no interest in turtle. It does not matter. Turtle is there for those that want or need it. Turtle does not judge.
So Moliere's story takes a back seat to yesterday's news today. I am worn, but alive. As Gina Birch sings, SOMEONE LOVES ME. And I love you,
Michael
FRIDAY 30 March 2007.
My friend was unable to arrange for me to visit the Beckett at Pompidou this morning so, as it was raining, I felt it was perfect for a visit to the cemetery in Montparnasse. I wanted to visit Susan Sontag's grave.
I arrived and found that her name is not yet registered on the large guide as you enter so I wandered towards the center. For some reason I took the second left and towards the end on the passage I quietly called out for Susan. I took a right and there she was! A simple flat black marble slab glowing in the light and wet reflections. A simple bouquet of white flowers wrapped in a purple paper lay on top, obviously just placed there.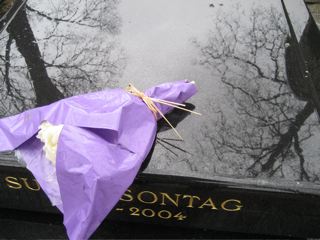 Michael
THURSDAY 29 March 2007.
This morning went to Café de la Mairie to meet Dominique (thank you, Hercules) and found Eugene Green there on the first floor. Dominique reminded me of a text by George Perec written there, of there. Perhaps that is why I am so drawn to this place.
Learned there is a Beckett exhibit at Pompidou and will go tomorrow morning (thank you Dominique!). I came to Paris to rest and I am doing so in an unexpected way. It may be too hard to explain, even necessary.
I continue to discover my journey as an architect of turtle. I also see turtle as a film whose frames move forward even when they are of the past, and how wonderfully turtle frames my life.
More soon. MHS
WEDNESDAY 28 March 2007.
Paris! Arrived yesterday to sun and warmth, and news that I have a residency here for 6 months beginning in June. Perfect for a Fall Turtle collection! So, if you have something to contribute, or an idea, please write.
I am staying at my friend's parent's that happens to be next door to the place I stayed 30 years ago. At that time I met Etel Adnan in Avignon whereI was documenting EINSTEIN ON THE BEACH by Robert Wilson and Philip Glass. My main cameraperson was Babette Mangolte whom I just saw in Berlin at the film festival. Life falls forward.
I am very worn from the two turtles and a cold in between, but if I ease in to Paris it will be very special. So many friends here that have yet to partake in turtle.
Michael.
SUNDAY 25 March 2007.
A moving morning - time got away! I forgot the clocks moved forward. It was a nice surprise. Took my coffee to Groucho, as usual, and Eve had checked out the turtle site. Her father is in Beirut and she is going there for Easter! She also saw the Temptation of Victoria short and asked about the Michael Powell reference. Minutes later, reading the Independent, I came across a story with Thelma, a note on a new release of PEEPING TOM, and the upcoming television broadcast of A MATTER OF LIFE AND DEATH - the film to which T of V is referring. That took me back to rehab at the hospital. I recall gathering patients for a viewing on television one day. One elderly woman loved it. I wonder where she is today - hopefully she is doing well. Patricia is her name. Her husband always came and she was often in tears. Tears were such a part of my own life for so long. They still are, but now they are part of a joy of life mixed in to life as it is, or can be.
Then I went to the Royal Academy of the Arts to see Robert Rosenblum's exhibition CITIZENS AND KINGS, portraiture in revolutionary times. Laurie Simmons had recommended it - sublime, but sad because when Laurie told me about it a couple of weeks ago I also learned that Robert had died in December. I remember him several years ago at his home in the west village in NY with his bulldog Archie. I was visiting with my girlfriend Miranda who was a friend of his wife, painter Jane Kaplowitz. Such a sweet man and very good art critic. Jane was also a friend of Jimmy De Sana, a photographer that introduced me to my loft in Manhattan in 1978. Jimmy is yet another victim of AIDS and Laurie brought me portraits that they made of each other for turtle. Laurie came back in to my life last year as her film THE MUSIC OF REGRET was edited by Laura Israel, who edited several New Order videos with me and the two Robert Frank productions (and continues to work with Robert). Ed Lachman shot her film and was my first cinematographer for New Order in CONFUSION. Ed got my letter to Chris Marker in Paris after I viewed SANS SOLEIL at MOMA and was compelled to write.
Confused yet? Sorry, I need to ramble at times. Maybe you will look up the names and discover something!
AN IMAGE NOT CAPTURED As I was walking home earlier for my nap I recalled the day in Düsseldorf of the turtle "morning swim" which began at 6 am in the studio of Mouse on Mars (wonderful band). It lasted until the light from the skylight took over and resumed in the evening.
The evening began with the screening of Victor Erice's THE SPIRIT OF THE BEEHIVE. While I can never answer to "what is your favorite film?" perhaps I would concede to this one, for many reasons. You must see it to know why - I cannot go in to it here. The image that I recall is when I was standing behind the audience from above, a kind of balcony entrance. I was exhausted and trying to leave, but I couldn't. I was mesmerized and so was everyone else.
Near the beginning of the film a man comes to a small village to show a film in the small town hall. Various chairs and are assembled for the projection and that audience in the film was also mesmerized by FRANKENSTEIN. The image that will never leave me is the turtle audience assembled in a similar manner watching the film's audience watching a film. I felt inside of the film - a projectionist myself - recreating the scene of the film. A truly turtle moment.
I have always felt close with the storytelling: the frames, the sound, the palette, the film's overall construction. So simple, or subtle, and powerful - it is poetry.
These are from my notes for the audience:
MORNING SWIM IN EVENING
THE SPIRIT OF THE BEEHIVE is Victor Erice's first film. As FILM OHNE TITEL was about filmmaking and storytelling, this is pure storytelling through film. The director of photography, Luis Cuadrado, was going blind during the shooting. Erice would describe the scenes and Luis would direct the lighting... This is a film of pure magic.
Derek Jarman was also going blind during WITTGENSTEIN and totally blind during BLUE. What the blind can see!
Michael.
SATURDAY 24 March 2007. morning
Groucho club - in the empty bar with no music. My weekend refuge for waking. I got some sleep so I can go slow, but at least go forward. Yesterday I was a bit out of balance. I was there for Gina's performance. When I arrived during sound check a pair of speakers were being taken away. They had blown. It wasn't Gina's fault but made her set up more difficult. Not so many people were there. I think the main audience was brought in by Gina, many with children. Still, it was a special show and important that she was there. Because of Gina's story of how Derek Jarman's visit to her art school (c.1976) with his Super-8 films began her filmmaking career, we were able to get James Mackay to present a few of them after her performance. I was sorry that there were not more Slade students there to share in this, for both its art and its history since Derek was also a student of the Slade. There followed a screening of an edit of a David Critchley video, also from the 1970's I believe. This also part of Gina's "curating" for turtle. Gina was also responsible for two works of Neal Brown, one from the 70's and another from today. This related to a "30 year scream" video that Gina was going to present but we did not have time. Maybe we can put it on the web site!? I will ask Gina. So I thank Gina for being such a part of turtle here at Slade. I only feel bad as I was in no shape to properly advertise her event. I am not in shape for much and so much depends on others. I am so lucky that others make so much happen.
It was good to see James Mackay again. I was trying to help James when he was putting together the production of Derek's BLUE. At that time Derek was interested in casting Olympic diver Greg Louganis. I cannot recall whether anyone was ever able to reach Greg about this, but BLUE became what we know it to be - an image only of the color blue - so there was no casting but for the soundtrack. I have a beautiful handmade booklet by Derek in preparation for BLUE which I will recover in New York soon and make part of turtle.
I was so touched that Saqi Books set up a small bookselling corner. A sad and happy reminder of Mai Ghoussoub. First, I was leaving but I forgot my hat. As I was returning Sharon Morris was presenting Bushra El-Turk who was going to read a poem on my behalf. So I went up and did my best to recite Ali Smith's poem AN END TO SLEEP. Then Hisham and Diana Matar arrived. They offered to walk me home. On our way out Mimi Khalvati, a Persian poet, was about to read so we stayed for that. How lucky I was to forget my hat. Her work and reading was sublime. I had just met Mimi the day before with Stephen Watts and just discovered that she was also a friend of Diana and Hisham's. I did finally leave - sad to miss the remaining performances - but ran in to my reflexologist and friend, Angela, and her son Kiki, who had lent me his Yertle the Turtle Dr. Seuss book. I was hoping that he would read from it, but this turtle did not run as I thought it might. (This is not a complaint. Every turtle must be different and my ideas must exceed what is possible and adapt when possible. Nothing can be considered a loss.) Shevaun Wilder (who read at last summer's turtle and workshopped a reading with me) walked out with us. She is soon reuniting me with director Don Boyd, who also produced a couple of Derek's films.
Outside the building musicians from the Royal Academy of Music were marching in for Sam's performance (sorry, have to find last name). Damn. The previous week I did not have the strength to speak with him about his work. I could only admire his visual score, looking forward to hearing it. Further down the road Stephen Hau was rushing to turtle with a friend. In my depleted state this gave such warmth.
I was soon home (lucky to live nearby to Woburn Studios) and sat down in silence to some Lebanese snacks that Aya Haidar had made for turtle and put aside a plate for me. It was most delicious and a fitting way to end the day, the turtle. This morning Aya's was the first email I received of thanks. I thank Aya for her work, her spirit and for bringing more to turtle than I could have dreamed.
I forgot to mention that Christopher Gutkind, friend of Stephen Watts, stopped me on my way out and handed me a book of his poetry INSIDE TO OUTSIDE. It sits with me here this morning waiting for a conversation. Thank you, Chris.
I must mention that Jessica Weisner arrived as I was leaving with a copy of Tarkovsky's script for his last film THE SACRIFICE. This was on behalf of David Gothard who worked with him both in casting and getting his son out of the Soviet Union. David ran Riverside Studios at the time and worked with many wonderful artists, including Samuel Beckett. His show of Beckett at Riverside was the first I had seen at Chelsea Space (the birthplace of TURTLE), and is also where we met. It was an immediate connection seeing a photo of David Warrilow playing in Beckett's KRAPP'S LAST TAPE. Warrilow is the "lead" in New Order's video for RUN which I made with Robert Frank. An extraordinary performer whom Beckett wrote for! David also worked with artist Dan Graham, with whom I have worked since the 70's, and introduced me to Hisham and Diana Matar.
This is a long introduction to my reading the script at home last night, enjoying Aya's food, when the description of Little Man planting a tree branch in stones, in a "Japanese style", flashed me back not only to the film, but forward to turtle: Elmar Hermann's sculpture for Woburn is a piece of bamboo "planted" in a pile of packaging that the art works had been sent in.
Now it is time to get some packaging materials to repack turtle to be taken to Düsseldorf where I soon hope to be working on a new turtle: a publication.
Good day! Michael, Little Man
FRIDAY 23 March 2007.
Yesterday I received a postcard from Etel Adnan - a fitting way to begin Turtle with Slade! And what a start it was. My turtle nest is a small part of turtle - a wonderful array of work, a minefield of ideas! And then the performances in the evening. It is unfair not to mention everyone, but I must thank Stephen Watts for his inspired reading and a special thanks to Bridie Borrell for being there - with family - especially her brothers' (2) band Joannas Fault for performing.
All of this is possible because Sharon read at a turtle event of last summer and she has made this turtle. Anita Wernstrom and Piper Mavis are two students who were there from the beginning, and Anna Heidenhain, Felicitas Rohden and Maren Maurer built my nest - I cannot thank them enough for coming and giving me such nourishment.
Aya Haidar is another key spirit linked to Lebanon. Her mother and grandmother came last night and today Saqi books will have a bookstand. Most special is Bushra El-Turk's discovery that Aya is a cousin!
As Maya Ramsay left she told of a 'turtle' - her mother had come back in contact with a friend from 20 or more years back at last night's event!
Of course I have a lot to share but I am too fatigued - happily so - and must catch up next week. Another full day today beginning with Gina Birch and Super-8 films of Derek Jarman!
Oh, Lawrence's opening was sublime. It took Felicitas and I to a new area of London which was quite a bus journey home! But worth it.
And I must express my sincere condolences to Bruce McLean whose mother passed away two days ago. Bruce could not perform as scheduled but his spirit is with turtle.
Michael
WEDNESDAY 21 March 2007.
Another turtle is up. A little more work today and certainly the unexpected, but it is there. Thanks to Anna, Felicitas and Maurin. And of course many others, but these turtles have traveled here at their own expense, both to share their work and to help with turtle. It is yet another incarnation that has happened quickly and will be over by the weekend. Even this has its magic that one has to savor.
Lawrence Weiner is in town with an opening tonight in Greenwich. A few of us will go. We have to windows here for the work which has had two languages, so we will present documentation from Chelsea Space and nüans. And maybe a poster from his new show.
Last night I took my guests to the scene of the crime: Chelsea Space where it all began. It was so fitting that it was a show with the work of Marcel Duchamp, and such a pleasure to introduce my colleagues to Donald Smith the director (and artist). Then Anna and Jane Won began discussing a turtle in Korea!
Anna must return to Düsseldorf this morning for continued nüans work.We did not get our nüans work done here but this turtle needed all of Anna's time. It truly could not have been made without her. We will take care of our future nüans work soon.
I still have to finish writing and post the story of THE SANDS OF DEE and Michael Powell. At least turtle will present a picture of Michael and 2 shots of the Dee Estuary from his recce for the film. I must make good prints this morning.
And a print of the sky for Derek Jarman. It is a collaboration with Frances Richardson who has been in NY for a showing of her work. Frances said that the sky is for everyone and I should photograph it. I took advantage of a clear moment to capture a blue that I will also print. We have a piece of the BLUE film in turtle. And on Friday we will show some of Derek's super-8 films, presented by Gina Birch!
At the Tate Modern on Sunday I recalled the time the museum had arranged a special screening for me of Robert Frank's latest video TRUE STORY (winter 2005) for an article I had to write for his show in Barcelona. I had just flown in from Stockholm and was let in to the Starr auditorium early where I could lie down in the beautiful room - it is entirely red - and then I recognized a film on the screen. My first film TRIBECA with A Certain Ratio in New York 1980 was being used by the projectionist to set up. He had just bought the ACR cd with my film on it! Then to see Robert's film was an inspiration. It seemed to me the third part of a trilogy beginning with THE PRESENT and PAPER ROUTE.
Recalling this I realized that I must have already been ill. I believe my illness began before my trip to Beirut - that it pushed me to go there. And I now recall videotaping parts of Roberts film projected with my little camera. I did not know why then, but I think now it must be a part of my Beirut story. My film is calling me. It began in Düsseldorf so I am on my way back to working on it. Turtle is taking me there.
Michael
THURSDAY 15 March 2007.
please excuse my absence. it is due to a bad cold. am on the mend. meanwhile, please check out the woburn schedule and information.
back soon! i have a lot to share.
Michael
FRIDAY 9 March 2007.
Just read an article on Hal Hartley. Impressed by his idea of writing a screenplay on Simone Weil that may never be made as a film, and he is OK with that.. Some of the best work will never be seen by others, but we must still work.
I am sick, but I am more well. Thank you, Laura, for being the angel in my purgatory and pulling me through. You did nothing, and everything. I am lucky that you are still a part of my life.
I have discovered a student form Slade, or we have each other. Lebanese, a family friend of Mai's - TURTLE you work your magic.
I must begin my work after a slow morning, a morning of beginning Kim Jensen's poetic noverl THE WOMAN I LEFT BEHIND (www.kimjensen.org). Thinking of Rachel Corrie (www.rachelcorrie.org). Meeting by mail a Russion student. I feel like I am on my way HOME. More on that later.
Kris has been patiently and beautifully making TURTLE alive on line. We met briefly yesterday and he will be posting this soon. Please, Kris, share your work here and congratulations on your beautiful show in Edinburgh!. (www.krisemmerson.co.uk).
I need to post an announcement about the Slade TURTLE soon. Am excited to have located Derek Jarman's Super-8 films!
Michael
WEDNESDAY 7 March 2007. morning
I finally got some sleep. I think I will build a turtle nest! I am not bringing all of turtle back from Düsselldorf. I plan to return there soon to archive and write about and perhaps make a publication. What I am bringing here is Düsseldorf: works that became part of turtle there. My collaborators Anna, Maki and Elmar will participate, as will three students from the academy: Mauren Maurer, Kristina Stoyanova and Felicitas Rohden who will even be here to participate. Anna Heidenhain will bring work here and help to install. Melanie Maurin, a dancer with Pina Bausch, will also come and perform.
I think that I will be a meditation and celebration of missing friends of inspiration: Derek Jarman, Michael Powell, W.G. Sebald and Arthur Russell. Mai Ghoussoub and Lebanon, and much more.
This morning I will walk through the studios with Gina Birch and plan her performance. I await the return of Simon Fisher Turner and Bushra El Turk to plan theirs. I would love to reach Christopher Hobbs (set designer with Derek) to help to build my nest.
Shirin Neshat is on her way to shooting her first feature and I wish her well! Time to get out in to the world.
Michael
TUESDAY 6 March 2007.
Yesterday was overemotional. It ended with receiving pictures of Michael Powell on the Dee estuary outside Liverpool. He was there on a recce (location scout) for a film that was never made. A short film I was producing called THE SANDS OF DEE, based an a poem of the same name by Charles Kingsley. It was for New Order and soon you will be able to read the full story at kinoteca.net - I have been waiting for Thelma Schoonmaker-Powell to correct what I had written before posting. But Thelma has been busy editing The Departed, to great reward: I congratulate you, Thelma, on your OSCAR!
In preparation for a turtle here at Slade I am thinking of what its incarnation will be, or might be. It is where Derek Jarman went to school, so that is most special. It brought to mind Tilda Swinton, and then I thought to write Thelma for an image of Michael. She wrote right back finally catching up on things, and arranged to have these images sent. I cried. You may have noticed that I dedicated THE TEMPTATION OF VICTORIA to Michael (which can be seen at kinoteca.net). As I said, you will be able to read the whole story soon. Thank you, Thelma, for this gift for turtle. Thank you Michael for your work, your inspiration, and your most infectious gaze upon life.
Earlier yesterday I was exchanging emails with Marie Losier, a French filmmaker based in New York. We have been out of touch but almost saw each other at the Berlin film festival. She sent me her short films, which I love, especially the newest one with Guy Maddin, MANUELLE LABOR. Berlin also brought me back in touch with Julie Delpy. whom I also missed seeing there, but whose film I also loved. Marie has just invited Julie to the Alliance Francaise in New York!
I also learned that I will receive a trailer for a film on ARTHUR RUSSELL that Matt Wolf is making in New York! And Cecile of COLLEEN (www.colleenplays.org) will be sending posters and her newest recording! This, along with many others writing to confirm that they will be a part of turtle here, knocked me out and I went to turtle heaven. That can be exhausting without wings.
What makes turtle wonderful is that it can never be fully planned and I don't know what this one will be. Will keep you posted.
Michael
SUNDAY 4 March 2007.
Sunday afternoon 4 march.. A friend called this morning to invite me to an Etheopian film at noon, so I went! I was on my way home for a nap but thought how nice it would be to sleep in Africa! And Angela had arrived here to begin a sabbatical while I was in Germany, so I thought it would be nice to see her.
The film was poetry. Harvest 3000 Years is a black and white made in Ethiopia in 1975 by Haile Gerima. What an unexpected pleasure! Thank you, Angela! What a nice way to be back in touch. (And I came out of the theater and the restaurant next door is called THE HARE AND THE TORTOISE. It is a Japanese noodle and sushi bar. Must go!)
1975, the year the civil war in Lebanon began. The film also made me think of the loss of producer Humbert Balsan and writer Ryszard Kapuscinski. It also let me get lost in my film, the one I am slowly returning to. These last days the film has come alive and I am writing. It will lead back to my work.
I am still recovering from last week when I thought I was recovering from nüans turtle. I last wrote before going to see Ana da Silva on Friday. That morning I went to visit Saqi Books, the store and publisher founded by the late Mai Ghoussoub. I stopped in to pay my respects, drop off some Turtle information and to invite them to participate in the upcoming Slade workshop. I am hoping to show an artwork of Mai's and to carry some of their books. It was a sad moment.
Ana was wonderful in a special place - it is a library at the London School of Economics. On the sixth floor under a dome skylight, kids are falling asleep in big chairs under portraits of what must be University founders and such. I had been there once before when Ros Murray of Electrelane took me to see Mt. Eerie (the Microphones) who was wonderful.
But then I crashed and have had to lay low, writing and sleeping, and eating. And watching some dvd's for the upcoming show. There is such wonderful works by Anna Foroqhi and Marie Losier! And I am beginning to search for early Derek Jarman super-8 films for Gina Birch to present. She told me her story of Derek bringing his films to her art school which inspired her to get a camera.
Gina will also do a daytime "all ages" show at Slade (really Woburn Galleries that are part of Slade) so her two girls can be there, and maybe perform with her! Simon Fisher Turner returns from America this week and he will be there to do something - anything! Music, paint... we'll see!
And a nice surprise is that a young intern from Argosarts in Brussels whom I met in December (I was there to present my work with Robert Frank) is moving to London tomorrow and will help with Turtle! Gaabija Budreckyte you are most welcome, and needed!
Michael
THURSDAY 1 March 2007.
Thursday, 1 March. I have just finished lunch and now I have to nap. I am compelled to write for when I wake, I will be just getting through the day awaiting tomorrow morning. This is routine - everyday. I only have the mornings.
My friend Ben stopped by and we had a chat. Well, I can do little in the way of chatting. I was so happy to see Ben, but saddened by the difficulty with my speaking. It's the fatigue.
In the morning my vocal exercises are somewhat forceful and clear. By midday my fatigue makes it so difficult to speak, and speaking brings on more fatigue. I told Ben that my only hope is that someday the fatigue will lift, disappear. The doctors cannot explain the why, and can offer drugs for 'wakefullness'. But these drugs also tire the body, and I do not want to take them.
I may try electric stimulation at some point, but for now I am going straight ahead and following my speech therapist. He thinks I am improving and reminds me of the long, slow journey, sometimes backwards. So I have to hold on.
When I watch the work of my friends that arrives for TURTLE it inspires me, as all good work should. I want to get back to my film, my edit. But when the fatigue hits I wonder when this can be. Then I get in to a conversation with myself about turtle, my film my life - my choices, my dependency on luck. Like Düsseldorf. I would not have imagined it a couple of months ago.
Next week I will travel to Norwich to see the art projects around and about Sebald, the late writer of whom Ben and I are developing a film. That will keep some fires burning. Stephen Watts may join in the journey, in which case I may film him there.
Ben is off to Turkey in a week to make his feature! He left me with a Turkish phrase about my ill health that translates, "may it be in the past, big brother". I am lucky that a lot is in the past, and my frustration comes from a mind firing and fighting. But I better build the structure - a good bedding - that the brain needs. Carefully.
I am just waking. 15 minutes ago at the side of the bed, silently cursing my body, I was putting on a shoe and my foot went in to spasm. I yelped like a dog, and forced my foot against the wall (Darius Khondji once instructed me) and pulled out of it. Went to the refrigerator to drink some coconut water, heated some coffee, and I am a new person! Kind of.
I know that people have much worse mood swings. This is like an unpaved road and I am riding with little suspension.
I feel now that I can go out with Gina Birch to see the 1990's! I called her last night to say that I couldn't make it, but discovered that it was tonight! So, maybe...
Have not heard from the nüans folk. They must be overwhelmed by my successors whose show opens tomorrow! I send them best thoughts and wishes.
Now I wonder if this should go on to the turtle site, or kinoteca, or stay in a file. Let's have a vote!
I'll go on now. Just back from seeing the 1990's with Gina at Water Rats. They are a band from Glasgow that Gina's done 2 videos for. Very good gig. And the venue is right next to my speech therapist!
As I reflect it was a wonderful day. I was able to really wake from a solid nap. Wandered out to peruse Schoenberg recordings at HMV, some bilingual German-English books, then stopped by a small music shop I like and there I discovered a new Moondog recording by Joanna MacGregor. A pink cover! I had to get it - and am happy I did. I have written to Joanna through her web site to invite her to turtle - I have wanted someone to play Moondog. In Germany I was so disappointed that no one had heard of this great artist. He lived the last years of his life near Cologne! I must explore learn more when I return to Germany.
Michael Ward-Berman wrote to say that he is doing a tour and will be playing a hospital during turtle, so we will link to that gig (he performed at turtle last summer). Jim Crace wrote back immediately - it was his birthday today! He has a new book out in one week. I will have a copy at turtle (we met when I fell in love with his BEING DEAD and had fantasies to make a musical film of it - a DEAD OPERA he called it - but I was not in any position to pursue). Cecilia Wee is back in touch and will probably do a radio resonance recording at turtle. Then Ziba Karbassi wrote! She is a most wonderful Persian poet we were hoping would find her way to Düsseldorf with Stephen Watts (who is helping to translate her work in to English). Ziba will be in London soon and we will finally meet. Perhaps she will be able to read at Slade. And Diana Matar is back in touch - so we can hope for a photograph from her as well.
Tonight I was going to try to get in to the last performance of Samuel Beckett's HAPPY DAYS but I opted to rest and see Gina. A bestest decision. I wanted to see Fiona Shaw perform Winnie, and what Deborah Warner did with the play, but I have seen it with the wonderful Billie Whitelaw - oh, that reminds me, I wanted to invite her to turtle! Better get to bed now. Must visit Saqi books in the morning (the late Mai's shop) and go see Ana da Silva play at 1.30 in the afternoon! Good night!
Michael
SUNDAY 25 - WEDNESDAY 28 February 2007.
Sunday. Ben Hopkins' film 37 USES OF A DEAD SHEEP screened today and Arpad's dinner was this evening. A most wonderful end to turtle with nüans.
First I must reflect on yesterday. I cannot remember the day before THE TURTLE AND THE BUTTERFLY, but for running to the Müller bookstore in town to secure a bust of Heinrich Heine for Ben. I also wanted a gift for Anna's parents for my trip to Berlin. There were no more Kapuscinski books to share following his recent death. Nor were there any Patrick Leigh Fermor's but one: LETTERS FROM THE ANDES. I have never read this one, but it was a beautiful volume and any of his writing is something to discover.
Back at nüans we set up the screen and began with Julian Beck reading poetry (thank you, Mike!). Noone knew who he was, so they must look up the Living Theater and discover some important history. I added that Francis Ford Coppola cast him in COTTON CLUB, a small but wonderful performance. I followed with Etel Adnan reading to open Turtle in London with Gavin Bryars on piano. I recalled showing Etel and Simone Fattal the old footage of Beck and their applause at the end. After Etel was Bushra El-Turk's Composition for Beirut performed at Tuttle, London, during the war last summer. What was most special was seeing the first turtle in this second incarnation, with many of the same artworks repeated on the walls.
I am not sure I will recall all, nor the order, but I played Jem Cohen's NYC WEIGHTS AND MEASURED and a Stereolab video. That was magic - I had just met Laetitia, the singer, who was here working with Mouse on Mars and also received a DVD reel by someone I had just met in London. He had 2 Stereolab videos on it and the first I played had butterflies!
I am now continuing this writing in London. It is Wednesday 28 February. It has been hard settling in. I am sad to have left such a wonderful experience, and happy to be able to recover! But it will take some time. Today starts the doctors appointments and a first meeting for the upcoming TURTLE WORKSHOP at Slade Art School here (22-24 March - stay tuned!). So this will help with my sadness.
What also helped was waking at midnight and watching a film by Marie Losier, and reading a comic of Anna Faroqhi's this morning. This helps keep me alive.
I had just made contact again with Marie (who lives in NY) before the Berlinale, and we were both there but unable to meet. Anna was also there but we could not make a rendezvous either. I arrived back in London to find packages from them both, sent for the Slade workshop.
Marie, your film with Guy Maddin is sublime. Anna, the story of your pregnancy is so full of life. You are both inspirations - thank you.
Sorry for the digression, but I am waking well this morning. The light is coming earlier and is more beautiful, dancing with intermittent rain.
Back the THE TURTLE AND THE BUTTERFLY. The mail in Düsseldorf has not been reliable, but delivered that day: a dvd of a reading of poetry made by Stephen Watts in Scotland. Stephen, who tried so hard to join us, made an appearance! You were an important part of the evening, Stephen. Thank you. What else did I play? Oh yes, Arthur Russell. Dear Arthur and his mesmerizing intimate performance with cello in New York in the 1980's. Then Elmar requested the Ford Brothers' new video for the old New Order song EVERYTHING'S GONE GREEN. Each time I view the video it gets better. It is now one the site kinoteca.net - go and see! The band have yet to even know about it (I better tell them...in due time!).
Then I began to crash so I put on Gariné Torossian's new film which premiered in Berlin, STONE TIME TOUCH, and left. I forgot to mention that I played Patti Smith reading a poem of Rimbaud that I recorded in Paris in the late 1990's. Sorry, I played things without a planned program. There was a lot that I did not play. Such is turtle.
Sunday the 25th began with a screening of Ben Hopkins' 27 USES OF A DEAD SHEEP. This was the fourth and final film in our program at Bambi. That is where I began this writing. The feedback was as wonderful as I expected. Thank you, Ben, for giving us this screening. I saw Ben in Berlin during the festival. I will include my introduction for the screening:
+++++++++++++++++++++++++++++++++++++++++++++++++++++++
I met Ben several years ago at a film festival in Porto. Since his features SIMON MAGUS and THE NINE LIVES OF THOMAS KATZ Ben has had trouble raising money. When he made a documentary in Afghanastan about land mines he met his subject for 37 USES OF A DEAD SHEEP. The great success of this film has just secured Ben his budget for a feature he will shoot in Turkey in April.
Ben is a devotee of Heinrich Heine, and we share a special interest in W.G. Sebald. I thank Ben for offering this screening of his film.
Anna and I met Ben in Berlin recently and he told us this story. I would like to share with you. MHS
Variety 9 Lives of Thomas Katz review went something like this:
Jaw-droppingly juvenile slice of film-making makes Hopkins' debut turkey misfire SIMON MAGUS look like a major masterpiece (Derek Elley)
Derek Elley wrote both shitty Variety reviews of MAGUS and KATZ
One day i got a call from Bela Tarr asking me to interview two journalists about Tarr's work for a Hungarian TV programme: Johnathan Romney and Derek Elley.
I had to call Derek at the Variety offices and say "Derek, it's Ben Hopkins but WAIT! I don't want to kill you, I want to talk to you about Bela Tarr."
I met him and interviewed/filmed him.
We found we had a lot in common and got on really well.
When SHEEP played at Berlin the Variety editor asked Elley to review the film.
He refused, saying "Ben is such a nice guy and i really hate his films - I can't bear writing another shitty review for such a nice guy."
So Leslie Felperin reviewed the film for Variety and gave it a very positive review.
Story ends.
BH
++++++++++++++++++++++++++++++++++++++++++++++++++++++++
Then I had to take a second rest before Arpad's dinner. It is hard to describe, so I will include the menu and the translation of his text. Each course was introduced by Arpad with a story. His food and the dining experience is Arpad's performance, his contribution to turtle (along with a framed piece of dried milk!).
Marietta Kesting joined us from Berlin - it was a beautiful surprise. I had earlier discovered with Anna that they had gone to school together several years ago. Marietta was a student of mine at Bennington College just after Anna last saw her and I had not been in touch either. But the magic of email brought her back to our lives! And she gave me a portrait of Ken Russell for turtle. Derek Jarman's first job in film was doing sets for Ken's THE DEVILS! It all comes back to you, Derek. And now we go to the Slade where you studied art!
The Slade will celebrate with a performance by musician and composer Simon Fisher Turner who made most all of Derek's soundtracks. There is sure to be many more surprises.
Ok, I have caught up a bit. Time to enter in to the world outside.
Thank you nüans, Rita for introducing this project, and to all my new friends in Düsseldorf. You are the inspiration I need, we all need. I hope to return soon and to share more of life.
Love, Michael
FRIDAY 23 February 2007.
Friday entering the final weekend here. I don't like to say final, rather the fourth. I think I'll be back.
Mostly students helping and watching films and tapes today. Maki taking photos and Anna and Elmar helping Arpad to cook for Sunday.
Yesterday was another special day. First, Mark von Schlegal read a SQUID short story at the Aquazoo. There followed a presentation of LA TEAM at turtle caf/bar, a dinner break with soup by Maki, then Suzanne Titz spoke of Yvonne Rainer and showed her work, and a film about her. The place was full. Suzanne thought to keep the program short, but once Chales Atlas' film began we could not stop. People are talking about this today. Yvonne, you will continue to inspire so many people - it is so special to be witness to this discovery by young sponges!
I forgot to mention that I had recently met Mark, but only yesterday discovered that he is the nephew of dear friend Fanny Howe, one of the first turtles. I know a lot of Mark's family, and more! It was another turtle in my life.
Tomorrow I have called THE TURTLE AND THE BUTTERFLY, a day of poetry. It is both a celebration for Etel adnan's birthday - dear Etel, who wanted to be here but cannot - and in memory of Mai Ghoussoub and Luis, both sad losses.
At the Aquazoo, in front of the ticket seller, were two plastic packets: one was filled with turtles, the other with butterflies! They are here now and will be spread about for our day of poetry.
Etel cannot make it, either can Stephen Watts (who so kindly writes each day wanting so to be here), his friend and poet Ziba, nor the singer Cordelia Weil, but they will be present through their work, some on video, and their spirit will overwhelm.
This space of nüans is not a typical gallery - small in size and perfect for turtle. A cinema that seats 6, but more stand, and whose screen is an artwork by Martina Klein. A bar behind like a backstage area- very rock and roll. We have a propane heater, so it is always cool until it is filled with people in the events. But even the art warms the bones.
I am just trying to share some more today. It is a quiet evening. Two friends, a dramaturge and a painter, sit with me reading while two students watch Sonia Herman Dolz's film THE MASTER AND HIS PUPIL. The conducting of Gergiev with the music is so powerful. I am so happy to share, but I am the one getting so much from this. How can I thank Donald at Chelsea Space for beginning this, and Rita for getting me here. I wonder what is next, after Slade. Turtle is a gift.
Michael
TUESDAY 20 February 2007. evening
Tuesday evening. The day began with a discovered break in to nüans. Nothing was missing, so I suppose it was not a collector of art. Perhaps a lost Karnival casualty. How lucky!. We all had a nice fish lunch inside the space after the door was repaired.
For me the day was one of war, tears and laughter. I only wish it was from visiting a Bruce Nauman clown installation, but there was such sad news. Mai Ghoussoub, who began Saqi books in London, was dead. I was soon to meet Mai. I had recently written to her having been so moved by her story in last year's LEBANON, LEBANON, a release that was a kind of turtle for the children of last summer's war in Lebanon. Etel Adnan and Simone Forti, both friends of Mai, were included along with Ali Smith, another turtle.
I was shocked by the news, but also to learn that she was born in 1952, the same year as myself. I have been celebrating my new friend Stephen Watts sharing the same birth year, as well as David Rieff, Susan Sontag's son. Would it have been too much to meet another?
Then I returned home to find a picture of Luis in a Turtle t-shirt. Luis is Marie of Argosarts' brother who died recently of Leukemia. Maria had just welcomed me to Brussels in December when she had to leave to join her family in Madrid at the news of her brother's diagnosis. I sent her off with the gift of a shirt. I had written to Maria to inform her of my dedicating THE TURTLE AND THE BUTTERFLY poetry Saturday to Luis. Now it is Luis and Mai.
I cried so much in the hospital. It is a feeling of weakness, and sickness, but it can be a strength. I have to believe that - I need strength. I am so tired and I feel like Lebanon, so torn.
I cannot express myself well and I have so much to share. Tonight Suzanne Titz dropped off a copy of Yvonne Rainer's FEELINGS ARE FACTS. On Thursday Suzanne will show some of Yvonne's work at the turtle café. Reading Yvonne's introduction made me warm and made me cry. We wanted to work together on her last feature film, but I could not commit. And Yvonne sent me her films for the first turtle. I was happy to meet Suzanne soon after I arrived in Düsseldorf and I cannot recall how we discovered a shared interest in her work, but I was compelled to invite Suzanne to turtle, and then to suggest that it involve Yvonne. I think that Suzanne is discovering Yvonne and it is so special that she can use turtle to share in this.
Fuck, it is hard to write and I want to, as I want to sleep, and work, and play, and live. My body frustrates me - it is easy to blame it for my weaknesses.
It is the end of a hard day. With joys of always discovering turtle, taking pictures of the sunlight's play on the work, ourselves eating, and the people passing by curious by what they see. Elmar is told that people are confused whether nüans is a bookstore, an art gallery, a performance space, a theater, a coffee shop...
If turtle is confusion, turtle is successful!
We have a special few days approaching. We will celebrate the lives of our missing loved ones, some we have never met. I am sure to laugh some more, even cry - just to live in my war zone is a life I am grateful for. In war is much friendship and love and I have both in abundance. I am a poet in reception.
Michael
MONDAY 19 February 2007. morning
There is a lot to share about the weekend, but I was just recalling last Thursday when I showed some videos, such as the catalog I made for Dan Graham at DIA in New York. Elmar found the Grace Jones DVD of Libertango (I've seen that face before) so I played it. This marked my entrance in to producing music videos. It happened by chance, as did New Order and the others. I never became a "music video producer" as I was not what the industry wanted and it was not something I wanted either. I was lucky. But the Grace Jones video reminded me of Chris Blackwell whose label was Island Records, the home for Grace Jones' music. Chris and I had always gotten along and he invited me to work for him.
Over the years Chris and I lost touch. Somehow, when I emerged from the hospital in London, Chris came back in to my life. I discovered that Chris is an old and dear friend of Hercules Bellville, my friend who was there in intensive care and has helped me to live, in practical ways but most importantly through spirit. He and Chris drove to the Cannes film festival last year with Jeremy Thomas. So Chris and I met up. He had recently lost his partner to illness, a woman I knew from my days working with Grace (I went on to make A One Man Show with her), so he was insistent that I take life slowly. He offered that I stay at his house out in the country, or he could put me up in Jamaica. I told him about this idea for TURTLE (Chelsea Space had just offered me the gallery) and he warned against it. Then in a couple of days I received an SMS from him asking if I would like to edit a music project! We have laughed about that since as I went on to do TURTLE and then took him up on his offer to spend time in the country outside of London. This is one of the happy results of my illness, to be back in touch with someone whom I shared something with, and we are to meet again upon my return to London. I wanted to mention this as Chris has been most kind and gracious, and I thank him.
Hercules phoned the other evening as we were driving to Arpad's for dinner (Arpad Dobriban who presents the final turtle act in Düsseldorf this coming Sunday evening!) and in his most charming manner berated me for not contacting his friend in Paris. I owe Hercules so much that I can never thank him enough.
Maybe I feel things are coming to an end here. In one week I will be back in London. Besides doctors I do look forward to the Turtle workshop at Slade art school. It will be more special as I can bring some of Düsseldorf with me. But I will miss it here. It has been an inspiring place to be and I hope that I have another opportunity to spend time here.
Well, there is still a lot to do before I go. And one thing is to relate the weekend to you.
I began speaking about Saturday morning, I think? Will check my notes. Anna said she not only liked the films, but the way they were presented - the choice and order. I was happy to hear that. I began with a special film that I cannot mention here but which was a tribute to a great filmmaker told in a beautiful and personal way. That followed by Chris Marker's La Jetée with his English voice-over. That is a film I am always happy to share as I get to see it again. I had been asking people if they had ever seen it and they had not. But then I met Rosa Barba and she has seen it at least 50 times. I am happy that there is a new audience I could share this poetry with, a film I am sure they will revisit many times as well. Then I presented Sonia Herman Dolz' The master and his Pupil, a documentary on conducting an orchestra. This was all done in Andi Toma's home which is a tremendous space with a large projection and wonderful sound. Due to the recent wind storms his skylights were uncovered so I had to choose a film where the sound was the most important thing (for me sound is always more important than the image, but that is another discussion). So as day began to take over this beautiful work on Valery Gergiev conducting a masterclass led us beautifully in to the day.
That evening we began again. I was happy to hear that Elmar had received some post from London so I was able to present Victor Erice's The Spirit of the Beehive. Tears came to my most tired eyes as I felt the audience was captivated along with me. Then we broke and to bring us back to screening I played Jem Cohen's short NYC Weights and Measures. It looked and sounded better than I have ever experienced. I wanted to present Isild Le Besco's DEMI-TARIF but it was not the right time, or place, and I had to take a cab home. So I left and they played Meike Mitsuru's pink film The Glamorous Life of Sachiko Hanai.
On Sunday I met up with Gina Birch at Carmen Knoebel's house where she was staying. Carmen and her husband Imi are old dear friends of Gina's. Imi invited us over to his studio and I walked in to heaven. I have loved Imi's work but never had the chance to see much of it, now I was inside of it. Imi's work is seductive and exciting. I feel so much of myself there. Then I discovered that he loves pink. Imi is already a turtle as when I met Carmen she offered a poster for a film Imi made with Imi (a late friend) which is beautiful in the turtle bar. Then she passed me a photocopy of his installation Radio Beirut from 1982. I have another link for my film!
Then we went by the Bambi cinema where we were presenting Derek Jarman's Wittgenstein. Elmar had invited the philosopher Oliver Hallich to present the film. The room was full! I made a brief introduction expressing how the audience warmed my heart for Derek. Tilda Swinton had sent me a copy of her letter to Derek that she read at the Edinburgh film festival in 2002 and we handed out excerpts from that. I dedicated the screening to David Pears, philosopher and friend, who could not be with us.
At 6 there was another turtle café at nüans with Thomas Schmidt and Martin Scherffenberg. These café events organized by nüans have built a regular following. Then it was over to the Salon des Amateurs where Gina Birch performed. It was bliss. I was overwhelmed and had to get to bed!
Today I crashed - a wonderful crash. I went back to sleep three times during the day and could not join Arpad tonight as he went to document the installation at nüans. I hope that we can present these photos on the site very soon! I did have an unexpected drive this afternoon up the Rhine. It was a most grey day but such a nice ride - thank you, Monika!
It is now after midnight, and Tuesday. This evening I meet Suzanne Titz. I have invited her to speak on Thursday. She has a keen interest in Yvonne Rainer's work and we will show some videos that Yvonne sent to turtle last summer. I will also meet some students these days before events begin again on Thursday leading in to our 4th weekend.
I just received a mail from exiled writers where I found a poem by Ziba Karbassi. Ziba is a friend of Stephen Watts (with whom she translates her work from Persiaan in to English). If we are lucky, Ziba and Stephen will be here on Saturday to read their work. Regardless, we will have a day dedicated to poetry with Etel Adnan, Stephen, Ziba, Robert Frank, Patti Smith and others. They will be there in person, video, through their work or just in spirit. It will be a butterfly day - THE TURTLE AND THE BUTTERFLY.
I invite you to read an excerpt from Ziba's poem on line at
Michael
SATURDAY 17 February 2007.
Saturday. We are about to go to Arpad's for an early dinner so that we may sleep a little before our morning swim at 6 am. What films will I play? I am still unsure. The one that I wanted has not yet arrived from London and will not be here by 6, but I have so many choices. I will make cards tonight to help me shuffle a sequence and choices which I will likely make as I go along.
Fist we must stop by the Müller bookstore where I am warned of the attack of KARNIVAL, and to the Salon des Amateurs around the corner to discuss sound check for Gina Birch on Sunday.
We have made another arrangement to the installation. Each time a bit more magic is discovered. It began with two new pieces by Katia Stuke this morning. Then the mail arrived from Shoko Madea with some smaller gems that I left in London - thank you Shoko!
Back from dinner to find a note from Tommy Stockel a Danish artist I met recently. He is making a small sculpture for turtle! He is also friends with Mark von Schlegell who is reading at the aquazoo next week as part of our THE FIT program.
I pursued inviting Tommy first because of his work but was further compelled when I learned he was Danish. My first interest was whether he was familiar with the poetry of Inger Christensen. I have been mesmerized by her BUTTERFLY VALLEY, A Requiem. Tommy has been given this work recently as a reference to an upcoming show in Denmark.
Returning on the train from Berlin I wrote the phrase
I FEEL THE WEIGHT OF A BUTTERFLY.
This came from thinking of Inger's poetry I carry with me, and about David Pears and his love of butterflies. I know that David wishes he could join us on Sunday for our screening of Derek Jarman's WITTGENSTEIN, a film that he likes a lot. David is a philosopher and friend, and Wittgenstein scholar who is not able to travel at this time. I digress, but now I want to share with you part of the poem, and I must thank my dear friend Stephen Watts for introducing me to this poet. If we are lucky, Stephen will join us here next weekend.
XIV
Regarding you from the wings of butterflies
Is just a little butterfly-wing dust
as fine as any nothing made by no one,
in answer to the leaves of distant stars
Like light it swirls up in the summer breeze
like spark of a pearl, like spark of fire and frost,
and all that exists in its vanishing
remains itself and never will be lost;
as copper, purple emperor, arctic blue,
it turns the rainbow to earth's butterfly
within the earth's own visionary sphere,

a poem lesser tortoise-shells can bear.
I see a bit of dust begin to rise -
up they soar, the planet's butterflies.
from
Butterfly vally A requiem
By Inger Christensen
I must sleep now to wake at five and present the MORNING SWIM at 6. I thank dear Arpad for another poetic meal and most friendly evening.
This is a busy weekend and I will do my best to continue to write. Gute nacht!
Michael
WEDNESDAY 14 February 2007. evening
Wednesday evening. Saw no films today. Morning work on TURTLE. Tomorrow's guest at the café had to cancel, so I will present some work. It may focus on Lo-Fi approach, beginning with Grace Jones, through a couple of New Order and Patti Smith videos. The Dan Graham video catalogue for DIA, excerpts from HOME SCREEN HOME if this is the package sitting at the post office, a couple of TURN videos and perhaps the premiere of EVERYTHING'S GONE GREEN. Anything is possible.
Got to the festival to meet Garine Tarrosian. She passed us a copy of her first feature which played the Berlinale before we arrived. Then Ben Hopkins arrived and we had some time. Florian of MG Art stopped by to say hello with Ilona, director and wife of Manuel Göttsching (Ashra Temple). Ilana said that Mouse on Mars (MOM)recently wrote to Manuel about how much they like his music! And Manuel has finished a soundtrack to Philippe Garrel's LA REVELATEUR.
Had a short chat with Babette about her film SEVEN EASY PIECES, how it developed and was constructed. I had not known that years ago she made a film on Bob Morris's work called FIVE EASY PIECES. I congratulated her on a beautiful work, especially the soundtrack. Babette is a most wonderful cinematographer, so her use of sound brought the image to a special presence. Marina Abromovic was lucky to have been able to work with Babette.
Sadly I never saw Vanessa Ciszewski, Marie Losier, nor Olaf Möller. I tired early today and had to keep from trying to get in to any film this evening.
Being in Berlin has been much more than the film festival. I feel at home reconstructing in a place doing the same thing. I see a New York of my past that feels like a future. Tomorrow I may visit the grave of Bertolt Brecht as I have discovered it is around the corner from where I am staying.
Michael
WEDNESDAY 14 February 2007. 01:00
Past midnight Wednesday. Just back from Two Days in Paris. Bravo Julie! Nice to get your text to speak later today. Earlier we saw Babette's film. Extreme art history via Marina Abromovic. Anna and I found ourselves laughing - alone! I had to explain that it was a press screening where emotions are never revealed. I doubt others would share the humor we found, but I hope so! Babette made a beautiful document that made it possible to watch, and listen (the soundtrack was subtle but rich), as it was not an easy film. It began with a recreation of a Bruce Nauman performance followed by Vito Acconci, Valie Export and others. Bueys was the strongest. I was happy when it ended, and happy that I saw Seven Easy Pieces.
Peter Scarlet was not there when we exited but not but a few feet outside when a text arrived and we were able to spend an hour together. The joy of that wore me more than the film! I had to rest before a meal and out to Julie's film.
Phoned Etel. She is doubtful to come to Dusseldorf. Her mouth is not well. I assured her that her birthday would be celebrated and she will be with us through her work. I feel that Etel is with me here as well, that we are closer than ever. Must get to work on P. S. Beirut!
Ben Hopkins has text so perhaps we will meet briefly tomorrow. Olaf as well. In fact we have gained a day in Berlin - we can return Thursday morning! But now I must rest and make an attempt to see a film shot in Lebanon at 9. Peter had a hard time getting in, but I may give it a shot.
Hope to see Garriné tomorrow, and Anna Foroqhi. Good night.
Michael
TUESDAY 13 February 2007.
Tuesday, Berlin. Went to the Berlinale this morning and first ran in to Ido (Rotterdam, Utrecht), Hisami (bless her), and Keith Griffiths, partner of dear friend Simon Field. Simon will celibrate his birthday here Thursday which I will sadly miss. Then over to the Forum and arranged to meet Babette Mangolte at 1. Went to the bagel place in the mall where I once had lunch with Peter Scarlet.
This trip is a bounce in time - like a pin ball machine - I was here two years ago, beginning to edit my footage from Beirut in my hotel. Now, after collapsing, I am back. Bouncing back to life. And I had a Beirut bagel! A thyme bagel was waiting for me - a Berlin version of the wonderful breakfast bread covered with thyme I so enjoyed in Lebanon (zaatar?).
I have woken from my nap back in to a dream and am on my way to see Babette's film on Marina Abromovic. Peter Scarlet should join at the end. Later this evening the plan is to see Julie Delpy's film which is getting a lot of attention. Julie, who helped me to finish Souvenir, I am so happy for her.
Tomorrow I will catch the program with Marie Losier's work before the train back to Düsseldorf: a pinball town - we are always turning around to get anywhere!
Oh, yes, the wonderful news from Stephen Watts that Ziba, the Persion poet he is translating, will be in Germany and able to come read for Turtle on 24 February. Stephen is also making best efforts to get here and nüans is helping it happen. I hope that Etel Adnan can also make it - I know she wants to come and celebrate her birthday with us. In any case, Rudolf Müller will read her work in German, so she will be most present and it will be her day.
I sit here looking over the Dome from Erika's apartment and feel like Bruno Ganz as an angel. But it is I who am surrounded by angels. Sorry if this is getting too personal.
Off to the cinema!
Michael
MONDAY 12 February 2007.
Monday. Yesterday was a most special day. We screened FILM OHNE TITEL. I was so happy to share it with my collaborators, new friends from the academy and a small general audience. There was an older couple at the back of the cinema with whom I wanted to speak after the show, but there was such a crowd waiting to get in to some certain Hollywood film that we could only escape the cinema. It reminded me of the short by Nanni Moretti about the opening of CLOSE UP by Kiarostami in his small cinema outside Rome. Moretti is trying to get an audience in to see this extraordinary film but is receiving phone calls of tremendous sales for some latest Disney release. The audience we fought through to get out of the cinema should have joined us for a truly magical, poetic experience.
I watched FILM OHNE TITEL for the second time, yesterday without subtitles. I often find myself watching films whose language I do not know (and I know no German) and of course watch the film in a different way. I discovered something special: that my film SOUVENIR relates to this film. The first piece of music heard was a piano solo by Mozart. This was one of the songs I used in my film. Then there was a scene searching a house with a flashlight looking for destroyed memories. Finally the rain and umbrellas at the end recalled my opening sequence. Maybe no one else would see the same things, but I felt like I was meeting a long lost relative.
Of course FILM OHNE TITEL was made years before SOUVENIR and I saw it several years after my films release. And in my film I make many references to other films. It seems that I also made a reference to a film I was yet to see - a reference to the future. It is the kind of time travel I receive from the work of Chris Marker.
Having written this, I will try to get a copy of CLOSE UP to share at my morning and evening swim at National Bank of... I know I try to do too much, and ask too much of people. Please forgive me. If I am not able to share Kiarostami's film with you now, I encourage you to view it when you can. It is pure poetry - about filmmaking, about life.
Back to yesterday. After a much needed Japanese soup I entered in to the nüans gallery space where there was an ongoing turtle café installation by Jö Stoya. Stoya used the space beautifully to present his "painting" - a film loop projected on to a sheet of paper which was placed over hanging works of art. The works hinted through the transparency which also reflected his work. And he also used the small cinema for another video. Stoya joins Martina Klein in making most beautiful works for the exhibition. Martina's painting serves as the cinema screen so that it is more that just a painting, and more than just a screen. Again, one projects work on to another work. There is some important dialog going on here!
I thank Carmen Knoebel for introducing Stoya to TURTLE and our FIT collaboration. And there was another "turtle" in meeting Stoya when he brought me greetings from Anton Corbijn!
I must digress back to Friday when I visited Andi at his studio. I met there his partner Jan, Jan's wife Rosa Barba and their beautiful baby Uma. They were preparing a party in tribute to a friend Soulis Moustakidis. I shared with them a simple dish of Soulis of baked Mont d'Or cheese with champagne (inside) an pears. Then Rosa offered a work of Soulis for TURTLE which we proudly embrace. Then we discovered that Rosa is doing a series of works (films in book form) with Argosarts in Brussels which will host TURTLE next year! Now, of course, Rosa will become a turtle.
Soon I will be on a train to Berlin. I cannot write as well as Christopher Isherwood in his Berlin Stories but I always cherish the recollection of them when I visit the city.
Michael
SATURDAY 10 February 2007.
Saturday morning. It must be 11 am. This is the hour of life for me, when I feel that anything is possible, that I can explore ideas and it is worth it. I am alone in the little nüans cinema that is in turtle watching the rough cut of Claire Pijman's film on Flip Scipio. It is such a great pleasure first, because it is so good, and secondly because it is a part of me. I helped Claire shoot a little, and Claire is a good friend. She his helping, most patiently, to make a dvd of my film Souvenir, and I am helping her get this film shown. I spend some special time with Flip and seeing Martha's Vineyard where we did some filming reminds me of being in one of the most beautiful places I know. Watching the film makes me happy to be alive.
Today we will hang a lot of work, and I found the video camera I need to show some special work that I brought along. But the day started best by finding artwork I had misplaced. Ned, I never mentioned it, but your tin soldiers were missing, along with some other drawings. I had packed them too well in a place I had forgotten. Now they can return to turtle with your new work!
Sunday afternoon. Last night I saw Rough Cut of Pina Bausch in Wuppertal. Now I must go to present FILM OHNE TITEL so my time is brief. And I must remember Friday - oh yes, a most wonderful afternoon at Mouse on Mars studio - sorry, I am out of sync!
There is a lot to share but I must take my rests and do things for my health alongside these turtle events (yes, I consider a Pina Bausch performance a turtle event!.
Michael
THURSDAY 8 February 2007. late
Hello again on Thursday. My rest is in spurts but it is helping a lot.
I must address all participants. There is an issue that names seem to be missing from the list. It is more than that. I am missing. I mean that it is my job to sort the list out because I know most of you, have invited most of you, and I cherish your playing turtle with me, for me.
My hero is Kris Emmerson who is making the site happen. He is a wonderful artist whose work is not to do website design (go to his site to see what he does at www.krisemmerson.co.uk) . Kris has great patience to compliment his beautiful refreshing design. Patience is needed in dealing with turtle and with me. I throw him pieces and fragments of ideas and we have developed a calm dialog. Will the site ever be perfect? I am afraid not. No, I am not afraid not, it should never be perfect. And we should not expect that. Turtle is not an institution, nor is it easily defined. So we cannot expect certain things one might expect from a commercial gallery or museum.
To know that you are a part must be enough. Please alert us, however, to mistakes. We do not make them on purpose!
I admit that I am talking to myself a bit here. Anna, Elmar and Maki are doing an extraordinary job in making the FIT, our collaboration, something special and rewarding. They are artists first, as we all are, and sometimes my old producing ways have to be tamed.
I always want to do too much. That is was knocked me down in the first place. So I have to let turtle be always different, to know that it must continue to dream, to strive for the unattainable, but in the right spirit, and accepting the goal is the pursuit itself. And it is a damn good pursuit.
I will do my best to sort out the lists of people. The priority is that the work is there and is seen. Here in Düsseldorf we have the magic of a four week program of 35mm feature films. It is a dream for me. It is hard for nüans because they are working in a new arena. And they are shining.
As with any collaboration one must build in a respectful way, to share and look at things differently. It all works, and sometimes not, but we are doing something special here and you should be proud to be a part of it. We will do our best to make you proud.
The first turtle in London had no working website (well, for a moment is worked, but it was like how Peter Saville is portrayed in 24 Hour Party People delivering a poster the day after the event. It was still a beautiful poster, and the music still played to an audience.
It was so encouraging yesterday when Rudolf Müller is interested in making a date for a reading this month when his calendar is already printed. I asked for his designer and wrote to Katja Struke last night. Within an hour she wrote back, we met this morning and she designed the film poster for Sunday. Katja will also do the flyer for the bookstore reading when it is set, and she also becomes a turtle and will participate in the show!
I have to return to the lists. My aim with the lists is to also mail everyone to announce turtle 2. There are still people who do not know about it! Furthermore, to have everyone's web site as a link. I hope there is a Kris Emmerson out there who might be able to help because I have failed so far.
I am rambling, and must let this go as I write it without editing. Sorry if I meanders, repeats and is rough reading, but you are keeping me alive and I can never thank you enough. You are my inspiration.
I just received a text of good wishes from Stuart Comer of Tate Modern who is with a dear friend Marina Willer in London. Marina has yet to participate. A lot of friends have not yet had the time for one reason or another. But they are all here with me and their work will come. I am sure that turtle will find a new place to build a home and build its special community.
Good night (for now). MHS
THURSDAY 8 February 2007. pm
Thursday evening, 8 February. I crashed today. Turtle café is going now while I am catching up on rest and silence - mine! Not talking helps a lot.
Katja Stuke came by this morning and made a beautiful poster on the spot for the film Sunday. Markus Miessen's books arrived, and we picked up a package being held in customs for no reason. It is strange that it contained work of a Palestinian artist, Zahi. Sophie Arquette's Wittgenstein house photos arrived as well, along with dvd's by Thomas Draschen (including his new video for New Order's Everything's Gone Green).
I need another turtle to write a report about this evening's cafe. Tomorrow night there is an opening at the Conrad Fischer gallery. Tommy Stockel is in the show. John Baldessari also has an opening in Frankfurt. The plan is to go up there on Saturday.
I may write more later, but I hope not because I am sleeping!
Michael
THURSDAY 8 February 2007. am
Thursday morning. I had to skip a day, or two. It is 4 am and I will return to bed, so this may be brief. Monday was a personal day looking at the final work of Rita Mcbride's class at the art academy. It was encouraging, and draining, and too much to discuss now, but that was followed by a night of smoke and a fire scare which left little time for sleep. Mystery solved.
Yesterday was a butterfly day. Anna Heidenhain (one of nüans) and I met with a Danish artist, Tommy Stockel, who is in town to participate in a group show at the Conrad Fischer gallery. I had sought him out to make a connection here in town and because I liked his work a lot. And it is connected to butterflies. Some work on a wall of paper forms recalled butterflies, and a book I carry with me is Butterfly Valley, a requiem, by Inger Christensen, poetry that means a lot to me. Her work was introduced to me by Stephen Watts, a most wonderful poet from London. On the way to meet Tommy we went to the bookshop of Müller & Böhm to discuss an afternoon of reading proposed there for Etel Adnan and Stephen Watts and we learned that Inger Christensen is also most important for Rudolf Müller as well. Inger read at the store twice. I passed my copy of Stephen on to Rudolf and he offered a german copy of Inger's Butterfly Requim to Anna. On the 24th we will make a reading at the bookshop. Etel Adnan will try to come. Most special is that Rudolf will read from her work in German, regardless. And we are looking for a sponsor to bring Stephen over. I met Stephen as I pursue a special interest in the work of W. G. Sebald with filmmaker Ben Hopkins (whose 37 USES OF A DEAD SHEEP will play at Bambi cinema here on the 25th as part of the TURTLE film series). Stephen was a friend of Sebald and Sebald was a friend of the bookshop! The special day is made more special as it is Etel's birthday and public radio in Germany is broadcasting a pre-recorded interview with her that day. It is most special for me, and for TURTLE, as Etel is my connection to Lebanon and inaugurated TURTLE in Chelsea Space last summer by reading with Gavin Bryars on piano. And Etel is much more. Back to butterflies. The philosopher David Pears has a fondness and great knowledge of butterflies and he is part of TURTLE. We are hoping for some text to accompany the presentation of Derek Jarman's WITTGENSTEIN on the 18th at Bambi. His new book PARADOX AND PLATITUDE IN WITTGENSTEIN'S PHILOSOPHY is available for sale in TURTLE at nüans.
At the bookshop Rudolf presented us with their calendar for the month, of course already printed, suggesting that we would have to supplement this to announce the reading. The design immediately made me ask who was responsible, and I learned it was an artist Katja Stuke. My first thought was that she would be perfect to help us with a last minute poster for FILM OHNE TIREL playing here this Sunday. Rudolf passed me her email and, after finding her website, I wrote asking for help with the poster, the bookstore, and inviting her to participate in TURTLE. Katja wrote back immediately that today she is most free and we will meet at nüans in a few hours!
Work continues to show up. Meeting Tommy this evening allowed a look at the photo of Shoko Maeda which just arrived. It is Christmas every day.
I must return to sleep now. I have to thank Jane Nisselson of Virtual Beauty for writing her excitement of discovering my traces which encouraged me to write this one now. I cannot reread and correct at this time so I hope it does not confuse too much. It is such a special time for me here. Goodnight! MHS
TUESDAY 6 February 2007.
It is Tuesday morning and soon I am off to the Academy of Art to visit the final work of students of Rita Mcbride. Yesterday I went to Wuppertal to have my body worked on. This is the base of Pina Bausch, and on Saturday I will return for a performance! The luck of TURTLE being so close, and one of Pina's dancers, Melanie Maurin, for becoming a turtle (thank you, Philippe Decouflé).
Yvonne Rainer is in touch as I let her know that Suzanne Titz will discuss her work at turtle café on 22 February. Dance is becoming a presence in turtle. I recall my first job in New York building a wall in Trisha Brown's studio and almost falling from a ladder when the beautiful Lucinda Childs entered the room!
The first weekend of turtle was so full that I am still catching up with it, and there is so much yet to do. News that Gina Birch is confirmed to come play on the 18th and the Salon des Amateurs makes me happy (thank you Carmen Knoebel) Gina's schedule last summer did not allow her to partake in London's turtle.
And this morning we go to the bookstore in Heinrich Heine's house to confirm a reading on the 24th by Etel Adnan and Stephen Watts (thank you Arpad!). Keep tuned for that news!
Meanwhile, I am beginning to receive proposals for the TURTLE workshop at Slade School of Art in London the week of 19 March. Of course I will bring new turtles from Düsseldorf back with me.
But back to the work here. I have to find an introduction to the FILM OHNE TITEL (Film Without Title) which we are showing here on Sunday. To print out the photo file of Fouad Elkoury's work from the war in Lebanon last summer, make a photocopy from the book VITAMIN D which contains the work of Frances Richardson with a reproduction of her piece in TURTLE, make a list of turtles to date, write to them and get their web sites to link to, chase up missing mail and await new work!
John Baldessari has an opening in Frankfurt this weekend and we will try to visit.
I am not writing so well this morning - it is more like a laundry list. More soon.
Michael
SUNDAY 4 February 2007.
The opening seems to have been a success. I think it is a wonderful beginning to a growing turtle in Düsseldorf. It has plenty of good nurturing elements.
At nüans I showed a portrait of Robert Frank. My intention was to show a little of several things and people would have to return to see what interested them. But I let the program of 90 minutes run twice! It was partly due to my needing to rest a lot upstairs, but mostly because people were so interested and Robert touching so many people was the right spirit to kick off turtle.
I followed with Gerard Holthuis' Coral Reef and that took things somewhere else and set the tone for going to Mouse on Mars space for the party.
I had committed to a kind of vj'ing there. When I arrived I apologized to Andi saying that I could not stay. But then I began and could not leave. I played Arthur Russell, in to Joy Division, New Order, Patti Smith (live in Paris that I taped when I made Summer Cannibals with Robert Frank, and showed that video as well), a bit of The Notwist, then I began to crash. So I put another Arthur Russell on and like Cinderella left before midnight. Anna returned at 3 am with news that everyone is happy and excited.
Today I must go to the Juan Munoz show at K21 as it is the last day. At 3 I present SOUVENIR at bambi cinema, then to the turtle café with Maya Ramsay who is here from London.
Michael
SATURDAY 3 February 2007.
We must go to the gallery to continue the installation now. Just quick note to say how wonderful that Martina Klein has made a painting for the small screening room to receive and present the films and videos. And Irit Batsry has sent a video loop for a perfect FIT with TURTLE.
There is a lot more news but not enough time to share. I am just waking from my nap at 3pm and must return to the gallery. The show opens at 6!
NEWS: Gina Birch will play and the Salon des Artistes (think that is the name - it will be officially posted soon) on 18 February.
And we hope to have Etel Adnan and Stephen Watts read on 24 February.
I hope to write each day, and a lot more on my "days off" (Monday-Wednesday).
Michael
FRIDAY 2 February 2007.
I am in Düsseldorf making a TURTLE with nüans. This is where I will share my traces. The traces of turtle. The traces of me.
It is 2 February, a Friday morning. TURTLE will open to the public tomorrow. There is still a lot to be done, but there will always be a lot to do, and time to do it. I must remind myself of the time and how best to use it, to appreciate it.
This is a letter I just wrote to arpad who will present the last dinner of turtle in Düsseldorf on 25 February. Now I must go to the gallery.
hello arpad!
thank you for the wonderful meal in a most wonderful atmosphere! i enjoyed meeting simon and stephanie as well.
i was just thinking of your question as to why we would want a reading at the bookstore, so i try to make it clear.
turtle is about connecting things that are not usually connected - people, places, ideas. when i went in to that bookstore it touched me on several levels.
first, a wonderful place for books. then the sebald connection. And my friend, ben hopkins, with whom i am slowly developing a film on (and director of 37 USES OF A DEAD SHEEP), regards heinrich heine as his hero.
etel adnan is my special connection to beirut, and she began turtle in london with gavin bryars.
the fact that she is willing to travel here, and it is on her birthday, makes it most special. and stephen watts, a poet who has come to mean so much to me through his work and friendship, is also able to join us. he was a good friend of sebald (i attach his poem for sebald below).
furthermore, susan sontag plays a role in all of this. she introduced me to sebald's work. i met with her son, david rieff, recently who will put something of susan in to turtle as well.
i could go on, as turtle does, but this is enough to convey my interest to try to put a reading together for the bookstore.
best wishes,
michael