TURTLE at IFC Center:
Alternative Salon Hosts Two Special Evenings

Noted Cinematographer Ellen Kuras Presents Sneak Preview of

THE BETRAYAL (NERAKHOON)-Wednesday, May 7 at 8:00pm

JOY DIVISION, Grant Gee's Look at the Legendary Band, with Producer Tom Atencio in Person-Thursday, May 8 at 8:00pm

Plus Chris Marker's JUNKOPIA, with Live Music by Christina Courtin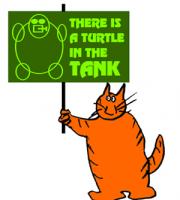 TURTLE IN THE TANK
An Afternoon of Film and Music in the Spirit of April 1968, the roar before . . . Sunday, April 27 from 1-6PM
Turtle is coming to New York with the Tribeca Film Festival! Films and music is being planned for THE TANK (www.thetanknyc.org) and IFC cinemas (www.ifccenter.com).

Jeffrey Lewis will play music and Jem Cohen show films, a screening of Ellen Kuras' NARAKHOON, Jowan Le Besco's YAPO, Grant Gee's JOY DIVISION DOCUMENTARY and more film, music, art... and yet to be turtles!

Stay tuned here, and on THE TANK, IFC and TRIBECA (www.tribecafilmfestival.org) web sites for information.




DAVID BITHER
KARIN BERG
TERRENCE SAVAGE
ANN RUARK
ELIZABETH BAILEY
AIMEE MULLINS
PETER SCARLET
KELLEN QUINN
NAZZY BELGARI-SCARLET
ISABELLA ROSSELLINI
JOHN VANCO
JEFFREY LEWIS
JEM COHEN
BRIAN SCHWARZ
RANDY BELL
KAREN KELLY
LAWRENCE WEINER
KIRSTEN WEINER
ALICE WEINER
ERIC TREIBER
MATT WOLF
CLAIRE PIJMAN
FLIP SCIPIO
ELIZABETH BAILEY
ESTHER ROBINSON
ANGELICA BERGAMINI
FRANCES RICHARDSON
NED RICHARDSON
AMY TAUBIN
ELLEN KURAS
CHRISTINA COURTIN
MELODY OWEN
ISILD LE BESCO

JOWAN LE BESCO
RANDY BELL
JONATHAN HAYES
AMOS POE
JESSE ASHLOCK
ROBERT BREER
JANE NISSELSON
LAURA ISRAEL
ROBERT FRANK
A CERTAIN RATIO
KARIN BERG
ANTHONY H WILSON
JOY DIVISION
TERRENCE SAVAGE
MARIE LOSIER
GENESIS P ORRIDGE
TONY CONRAD
CONSTANCE DE JONG
CHRIS MARKER
EVE BIDDLE
ANN RUARK
ELISABETH KAROLYI
MARY CAPONEGRO
ISABEL DOYEN
FRANCISCO BELLO
RONA CHANG
MARKUS ACHER
THE NOTWIST
ANTOINE VIVIANI
MATHIEU SAURA
TOM ATENCIO
GEERT MUL