The Turtle Hospital Newsletter
The Turtle Hospital, Marathon, Florida Keys
December 2011 - Vol 4, Issue 12
In This Issue Our Well-Loved Adoptees: Bender
Featured Release: Scooter
Wildlife Monitoring During Power Boat Races
Quick Links:
Dear Friend,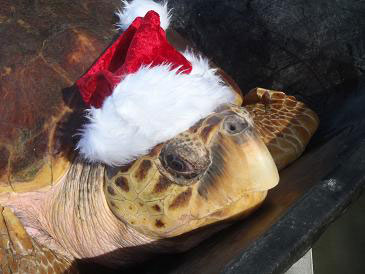 Happy Holidays from all of us here at the Turtle Hospital!!

Welcome to this month's Turtle Hospital e-newsletter: all the latest news and events going on at the Hospital and in the world of sea turtle conservation in your inbox!
Visit our website to keep up on all the new and interesting patients under treatment at the Hospital and find out when your favorite turtle is released back into the wild.
The Turtle Hospital is a nonprofit organization that relies on the generosity of people like you. By purchasing sea turtle merchandise through our online store, you are helping to ensure that the Hospital operates at the highest possible caliber. We also offer memberships and adoptions as a great way to support our turtles.
Together we can save sea turtles in the Florida Keys and around the world.
Our Well-Loved Adoptees: Bender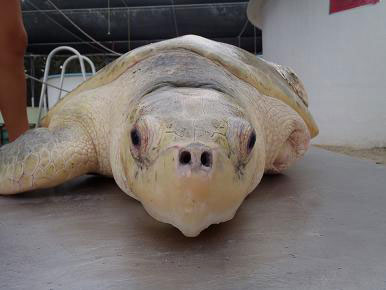 In honor of our 25th year, we have been focusing on our adoptable permanent residents. There are five of them here that we like to call our smartest turtles because, if you adopt them (for $35 a year), they will write you quarterly to tell you what's been happening at the Turtle Hospital. This month we are featuring our rare Kemps ridley, Bender.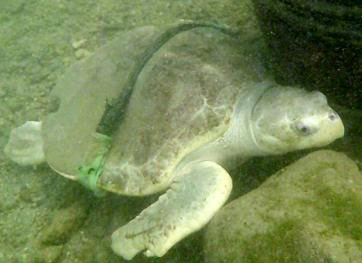 Bender is the rarest of all the sea turtle species primarily due to human consumption of their eggs. Before the onset of current conservation methods, millions of eggs were harvested and used for food by humans. The Kemp's ridleys display one of the most unique synchronized nesting habits in the natural world. The females gather off shore of a very select group of beaches and all come to land at one time to lay nests of eggs in an event known as an "arribada," which means "arrival" in Spanish. Ridleys are the smallest of the 7 species of sea turtle, weighing up to 100 pounds, and the lightest-colored, usually very light blond or gray.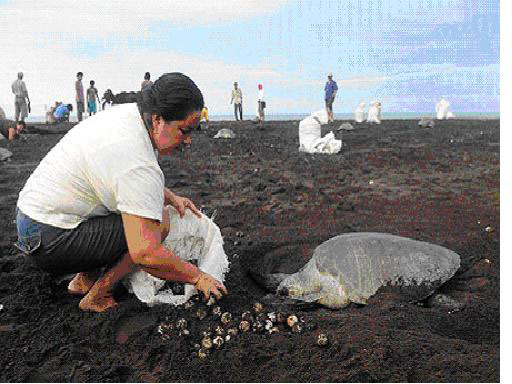 Bender came to us in February of 2005 with a boat strike and a body cavity infection. She had to have her left front flipper amputated, and has to wear a weight system due to "bubble butt syndrome." No matter how hard Bender tries, there is no way for her to dive and stay submerged under water without her weights. As turtles grow they shed the top layer of keratin off their shell to accommodate their larger bodies. The shedding of the top layer causes the weight systems to be shed as well. Therefore, Bender can never be released. As Bender has grown over the last six years, she has gone from thirteen to seventy pounds, and is now considered an adult female Kemp's ridley. Bender is definitely our shyest permanent resident, and it is considered a treat for our guests to catch a glimpse of the "ghost turtle" if she comes up for air during a program.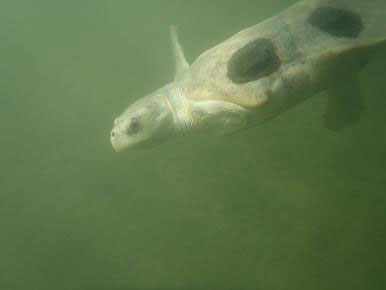 Featured Release: Scooter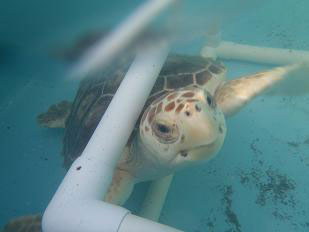 It is with very mixed emotion that we report on the release of our Education Turtle, Scooter. Scooter has been at The Turtle Hospital for three years, and in that time, he became everyone's favorite turtle. Scooter was very photogenic and somewhat famous because of it. He has appeared all over the world in various media, including National Geographic coverage of him eating a jellyfish. He also went to all the local events and helped us educate everyone about sea turtles and the problems they face primarily due to human impacts.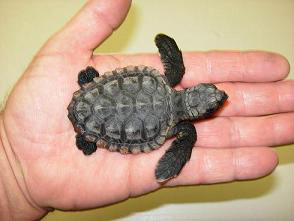 Scooter, a loggerhead sea turtle, came to us as a 2-inch hatchling found in a local canal. He may have been disoriented after emerging from his nest in order to wind up in a canal instead of out in the ocean camouflaged in a sargassum seaweed bed. Disorientations occur when artificial lighting draws hatchlings away from their normal trek. He also may have been a "washback," a term used to describe hatchlings that made it out to seaweed beds only to wash back in due to storms or heavy winds. Because of the cold temperatures at the time of his rescue, Scooter stayed with us for the winter. He then needed to grow to sub-adult size, the appropriate size for loggerheads in our local waters, before he could be released.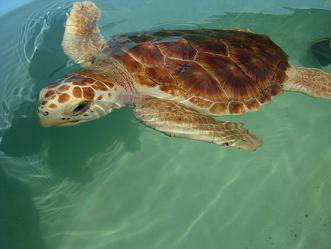 Scooter was growing at a pace of .25 cm per month in the summer, but recently had a growth spurt and grew over 1.5 cm per month to reach the 45 cm minimum size required for release. It happened so fast that we were not emotionally prepared to let him go, but Scooter was ready to leave us, proving this by passing all the tests to assure he could catch and eat live food in the wild. Scooter was released in the Content Keys north of Big Pine, a pristine portion of the Florida Keys National Wildlife Refuge, by refuge biologist Tom Wilmers and Turtle Hospital founder Richie Moretti. Director of the US Fish & Wildlife Service Dan Ashe and his Chief of Staff Betsy Hilldebrand, pictured below with Richie, were the last to meet Scooter before his release.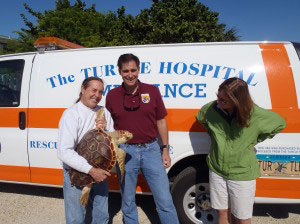 Wildlife Monitoring for Powerboat Races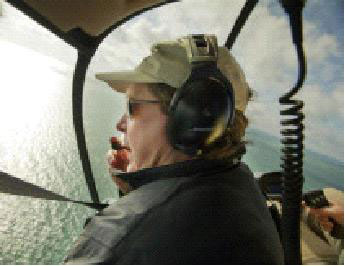 Richie Moretti monitors the race course at the Super Boat International races in Key West in November 2011. (Photo by ROB O'NEAL/Key West Citizen)
The wildlife protection component for powerboat races began with concerns about action shots in the water during filming of the movie "True Lies." In 1993, Richie Moretti, founder of The Turtle Hospital, was contacted by the Florida Governor's Office and asked to establish a way to protect our wildlife in the Florida Keys while allowing the filming of the movie, which brought over 70 million dollars into the South Florida economy.
During "True Lies," a green sea turtle swam into the area where they were going to drop a truck and set off explosions above and below the water. It took approximately 45 minutes for the turtle to be well out of range of any activity. In the meantime, they had to stop bridge traffic and land one of the planes on the bridge. A decal handed out by the production company to those inconvenienced by traffic stoppage during filming can be found as a collector's item by internet search.
Richie also conducted the observer program in 1994 with filming of the movie "The Specialist" in Miami. Then in July 2001, a loggerhead sea turtle was hit by a boat and died during the Suncoast Offshore Race in Sarasota, Florida. John Carbonell, founder of Super Boat International, and the State of Florida asked Richie what could be done to allow racing to continue. The following race in November in Key West was the first time a helicopter was used solely for wildlife observation during a boat race.
During the races, Richie and Bette Zirkelbach, director of the Dolphin Research Center on Grassy Key, begin monitoring the race course one hour before the race and continue until one hour after racing stops to ensure no animals are harmed.
In the eleven years Richie has coordinated the wildlife observer program, no wildlife has been injured or lost due to boat racing in the Florida Keys. During this time, races have been stopped, delayed, or the race course has been modified because of the presence of wildlife. During this year's November race, the start of the race was delayed for about 45 minutes until a manatee that was spotted swimming along the edge of the course swam safely out of the area.
Not only has no wildlife been harmed, but about a half dozen animals have been observed and rescued that most likely would not have gotten rescued without the observer program. In addition, the racing organization spends $600.00 an hour for the helicopter, or about $5,000 per race, and all of the observers are unpaid volunteers. The willingness of Super Boat International to fund and comply with this program as well as the sight of a helicopter devoted to wildlife protection as an integral component of the boat races is a powerful educational message about the importance of our wildlife.