"Throughout his career, Marker, who was notoriously secretive about his private life, was rarely interviewed or photographed, often responding to requests for his photograph with a picture of a cat - his favourite animal."

- orbituary, The Guardian


---
From Florence Dauman:

Une bise à vous !
Et j'espère à très vite
Anne


---
From Nicolas McClintock:

Dear All,

This is some Verse that Chris agreed to this name Being included in the dedication for:" For My Melancholy Friend."
Only just a short while back ( maybe five weeks)

Very Best To All.

N. x

Autumn Dusk

On Autumn evenings
when the days are short,
at dusk I tend to comfort myself
with memories, kicking leaves
down pavements; the branches
skeletons above
reaching for the sky along with the steeples;
And inside looking out
with yellow candlelight at dusk then
the zodiacal light at dawn.
Autumn in London with all of the crisp
cold walks and melancholy
gives my soul a time
to breathe.


For Chris Marker my melancholy-friendly Friend
---


When Ed Halter, the curator, came to the venue at 8AM there was this shrine. > DeeDee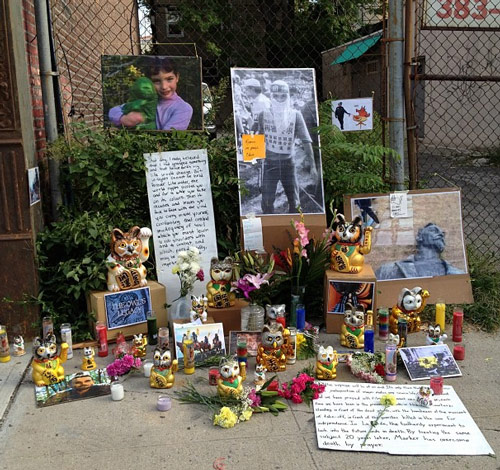 ---
From Thoma Vuille:

Fantòme de Guillaume

Bonjour,

Souvenir peint du meilleur ami de mon chat : Guillaume En Egypte.
merci de ne pas faire une utilisation promotionnelle de cette vidéo.

Hello,

Painting of the best friend of my cat : Guillaume En Egypte.
thank to use this video only in a private context.


Hommage aux CHATS PERCHES from louise Traon on Vimeo.
---
From Thoma Vuille:

Fantôme de Guillaume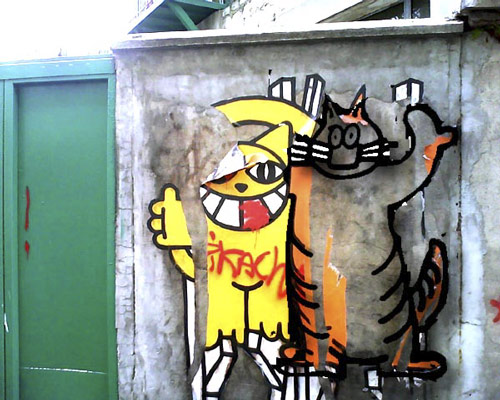 ---
From Florence Dauman:

the
(\__/)
(='.'=)
(")_(")
from Florence,


---
From Thoma Vuille: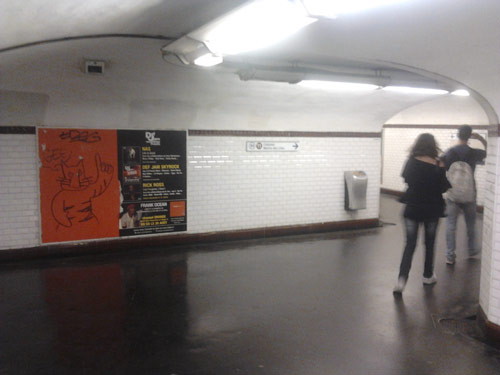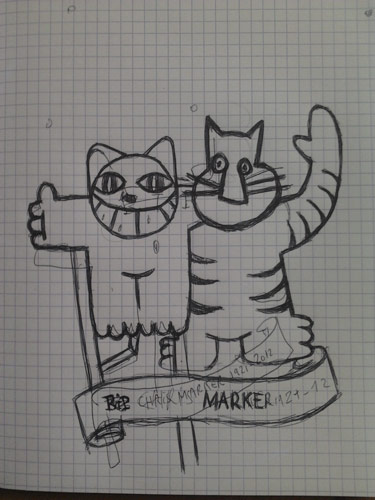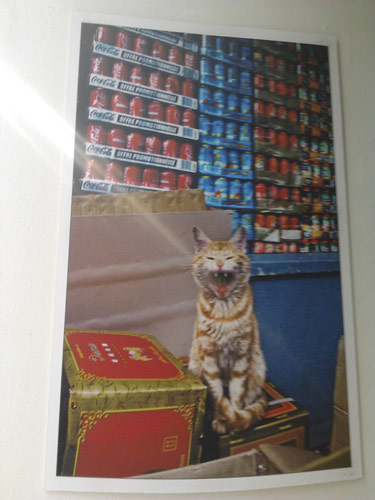 ---
From Catherine Belkhodja:

Premier jet ( à suivre)

nuit de pleine lune
le cercueil et ses images
dans le feu

machinalement
a tous ceux a qui je parle
je dis chris

Dans la grande coupole
Maroussia agite ses bras
Chris ne répond pas.

Koukoulikoukou
Le chant dArielle . Notre silence
- et nos pleurs

Guillaume en Egypte
brois croisés sur le chevalet
Coup de vent

Crematorium
Le chat-glace de Marina
et la vodka

Fin de Funérailles
Claude pousse sa charette turquoise
maintenant vide

Peur du dernier mot
le leger devient grave
le puits prend toujours un s

Paroles paroles qui s'affolent
pourquoi pourquoi me demander ?
- et pourquoi pas ?

Le gros coeur en argent
d'Agnes. Sa tête bicolore
Là. Présente . Bien là.

Chic et mauve.
La belle voix d'Alexandra
en anglais.

Toute en fleurs
Nadja venue de son île
j'entends les oiseaux


---
From Claude Bagoë-Diane:

Merci à vous Ramountcho qui dans un de vos mails m'avez consolé, en vous référant à cette petite maison en Islande où Guillaume l'attendait .
J'aurais voulu vous remercier de vive voix.
Il y une vingtaine d'années, Chris, avant l'intervention du vétérinaire, a accompagné Guillaume, le chat perché, par un "Salut mon vieux, on se retrouvera bientôt " (il était lui aussi malade à ce moment là)
Vous avez devinez juste.

Merci à vous tous, ceux que je connaissais et ceux que je ne connaissais pas,
Merci à Maroussia pour ce moment dansé.
Merci à Florence pour cette vodka à partager, (j'étais heureuse de regagner la maison en titubant)
Merci à Etienne pour la chouette/talisman
Merci aux chats présents et à leurs propriétaires
Merci à ceux qui ont dit un mot et à ceux qui se sont tus
Merci à Arielle pour ce chant à capella
Merci à Costa d'avoir conforté ce moment d'improvisation
Merci pour la langue russe
Merci pour les textes de T.S. en anglais
Merci au maître de cérémonie pour la touche conventionnelle.
Bonne route à chacun jusqu'au prochain croisement.

Claude


---
From Ramuntcho Matta:

"dormir, dormir dans les pierre"
Benjamin Peret

c'était effroyablement triste aujourd'hui
et il y avait aussi cette douceur infinie

la douceur de la plus grande force de l'univers: l'amitié.

il y a une lune extraordinaire ce soir

en ce moment là aussi
ce fut rare et lumineux
Merci Chris

Ramuntcho


---
From Jowan Le Besco:

Today, Guillaume comes by...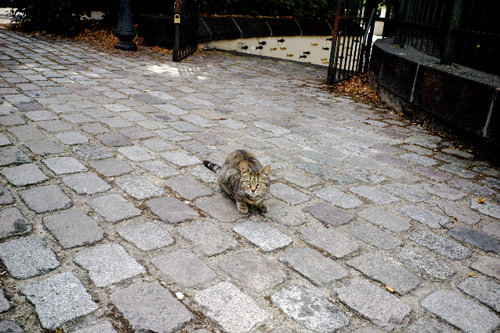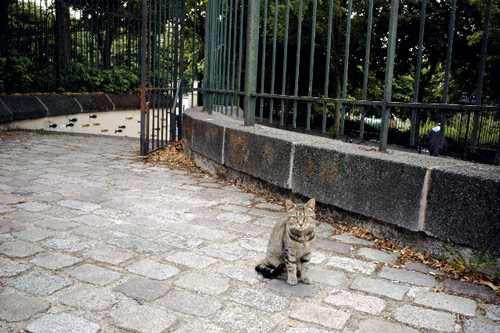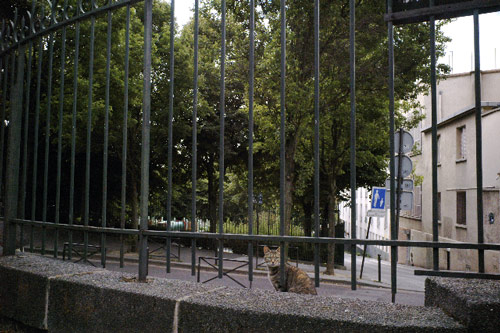 ---
From Dorna Khazeni:
It's Monday, 6:24 p.m. and I've spent all day, or almost the entire day, cruising Ouvroir Chris Marker's Second Life site. I woke up to the news Chris had died. Yesterday was his 91st birthday.

At 5:45 I decided it was time to drink and served myself a thimble full of Vodka. That's what he served me the first time I went to see him at his place in the 20th arrondissement in Paris.

I'd translated a short story by him, Phénomène, a few years prior to our meeting.

more / less...




---
From Thierry Garrel:

He Agnes ! 1pm GMT, c'est une heure, heure mondiale de Greenwich, c'est a dire... 2h, heure de Paris !!!! (mais 5h du matin a Vancouver et 8h du soir heure de Tokyo). Ah les 24 fuseaux de Chris !
Bises

Thierry


---
From Agnès Varda:

Bonsoir Faute du cortège de chats rêvé par Claude B D
Je vais essayer d' amener un buste de Guillaume-en-Egypte , orange à souhait et un chevalet pour le présenter
Quant au toast international à 1 : 00 pm GMT ...c est quoi GMT ?
On peut continuer à penser les uns aux autres pour accompagner Chris ensemble
Ya pas d horaire pour ça mais si on arrive à comprendre à quelle heure il faut toaster.. on le fera
Serrons nous les crabes la marée monte..
Voila 3 captures d ecran.

Voici la face cachée du travail de Marker, les fils secrets du labryrinthe de son oeuvre. - Agnès Varda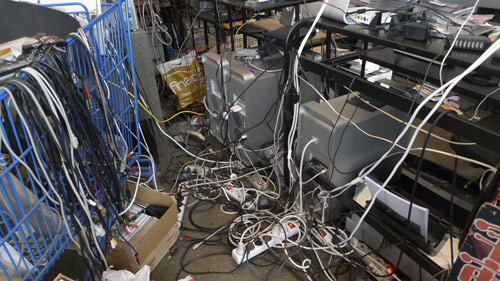 Le chat orange, Guillaume en Egypte, représente Chris Marker, celui qui vent planquer son visage. - Agnès Varda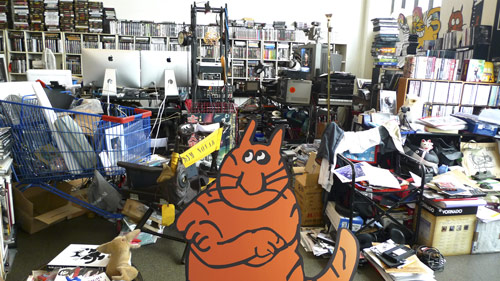 Jai dansé avec Guillaume en Egyote, dans la "Second Life" de Chris Marker, créé par Max Moswitzer, dit Mos Max Hax. - Agnès Varda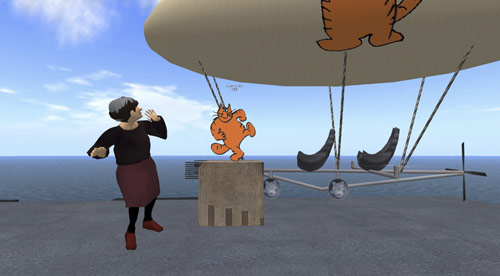 ---
From Naomi Yang:

This morning we burned Japanese incense, and poured a glass of vodka for Chris. . . then cat came to visit. . .

with love, Naomi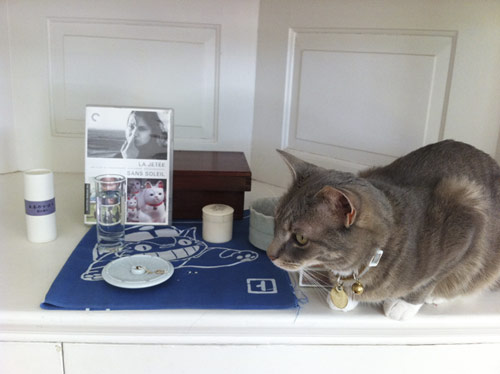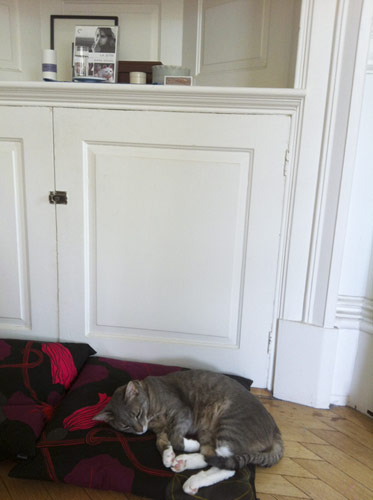 ---
From Michael Shamberg:

He made an occupy for me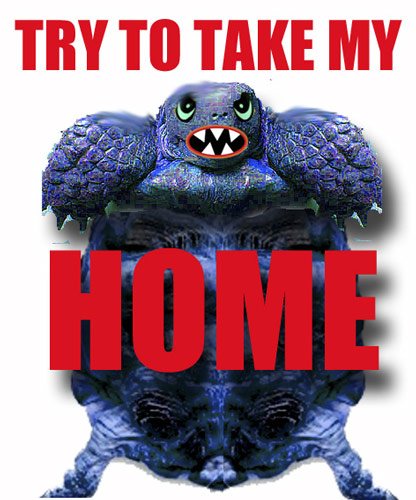 ---
From Claude Bagoë-Diane:

J'ai trouvé 200 petits godets, des sacs en plastique (poubelle). Beaucoup de glaçons, le tout dans une glacière sur roulettes avec des bouteilles d'eau congelées. Il est possible que nous ayons soif.
Julia si vous avez de grands verres ils pourrons servir à boire un peu d'eau également.
Il me semble que un maneki neko est indispensable Etienne. Je suis certaine que les chats ont été prévenu.
Quelques de la porte de Chris aujourd'hui à 19h.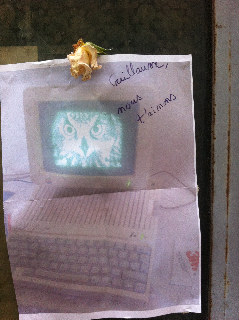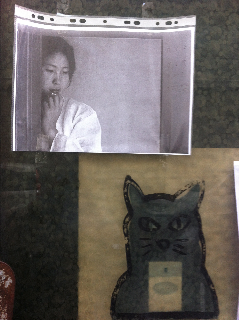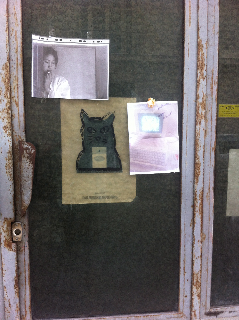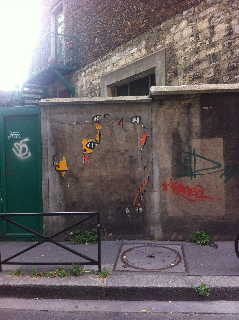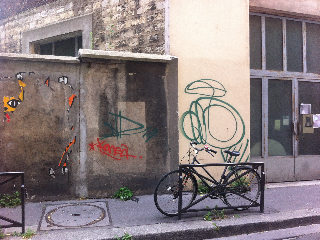 ---
From D Halleck:

Have a grrrrrrrrrrrrrrrrrrreat journey, Chris.
CM presenté!
DeeDee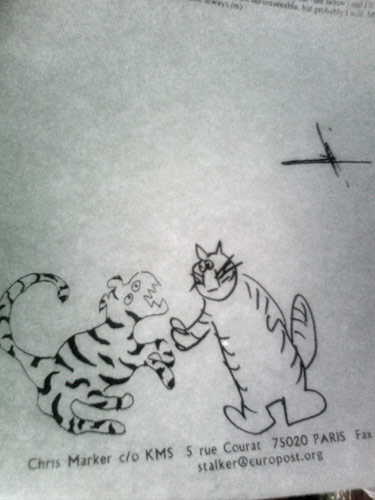 ---
From Agnes Decayeux:

et demain, nous serons là, sur l'Ouvroir, les uns et les autres. nous boirons un verre de vodka scripté. peut-être que Sergei sera là aussi. certainement. oui certainement.


---
From Catherine Belkhodja:

Merci Federica pour ce chat magnifique
je t'embrasse tres fort

Catherine Belkhodja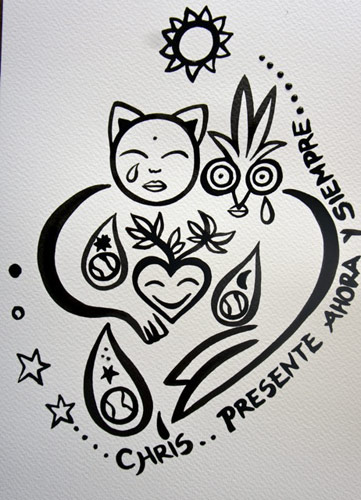 JOIN THE HOT PEPPER VODKA TOAST AUG 2 1pm GMT AROUND THE WORLD !!! (please forward to social networks)


---
From Laurence Braunberger:

Juste cette photo, prise pour lui, pour son anniversaire dimanche en fin d'après-midi et dont je n'ai compris le sens que plus tard...
Je vous embrasse tous,

Laurence B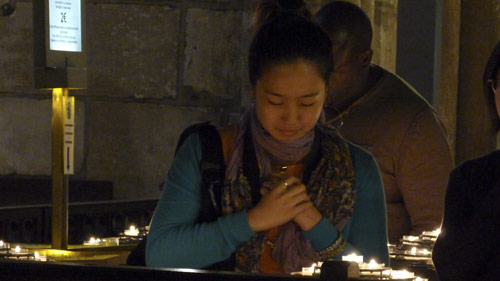 ---
From Florence Dauman:

Chris a presente GEE a Aneth, l'un de mes chats que j'avais amene chez lui pour le faire sourire. Aneth espere que, par votre truchement, le Chat Jaune et GEE garderont contact avec elle.

Chris introduced GEE to Aneth (one of my cats I had taken to him to cheer him up.) Aneth is counting on Chat Jaune, GEE and you to keep in touch.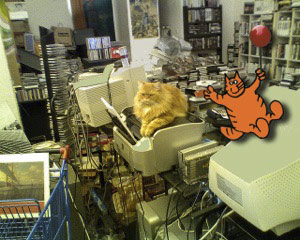 ---
From Etienne Sandrin:

a tous
belle image que je reçois du japon "pour chris" .
je ne peux hélas la lui envoyer alors c'est à vous que je l'envoie
avec la force du chat et du dragon